Bike and Hike Evenings
Wednesday, August 6, 2014
Wednesday, August 13, 2014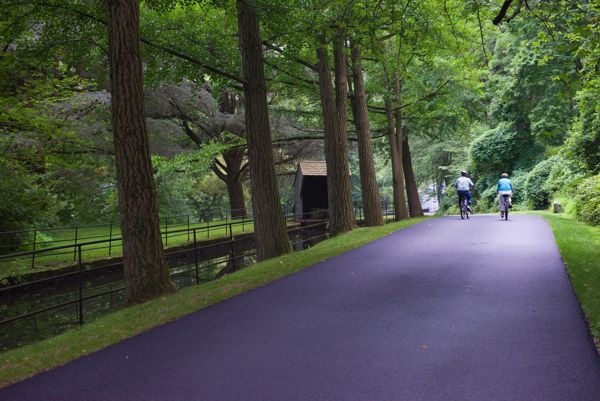 DATES: June 25, 2014, through August 27, 2014
Visitors can stroll and cycle the grounds of Hagley on Wednesday evenings. Enjoy our three-mile loop through the property from the Visitor Center to Eleutherian Mills and back. Bring a picnic or dine at the Belin House Organic Café. Rain dates will be the following Thursdays. Admission is $2 per person. Free for members and children five and under.
Hagley Hikers Visitors ages six and up can sign up for the free "Hagley Hikers" program. If they walk eighteen miles or visit six times between June 25 and September 25, they will be eligible for a special twilight hayride through Hagley in October!
Belin House Special Offer - Bike and Hike Picnic Totes Bike and Hike picnic totes are the perfect pairing for your evening along the Brandywine. Order in advance and leave the cooking to us! They come with two sandwiches, one salad, two side dishes, cookies, and beverages. Orders for these picnic totes are due by 3 p.m. on Tuesdays. Call (302) 658-2400, ext. 271, to order your tote. Plates, napkins, and utensils are included. The totes are handmade by a local artisan and are yours to keep. The picnic totes are $20.
Please choose two sandwiches from the following selection:
Tarragon Chicken Salad Wrap with Baby Spinach & Tomato
Grilled Vegetables on Multigrain Baguette with Goat Cheese
Roast Turkey BLT Wrap with Sriracha Mayo & Spring Mix
Ham & Gruyere Cheese w/ Coarse Mustard, Lettuce & Tomato
on Multigrain Bread
Please choose one salad. Salad serves two.
Classic Caesar Salad
Tossed Salad with choice of Dressing
Choose two sides from the following selection:
Grilled Vegetables
Tuscan White Bean Salad
Balsamic Marinated Button Mushrooms
Tri-color Pasta Salad
Fruit Skewers with Raspberry Yogurt Dip
Please choose two beverages from the following selection:
Coke, Diet Coke or Sprite or Bottled Water
Includes 4 assorted cookies
2 chocolate chip, 1 oatmeal raisin, 1 peanut butter chip