Within a few minutes of diving into that first box of negatives, I knew that its value was greater than the sum of its images. Each piece of plastic film opened a black-and-white window into 20th-century technology, innovation, industry, and consumerism. If one looks closely, the viewer will find useful stories in even the most mundane images of glass tubes and men in gray suits. The photographs in this wide-ranging collection depict visions that the Radio Corporation of America had for its country, its customers, and itself.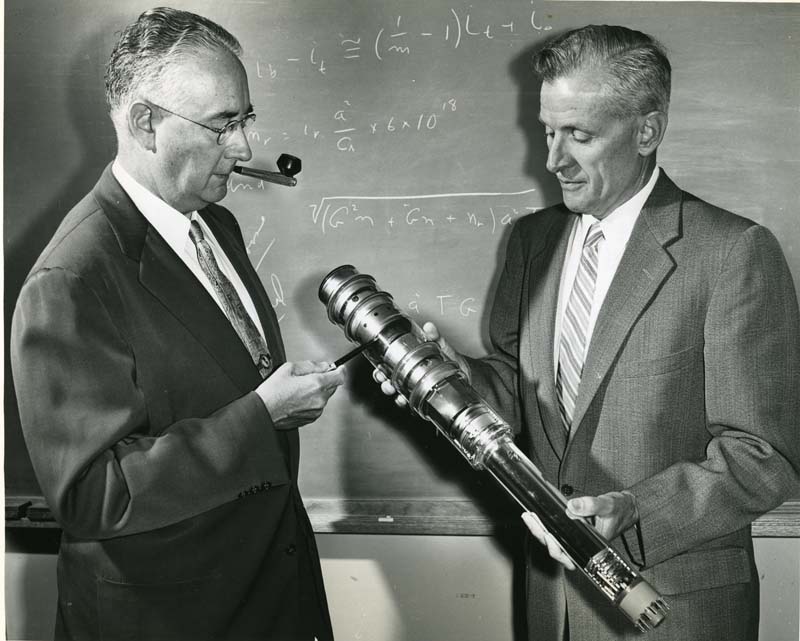 As a processing intern, my mission for the past few months has been to re-house and re-label visual materials from the David Sarnoff Library collection. My colleagues in the Audiovisual and Digital Initiatives Department have taught me current best practices for preserving materials. I have handled a variety of print photographs, as well as negatives (and a few positives) ranging from strips of 35 mm film to 4x5-inch plates.
When the Hagley Museum and Library received the Sarnoff collection, the archivists encountered box upon box of prints and negatives in acidic folders and dirty wax paper and mylar sleeves. To ensure that future researchers will be able to access RCA's life and legacy, I have transferred thousands of prints and negatives into archive-quality acid-free envelopes, sleeves, folders, and boxes. I have also labeled these materials in a way that both preserves RCA's original organization and information and integrates them into the existing archive at Hagley.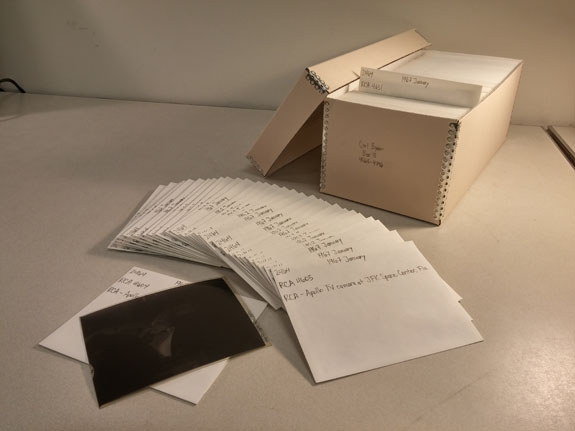 The audiovisual materials of the David Sarnoff Library were vast and varied, and I have handled items from just two parts of the collection. Most of the negatives I processed came from Carl Byoir & Associates, a New York-based public relations firm. RCA hired this company to document research and development projects, create publicity images of new products and services, and capture corporate functions like stockholders meetings and press events. The Carl Byoir series captures the broad spectrum of RCA's activities and customers. I processed images from the early 1960s to the mid 1980s that show military and space technologies for the U.S. government, household electronics for American consumers, communications devices for businesses, and equipment and techniques for scientists and researchers.
The other series that I processed came from RCA's News and Information Department. News and Information images captured the progress of R&D divisions from Aerospace Systems to Weapons Research. The department also housed images that catalogued the histories of radio, broadcasting, television, and related consumer electronics.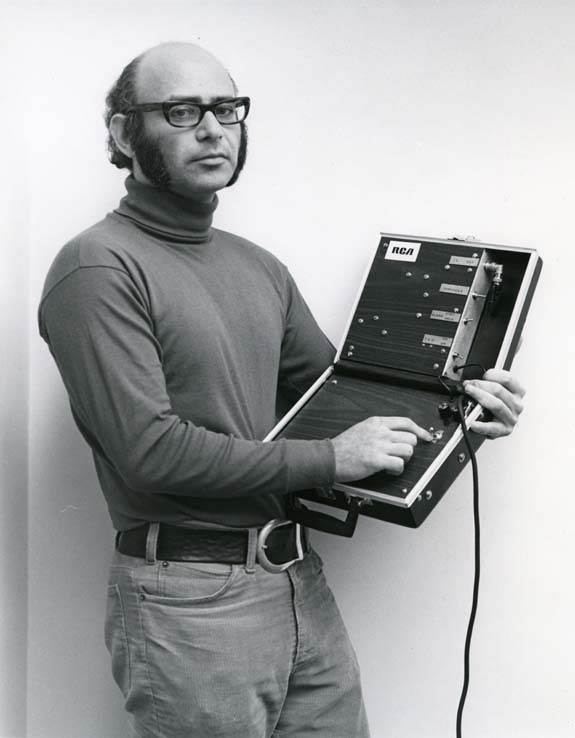 The images of the David Sarnoff Library collection offer fascinating glimpses into the people and products of RCA and visions of its past, present, and future. Photographs of David Sarnoff, proud of his role in linking people through radio and color television, show a man who sought to ensure that his corporation would remain important to modern America. Images of scientists manipulating lasers, tubes, magnetic tapes, and an array of other instruments and machines show a company that strove to change American life, from listening to music in suburban living rooms to exploring the surface of the moon. Stories of confident executives, focused engineers, resourceful designers, diligent assembly line workers, and everyday consumers pop from the photographs. Viewers also learn about the ways in which RCA portrayed its products. Serious men in white lab coats exuded faith in scientific expertise, while fashionable young women sold everything from common TVs and alarm clocks to fantastic laser devices and Apollo technologies.
The visual materials of the David Sarnoff Library collection show how an iconic U.S. corporation represented its place in the changing landscape of American media, industry, innovation, and life. Thanks to the processing team at the Hagley Library, researchers will soon be able to take a look at these visions.
Benjamin W. Wollet is a David Sarnoff Library collection processing intern in the Audiovisual and Digital Initiatives Department. Ben has an M.A. in History from Ohio University and is currently a Ph.D. student and Hagley Fellow in the Department of History at the University of Delaware, where he studies environmental history and transportation systems.