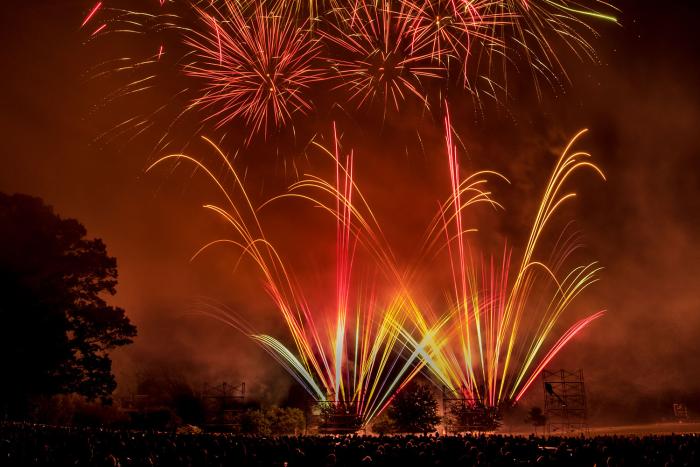 Fireworks at Hagley Presented by M&T Bank and Wilmington Trust
NEXT DATE: | Gates open at 5 p.m. |
category:
Adult Programs, Family Programs, Member Events |
location:
Upper Property, Field
Don't miss Delaware's best fireworks show! This members-only event is held each year, two Fridays in June. It is a spectacular evening of family fun. Tickets must be purchased in advance. Members who purchase tickets are encouraged to bring a picnic dinner, blankets, coolers, and chairs. The event includes raffles and silent auction with great prizes. This event is weather dependent; check www.hagley.org for postponement announcements. Bad weather dates are the following Saturdays and Sundays.
Attendance is by reservation only, with ticket sales limited to Hagley members. To become a member click here or call (302) 658-2400.
To purchase tickets, you may:
- return the ticket order you received with your mailed invitation
- click the link you received in your member email
- contact the membership office weekdays at (302) 658-2400, ext. 235, or email Kim Kelleher at kkelleher@hagley.org
Belin House Pick-Up Menu for Hagley's Fireworks
Food Prepared by The Wandering Chef
The Belin House offers the following menu for Hagley's Fireworks evenings for pre-order.
Orders must be placed by the Wednesday before Fireworks.
To place your order, click here.
NOTE: The order form cannot accept payment.
The Wandering Chef will call you to verify your order and get credit card payment information.
Picnic for 2 – Please choose 2 from each category $60.00
Picnic for 4 – Please choose 4 from each category $120.00

Mains:
Shrimp & Crab meat sandwich with Cajun rémoulade topped with dill slaw
Grilled chicken sandwich with dill caper aioli or over greens
Asian Noodle Salad with vegetables & marinated tofu over greens
Boneless Fried Chicken with Asian dipping sauce or Memphis bbq sauce

Appetizers:
Goat cheese torte filled with sundried tomato & basil pesto with pita chips & crackers
Mediterranean Platter with hummus, pimento cheese, eggplant & asiago cheese spreads served with pita chips & crackers

Sides:
Fruit Salad
Dill Cole Slaw
Potato Salad
Tossed Salad with balsamic dressing

Desserts:
Brownies & Cookies
Carrot cake
Cannoli
Apple cobbler
Included:
Bottled water
Plasticware & napkin packet
Wet nap packet
Related Events