Friday, November 13, 2015
Two photographs of an American man wearing glasses and a suit and tie sitting at dinner with the Yamagishi family...
A newspaper clipping about a woman going to the movies with her husband in Chiba, a city east of Tokyo...
A photograph of a young boy and his dog
A ticket stub with Japanese text...
A menu, a guest list, and photograph featuring the same American man from a dinner for the Kokusai Denshin Denwa Company (KDD), the Japanese international telecommunications carrier...
A ticket to the 1955 Rice Bowl for U.S. Armed Services Football at Meiji Stadium in Tokyo....
All of these items have been pasted with care onto a white board with a gold border, measuring 12.5 x 16 inches. A sticker with the flag of Japan is in the upper right corner, while the date of 1955 has been placed in the lower right corner. This board, with its varied subject matter, is one of 193 like it that the American man with glasses, Charles B. Jennings, created about his life in Japan as the primary liaison for RCA Communications.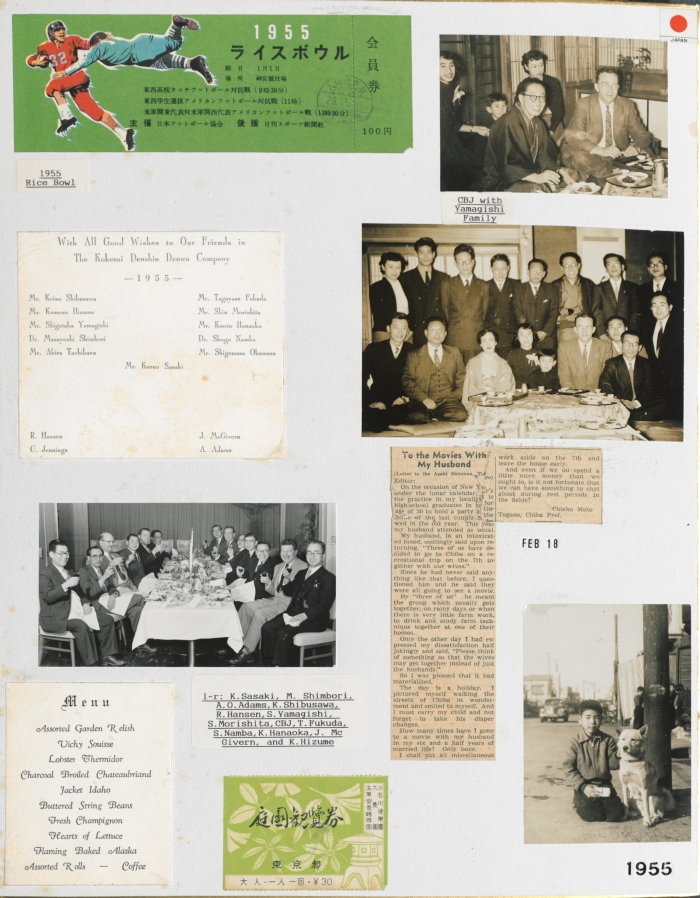 Scrapbook board, 1955
Born here in Wilmington, DE in 1916, Jennings worked for RCA Communications and its descendent companies his entire career. The library acquired his collection of papers and audiovisual material after he passed away in New Jersey in 2006. As a Vice President of RCA Communications and that company's primary liaison to Japan, Jennings lived and worked in Tokyo for more than forty years. His collections provide an intriguing look into both the life of an American businessman living in postwar Japan and the development of Japanese and trans-Pacific telecommunications after World War II.
The unbound scrapbook boards which Jennings meticulously assembled are a highlight of the collection. Jennings spent his career building and maintaining RCA's affiliation with Japan, which was crucial as it was the most lucrative of any of RCA's foreign relations. His work often involved hosting and attending dinners and formal receptions, representing RCA at trans-Pacific communications meetings and symposia, helping other RCA executives navigate cultural complexities when they visited Japan, and generally maintaining relationships with prominent people in the Japanese telecommunications business. The scrapbook boards include images and other items, such as menus, programs, and invitations, from many of these business-related events. The boards also feature more personal items picked up from sightseeing, concerts, exhibitions, plays, and other events during a lifetime abroad.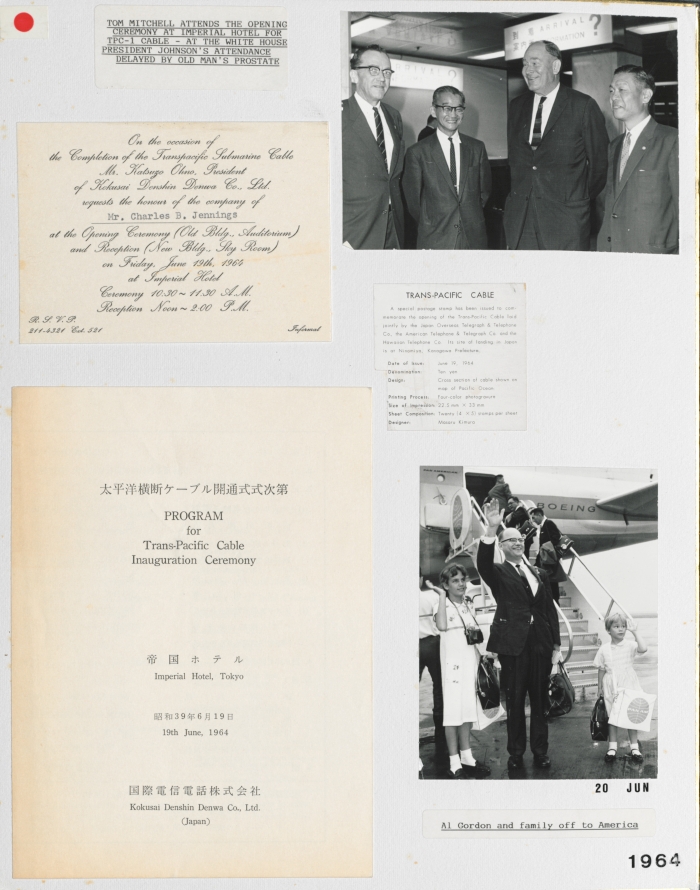 Scrapbook board showing RCA executives visiting Japan and items from the Trans-Pacific Cable Inauguration Ceremony, 1964.
Jennings typed out captions for many of the items on the boards, which provide insights into his thoughts on his life, career, and friends in Japan. His commentary is often humorous and self-deprecating. For instance, Jennings received the Order of the Sacred Treasure, Third Class, from the Minister of Posts and Telecom in 1978, an incredible honor. For the occasion, he wore a formal suit with tails. In a caption on the scrapbook boards, he used the occasion to poke fun at his bachelorhood remarking, "First time to wear formal dress. If married same day would save money."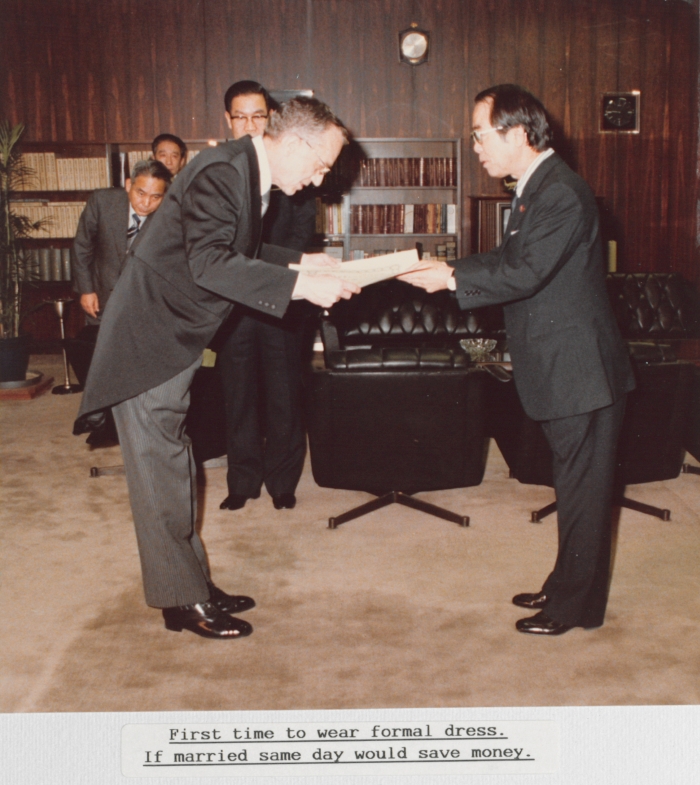 Jennings receiving the Order of the Sacred Treasure, Third Class, from the Minister of Posts and Telecom, 1978.
Unfortunately, the series of scrapbook boards is not entirely complete.  Some boards became damaged or were lost when the library they were originally housed in, the David Sarnoff Library, flooded in 2007.  Others may simply not have been acquired, leaving gaps in the chronology. Mr. Jennings' collection, however, remains an invaluable source for the history of international business relations at the individual level and allows an intriguing look into Jennings' personality.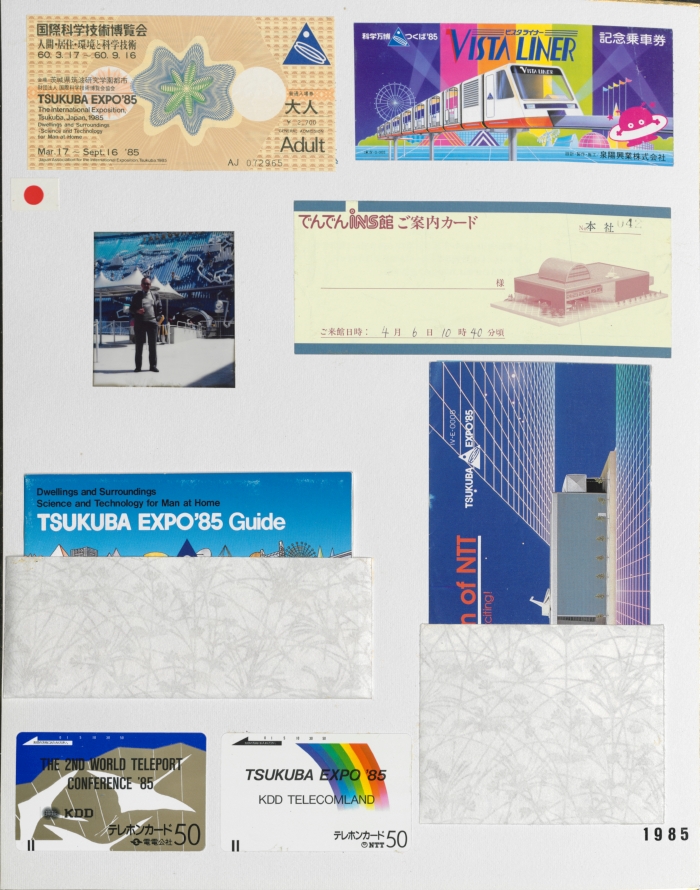 Scrapbook board with items from the 1985 World's Fair in Tsukuba, Japan. Note the pamphlets can be removed from the sleeves on the board.
Angela Schad was the graduate assistant in the Audiovisual Collections and Digital Initiatives Department for the Sarnoff Library Project at Hagley in the summer of 2014. Angela recently completed her MA with a Certificate in Museum Studies from the Winterthur Program in American Material Culture at the University of Delaware. She previously earned a BS in chemistry and a BA in history from the University of Notre Dame. Angela has completed an archival internship at the Carnegie Institution for Science in Washington, DC. She is currently working at Hagley on a major migration project to a new Digital Archives platform.