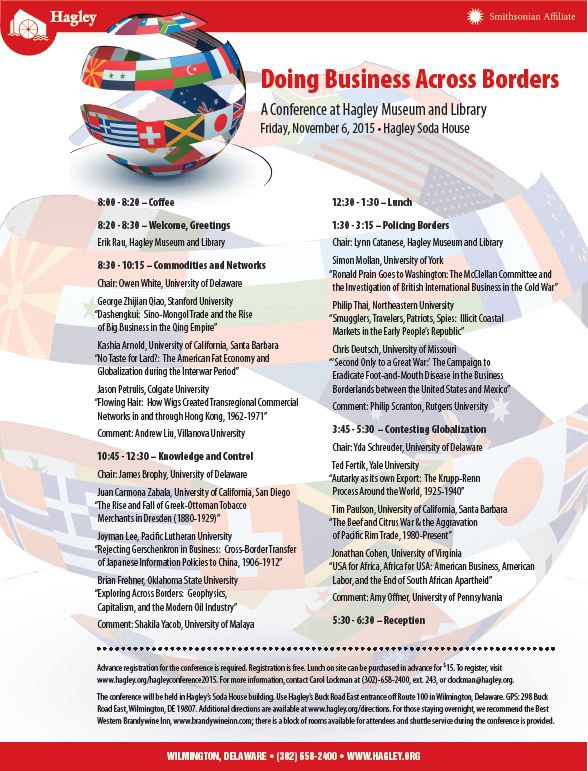 "Doing Business Across Borders"
Hagley Museum and Library Soda House, November 6, 2015
Advance registration for the conference is required. Registration is free. Lunch on site can be purchased in advance for $15.
Click here to register for the conference
For more information, contact Carol Lockman at (302)-658-2400, ext. 243, or clockman@hagley.org.
SCHEDULE
8:00 - 8:20 – Coffee
8:20 - 8:30 – Welcome, Greetings
Erik Rau, Hagley Museum and Library
8:30 - 10:15 – Commodities and Networks
Chair: Owen White, University of Delaware
George Zhijian Qiao, Stanford University, "Dashengkui: Sino-Mongol Trade and the Rise of Big Business in the Qing Empire"
Kashia Arnold, University of California, Santa Barbara, "No Taste for Lard?: The American Fat Economy and Globalization during the Interwar Period"
Jason Petrulis, Colgate University, "Flowing Hair: How Wigs Created Transregional Commercial Networks in and through Hong Kong, 1962-1971"
Comment: Andrew Liu, Villanova University
10:45 - 12:30 – Knowledge and Control
Chair: James Brophy, University of Delaware
Juan Carmona Zabala, University of California, San Diego, "The Rise and Fall of Greek-Ottoman Tobacco Merchants in Dresden (1880-1929)"
Joyman Lee, Pacific Lutheran University, "Rejecting Gerschenkron in Business: Cross-Border Transfer of Japanese Information Policies to China, 1906-1912"
Brian Frehner, Oklahoma State University, "Exploring Across Borders: Geophysics, Capitalism, and the Modern Oil Industry"
Comment: Shakila Yacob, University of Malaya
12:30 - 1:30 – Lunch
1:30 - 3:15 – Policing Borders
Chair: Lynn Catanese, Hagley Museum and Library
Simon Mollan, University of York, "Ronald Prain Goes to Washington: The McClellan Committee and the Investigation of British International Business in the Cold War"
Philip Thai, Northeastern University, "Smugglers, Travelers, Patriots, Spies: Illicit Coastal Markets in the Early People's Republic"
Chris Deutsch, University of Missouri, "'Second Only to a Great War:' The Campaign to Eradicate Foot-and-Mouth Disease in the Business Borderlands between the United States and Mexico"
Comment: Philip Scranton, Rutgers University
3:45 - 5:30 – Contesting Globalization
Chair: Yda Schreuder, University of Delaware
Ted Fertik, Yale University, "Autarky as its own Export: The Krupp-Renn Process Around the World, 1925-1940"
Tim Paulson, University of California, Santa Barbara, "The Beef and Citrus War & the Aggravation of Pacific Rim Trade, 1980-Present"
Jonathan Cohen, University of Virginia, "USA for Africa, Africa for USA: American Business, American Labor, and the End of South African Apartheid"
Comment: Amy Offner, University of Pennsylvania
5:30 - 6:30 – Reception
Subscribe to the Hagley Monthly Newsletter to receive the latest updates and reminders about our conferences and seminars