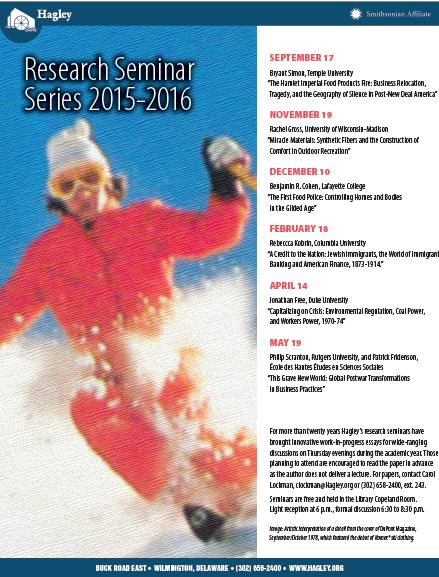 For twenty years Hagley's research seminars have brought innovative works-in-progress essays for wide-ranging discussions on Thursday evenings during the academic year.
2015-2016 Schedule
September 17 – 6:30 p.m. : Bryant Simon (Temple University)
"The Hamlet Imperial Food Products Fire: Business Relocation, Tragedy, and the Geography of Silence in Post-New Deal America."
November 19 – 6:30 p.m. : Rachel Gross, (University of Wisconsin-Madison)
"Miracle Materials: Synthetic Fibers and the Construction of Comfort in Outdoor Recreation."
December 10 – 6:30 p.m. : Benjamin R. Cohen (Lafayette College)
"The First Food Police: Controlling Homes and Bodies in the Gilded Age."
February 18 – 6:30 p.m. : Rebecca Kobrin (Columbia University)
"A Credit to the Nation: Jewish Immigrants, the World of Immigrant Banking and American Finance, 1873-1914."
April 14 – 6:30 p.m. : Philip Scranton (Rutgers University) and Patrick Fridenson (EHESS)
"This Grave New World: Global Postwar Transformations in Business Practices."
May 19 – 6:30 p.m. : Jonathan Free (Duke University)
"Capitalizing on Crisis: Environmental Regulation, Coal Power, and Workers Power, 1970-74."
The seminar is open to the public and is based on a paper that is circulated in advance. Those planning to attend are encouraged to read the paper before coming to the seminar. Copies may be obtained by emailing Carol Lockman, clockman@Hagley.org. The seminar begins promptly at 6:30, and takes place in the Copeland Room of Hagley's library building.
Subscribe to the Hagley Monthly Newsletter to receive the latest updates and reminders about our conferences and seminars