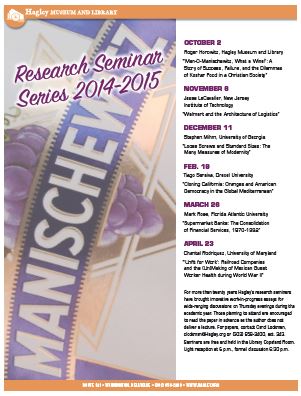 For twenty years Hagley's research seminars have brought innovative works-in-progress essays for wide-ranging discussions on Thursday evenings during the academic year.
2014-2015 Schedule
Nov. 6 – 6:30 p.m. : Jesse LeCavalier (New Jersey Institute of Technology), "Walmart and the Architecture of Logistics."
Dec. 11 – 6:30 p.m. : Stephen Mihm (University of Georgia), "Loose Screws and Standard Sizes: The Many Measures of Modernity."
Feb. 19 – 6:30 p.m. : Tiago Saraiva (Drexel University), "Cloning California: Oranges and American Democracy in the Global Mediterranean."
March 26 – 6:30 p.m. : Mark Rose (Florida Atlantic University), "Supermarket Banks: The Consolidation of Financial Services, 1970-1992."
April 23 – 6:30 p.m. : Chantal Rodriquez (University of Maryland), "'Unfit for Work': Railroad Companies and the (Un)Making of Mexican Guest Worker Health during World War II."
The seminar is open to the public and is based on a paper that is circulated in advance. Those planning to attend are encouraged to read the paper before coming to the seminar. Copies may be obtained by emailing Carol Lockman, clockman@Hagley.org. The seminar begins promptly at 6:30, and takes place in the Copeland Room of Hagley's library building.
Subscribe to the Hagley Monthly Newsletter to receive the latest updates and reminders about our conferences and seminars