Hagley Research Seminars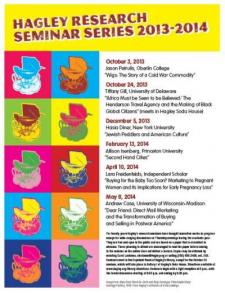 May 8, 2014: Andrew Case, University of Wisconsin-Madison, "'Dear Friend': The Rodale Press and the Business Culture of Direct Mail Marketing in the Postwar United States"
For twenty years Hagley's research seminars have brought innovative works-in-progress essays for wide-ranging discussions on Thursday evenings during the academic year.
They are free and open to the public and are based on a paper that is circulated in advance. Those planning to attend are encouraged to read the paper before coming to the seminar as the author does not deliver a lecture. Copies may be obtained by emailing Carol Lockman, clockman@Hagley.org or calling (302) 658-2400, ext. 243.
Seminars meet in the Copeland Room of Hagley's library, except for the October 24 seminar, which will take place in Gallery I of Hagley's Soda House (Click here for directions) Seminars begin with a light reception at 6 p.m., with the formal discussion starting at 6:30 p.m. and ending by 8:30 p.m.
Subscribe to the Hagley Monthly Newsletter to receive the latest updates and reminders about our conferences and seminars
Past Seminars
April 10, 2014: Lara Freidenfelds, Independent Scholar, "Buying for the Baby Too Soon? Marketing to Pregnant Women and its Implications for Early Pregnancy Loss"
February 13, 2014: Allison Isenberg, Princeton University, "Second Hand Cities"
December 5, 2013: Hasia Diner, New York University, "Jewish Peddlers and American Culture"
October 24, 2013: Tiffany Gill, University of Delaware, "Africa Must be Seen to be Believed": The Henderson Travel Agency and the Making of Black Global Citizens"
October 3, 2013: Jason Petrulis, Oberlin College, "Wigs: The Story of a Cold War Commodity"