All plans subject to change based on prevailing health restrictions. 
OVERVIEW 
Beginning August 3, 2020: 
Access to the Library will be permitted by appointment for grant-supported scholars only. This is a trial run for reopening, and we ask our other researchers to be patient as we work out our procedures. Notice for reopening to the general public will be posted to this webpage when known. Thank you for your patience...running a library during a pandemic is new territory for us and we're working hard to keep both scholars and staff safe, as well as taking proper care of our library materials.  
The Soda House reading room will be open 9:00 - 3:30, Monday to Thursday. All library collections will be available for research, but the Library Building reading room will remain closed.  
Masks are required in the reading room at all times. We have disposable masks available for scholars, if needed. Please keep a distance of 6 feet from other scholars and staff at all times.  
We ask all scholars to wash their hands with soap and water before handling collection materials. The chemicals and moisturizers in hand sanitizer can be harmful to documents, so we ask scholars not to use such products. We have a dedicated handwashing station available in our reference area. 
An online chat platform will be made available for scholars to interact with library staff while on-site. Instructions will be provided in the reading room. 
Scholars are required to bring all of their own equipment for reading room use. There will not be any public scanning or photocopying equipment available to you on-site. You must bring your own pencils, paper, computer, camera, scanner, or other equipment deemed necessary.  
Scholars will need to bring their own lunches. The Hagley lunch delivery service has been suspended. You are welcome to eat just outside of our building (weather permitting) or in one of the Soda House galleries (space permitting) when you are here. Reference staff will point these areas out to you upon request.  
If you feel ill prior to your visit, please reschedule. If you feel ill during your visit, please let our staff know and please do not come into the archives. Our reference staff will not be taking temperatures or doing health monitoring so we ask you to use your best judgment with this. If a researcher comes in who is obviously unwell, they will be asked to leave. 
  
We will do our best to assist you. Thank you for your cooperation, and please be patient with us during your visit! 
Accessing Archival Collections  
All finding aids for archival collections from both the Manuscripts and Audiovisual Departments will be made available for on-site use. Unrestricted finding aids will continue to be accessed online via https://findingaids.hagley.org. Restricted finding aids will be available for on-site use only, at https://digital.hagley.org/unpublished_finding_aids.
Requests for collection materials should be made in advance, if possible. Call slips for all archival collections will be submitted via email to callslip@hagley.org. Call slips may be submitted at any time during our public hours, but we will have set pull times for the Soda House reading room at 9:30am and 11:30am only. We will not be able to pull materials after our 11:30 call time. Requests received after that time will be pulled the following day.  
We are planning to pull materials in advance for those scholars who provide us with a list of their needs prior to arrival. In addition, we have some leeway built into the schedule for those staff who are pulling collections materials. It should be possible to pull subsequent requests via call slip according to our new procedures in a timely fashion.
Accessing Published Collections  
We are planning to make all collections available to the scheduled supported scholars from the Soda House, including published materials and Hall of Records materials.  
Published Collections will continue to be accessed via our online catalog at www.hagley.org/catalog. We can monitor call slip requests for published items submitted via the online catalog while we work at the Soda House, so those requests will be put in the queue and pulled at our scheduled pull times of 9:30 and 11:00. (Please see below for instructions on how to submit a call slip in the online catalog). 
Rare books, trade catalogs, pamphlets, and serial runs will only be viewable at the Soda House reading room, and they can be reserved on carts with other manuscript materials overnight, as needed.  
Books from the general stacks will be pulled and can be viewed in the Soda House, in the mezzanine study carrels, or even overnight in Hagley housing. Scholars can direct us to deliver the books to the Soda House or the mezzanine. Scholars will need to let reference staff know that they are finished with the publications. Staff would follow up and check the books back in wherever they are located, either directly at the Soda House or by stopping into the mezzanine.   
We are planning to pull materials in advance for those scholars who provide us with a list of their needs prior to arrival. 
How to Submit a Call slip for Published Materials 
Visit Hagley's online catalog: www.hagley.org/catalog. 
Sign in with your assigned 5-digit researcher card number: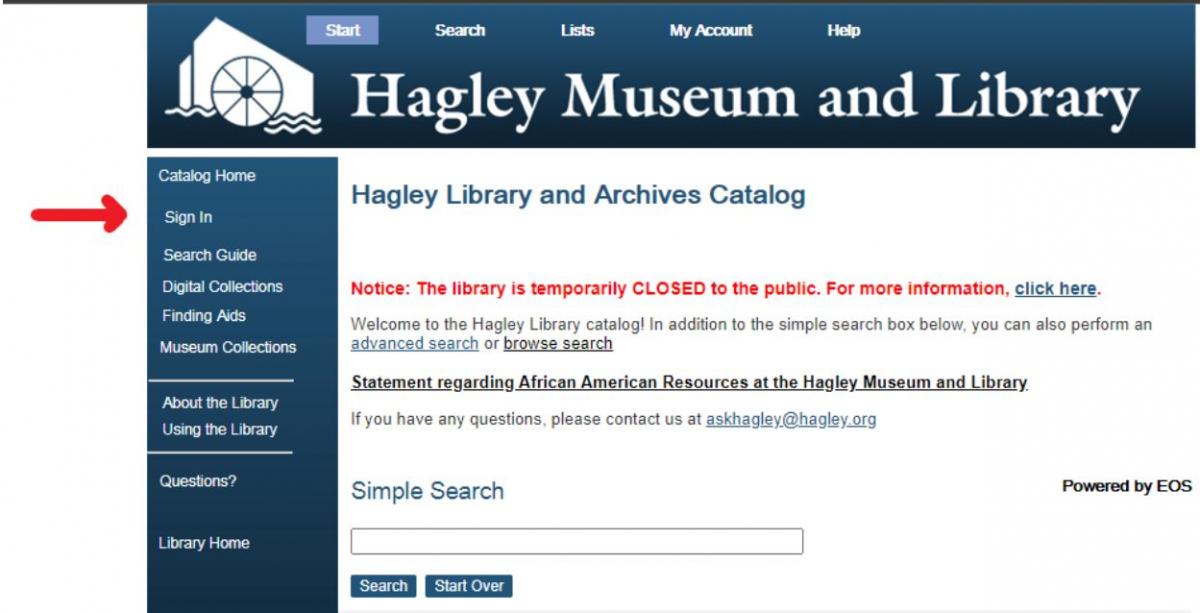 Conduct your search and click on the title you wish to request. 
At the bottom of the record, click on the Hold button (a white box with a green arrow): 
Enter any optional instructions for the reference staff in the Hold Note field and click Hold.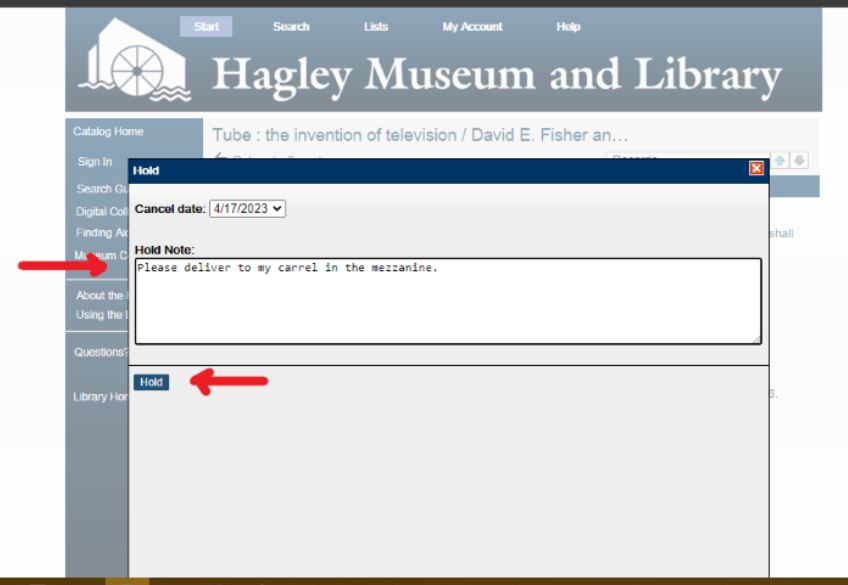 You should receive an acknowledgment that your call slip was submitted.
If you have any questions, please contact us at AskHagley@hagley.org