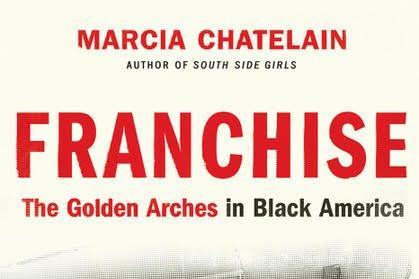 Franchise: The Golden Arches in Black America
History Hangout: Conversation with Marcia Chatelain
In Franchise: The Golden Arches in Black America, Marcia Chatelain explores how fast food restaurants saturated black neighborhoods and became, as well, a focal point in the development of "black capitalism." To tell this story, she charts a surprising history of cooperation among fast food companies, black capitalists, and civil rights leaders, who―in the troubled years after King's assassination―believed they found an economic answer to the problem of racial inequality. With the discourse of social welfare all but evaporated, federal programs under presidents Johnson and Nixon promoted a new vision for racial justice: that the franchising of fast food restaurants, by black citizens in their own neighborhoods, could finally improve the quality of black life. Synthesizing years of research, Franchise tells a troubling success story of an industry that blossomed the very moment a freedom movement began to wither. 
Marcia Chatelain is a professor of history and African American studies at Georgetown University, and is a leading public voice on the history of race, education, and food culture. The author of South Side Girls, Chatelain lives in Washington, DC. Franchise was awarded the Pulitzer Prize in History and the Hagley Prize for the best book in business history.  
The audio only version of this program is available on our podcast.