Monday, November 24, 2014
Sunoco Oil executive J. Howard Pew (pictured) had a soft spot for poetry. From the mid-1930s to the mid-1960s, he kept a folder in his personal papers for snippets of verse. Admirers sent poems to him, as did friends in business. Pew's collection ranged from the sentimental to the inspirational. Most poems concerned work, personal "success," and the Christian faith. (Pew was a devout and influential lay Presbyterian.) But he also liked poems with a political flair.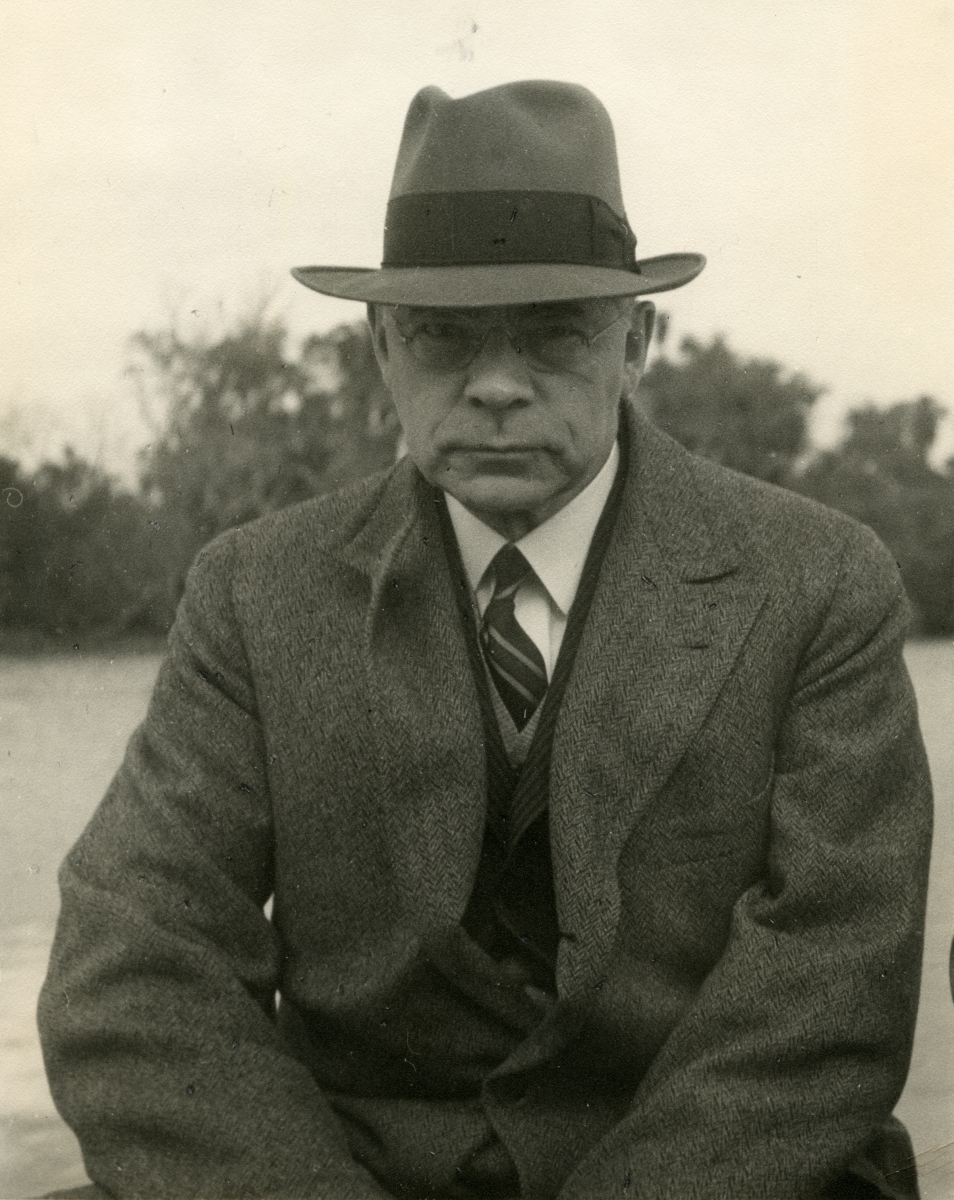 My research at the Hagley Library focused on American businessmen's postwar reflections on the Great Depression. It is part of a broader project on how Americans after World War II remembered the 1930s and the New Deal, whether in popular culture (art, music, literature), memorial sites and rituals, or political activism, for and against the New Deal state. Though indirectly related to my research agenda, it was an unexpected treat to come across the folder, stuffed with satirical poems like "The Gravy Train Has Arrived" (which criticized the "laziness" of Roosevelt's supporters) or "The President Addresses His Cabinet (which derided Roosevelt's "brain trust" and New Deal programs). Another poem's narrator, ostensibly a businessman like Pew, channeled the biblical David in "1937 Psalm":
Mr. Roosevelt is my shepherd
I am in want.
He maketh me to lie down on park benches,
He leadeth me beside the still factories,
He disturbeth my soul.
He leadeth me in the paths of destruction for the
Party's sake.
Yea, though I walk through the valley of the
shadow of depression
I anticipate no recovery, for he is with me.
His policies and his diplomacies, they frighten me.
He prepareth a reduction in my salary and in the
presence of mine enemies,
He annointeth my income with taxes.
My expenses runneth over.
Surely unemployment and poverty shall follow me
all the days of my life,
And I shall dwell in a mortgaged house forever.
Pew also retained a pamphlet, titled Splash! The Dupe is in the Soup: The New Deal Spiced with Verse and Cartoon, which featured poems on "The Great Delusion" (of deficit spending) and the "Askew Deal" (of government regulations crushing small businesses). Another sing-song poem sarcastically invited the reader to "Sing a Song of Dollars." (The King is in the Big House/Handing out the money./The Queen is on the front page/Looking very funny./The Knave is up in Boston/Plucking all the plums,/While the country alphabetically,/Is feeding all the bums.") Satire joined innuendo in another short stanza about Roosevelt's administration, titled "Nuts." ("Some say these guys are crazy/These New Deal bureaucrats. . . . But still they have their talents,/They show a lot of zeal,/In hiring secretaries/With loads of sex appeal.")
Although it is difficult to determine if or how a businessman like Pew read the poems, he undoubtedly enjoyed them enough to hang onto them. And they suggest a facet of conservatism that historians rarely account for. For as much as postwar conservatives couched their political agenda or outlook in rational self-interest, theirs was no staid conservatism. To be a conservative was also to warm to a conservative aesthetic, to artistic or creative expression that—like Pew's poems—could give a certain rhyme to political reasoning.
---
Darren E. Grem is Assistant Professor of History and Southern Studies at  University of Mississippi