Thursday, January 21, 2016
I came to Hagley on a research grant for my project on the development of telephone buildings in the Bell Telephone system monopoly across its first century. The MCI Collection, held by Hagley provides valuable perspective on the Bell system's waning years.  From MCI's standpoint as an aggressive competitor in the lucrative long distance telephone market, telephone buildings were both Bell's biggest liability and its biggest asset, sparking both scorn and jealousy.
MCI Chairman Bill McGowan proclaimed in a 1979 interview that Bell's problem was that it had "too much plant and too many people"* -- too much real estate, too many wires, too many expenditures on construction and maintenance, and too many operators still at switchboards in outdated exchanges.  McGowan's remarks were both astute and disingenuous.  MCI's microwave network had a light footprint of rural radio towers networked with microwave antennas on leased urban rooftops.
---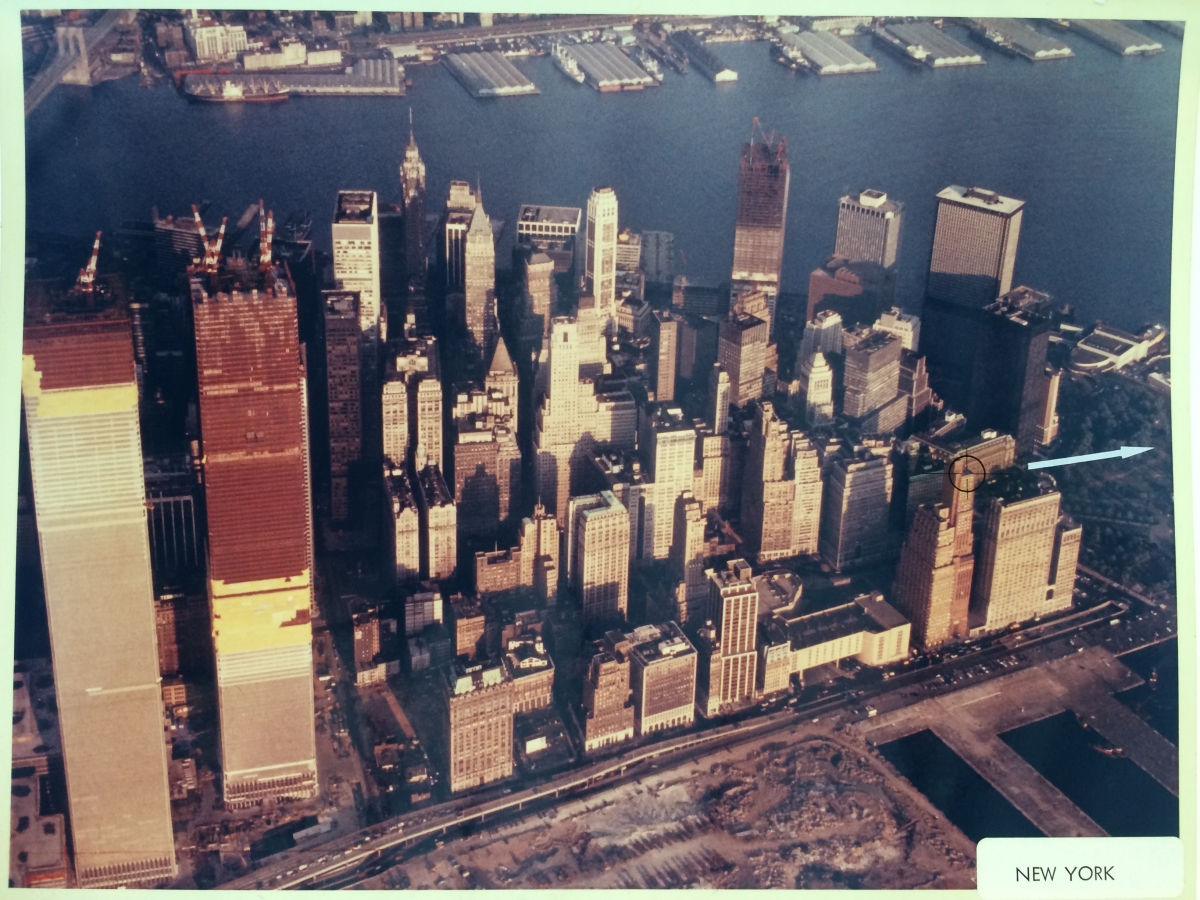 Photograph from a 1971 survey conducted by Inderdata Communications for MCI showing the proposed rooftop location of its microwave antenna in New York City.  This was a proposed terminus in the long distance microwave relay network connecting New York and Washington, DC; the arrow at right points to the south to the system's next link in Carr's Corner, New Jersey. MCI Collection, Box 489.
---
The system was flexible and designed to be able to respond quickly to changes in communications traffic.  MCI owned no telephone buildings.
On the other hand, the MCI system depended on access to Bell's infrastructure for access to local telephone lines.  So while McGowan could criticize Bell's thousands of telephone buildings as aging symbols of a creaky monopoly, MCI, in fact, needed access to those buildings for their own product to succeed.
Bell's portfolio of buildings, outside of these economic and infrastructural issues, though, also provided a symbolic measure of corporate power and prosperity.  As McGowan voiced his critical remarks on "too much plant" and as the Bell monopoly hearings proceeded in federal court, AT&T was in the midst of planning a palace to corporate excess to be designed by Philip Johnson on Madison Avenue in New York, while MCI rented office space in a suburban corporate campus in Tysons Corner outside Washington, DC and workers in its Dallas, Texas research facility lobbied for the privilege of a small cafeteria.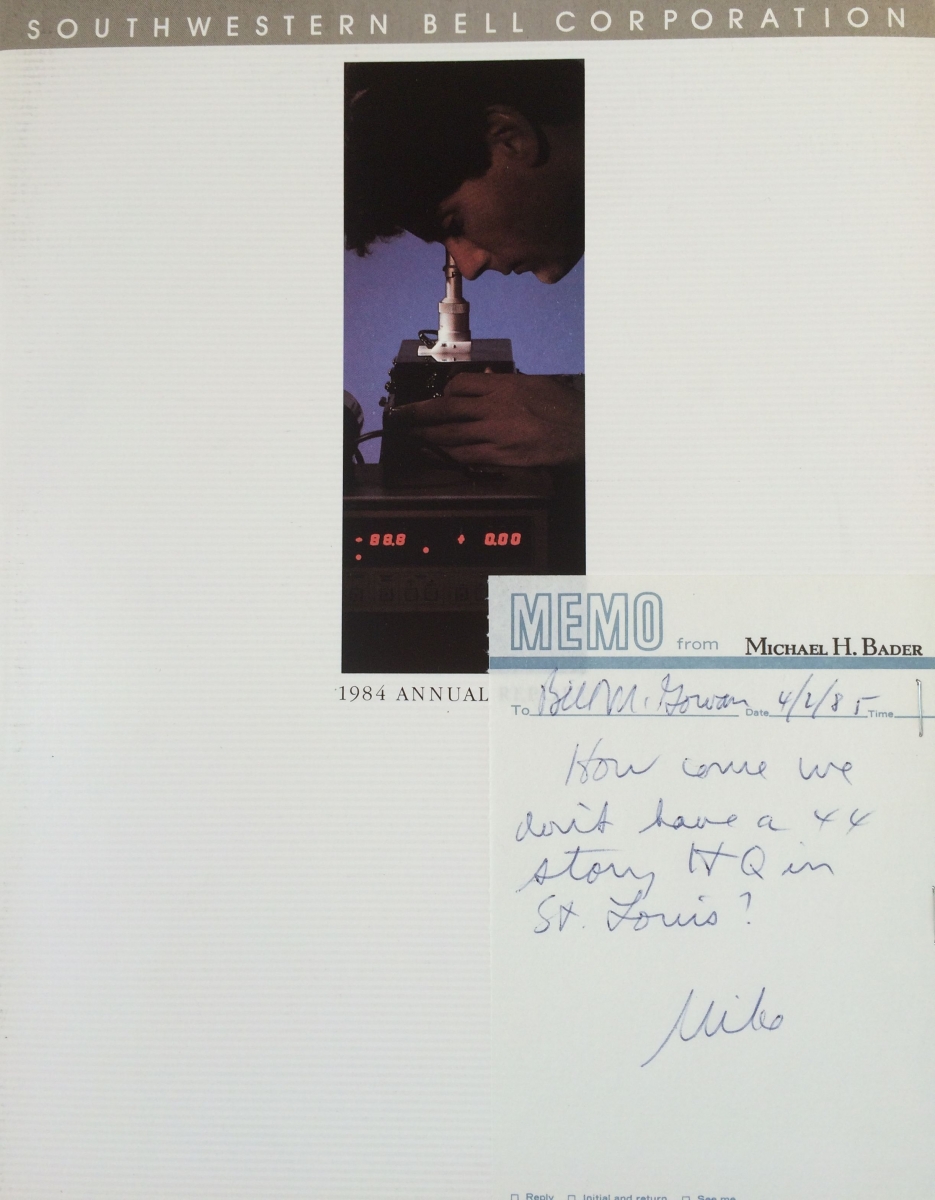 The architectural strategies of Bell and MCI were radically different, summed up in the plaintive but incisive query from Michael Bader, an attorney who served on MCI's board for 30 years, handwritten on a post-it note plastered to the front of Southwestern Bell's 1984 annual report – its first annual report issued after the breakup of the Bell monopoly: "How come we don't have a 44 story HQ in St. Louis?" 
Right: Michael Bader's memo to MCI Chairman William McGowan, affixed to the cover of Southwestern Bell's 1984 annual report.  MCI Collection, Box 56.
On its face, the question called out the Bell holding companies for unnecessary corporate waste – but beneath the surface, it suggests that Bell system architecture still had the power to inspire envy.
* McGowan quoted in Bernard Shakin, "Ring My Bell," Barron's, February 5, 1979, 9, filed in McGowan's personal papers.  MCI Collection, Box 111, Hagley Library.
Click to view a selection of digitized materials from Hagley's MCI Collection
Kathryn Holliday is an associate professor in the College of Architecture, Planning, and Public Affairs, University of Texas at Arlington. Contact her at kholliday@uta.edu.