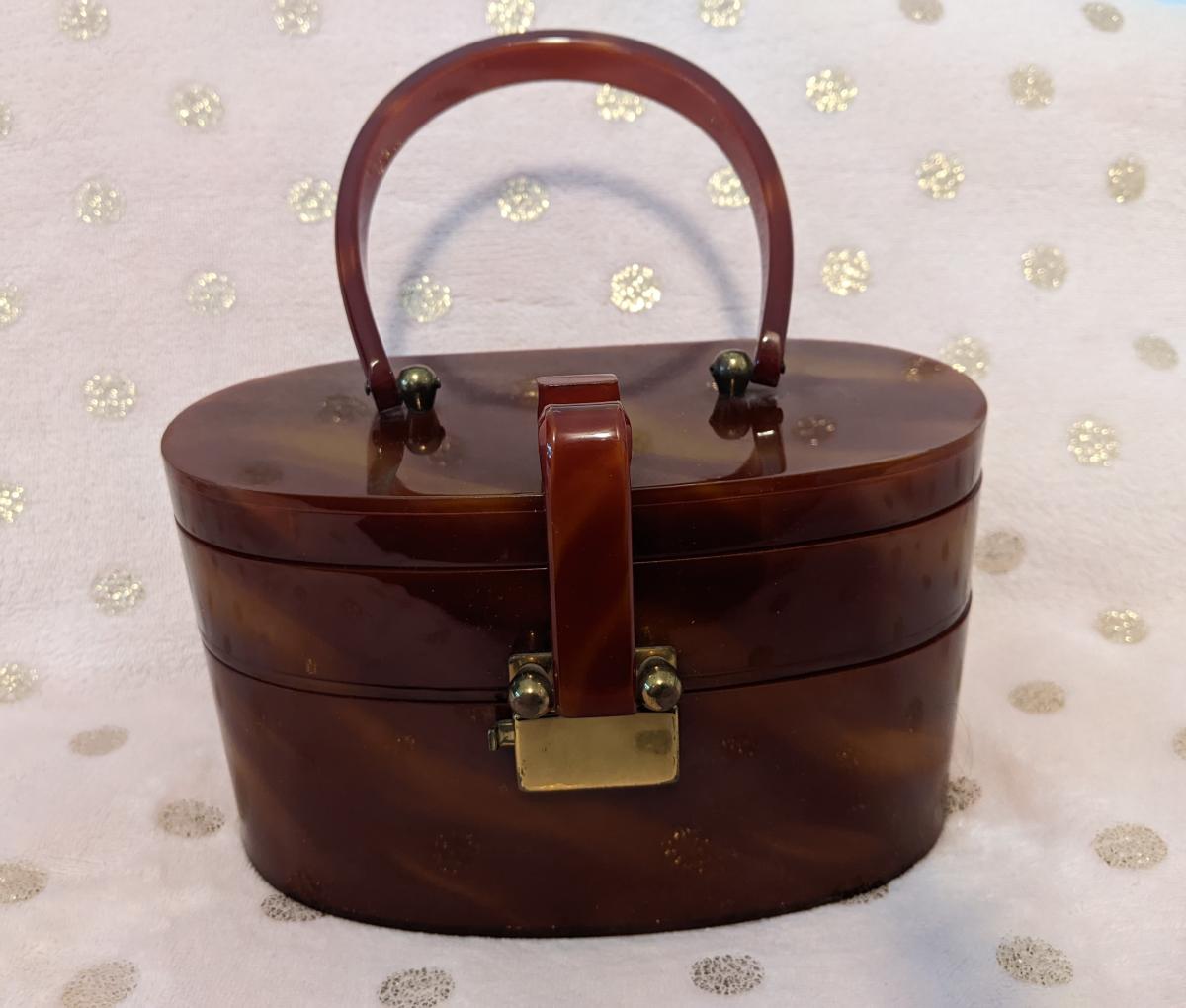 My parents recently downsized and moved, and in the process, I received a few things that had belonged to my grandmother. One of them was an unusual handbag that I had enjoyed playing with as a child.
When I opened the lid, I found an old Bergdorf Goodman advertisement that my grandmother had placed in the compartment, describing a similar bag to her own (see right). That's how I discovered that the bag is made of Lucite.
Lucite was developed and marketed in the 1930s by rival chemical manufacturers DuPont and Rohm & Haas Company. Each company produced the same clear acrylic material (chemical name: polymethyl methacrylate), but trademarked it under different names: Lucite (DuPont) and Plexiglas (Rohm and Hass).
An article from Collector's Weekly describes why these hard plastic bags may have been popular:
Though plastics today are typically associated with cheap, low-integrity products, during the boom years following World War II, recently developed thermoplastics carried the cachet of glitz and glamour. In the worlds of industrial and interior design, modern materials and geometric forms were all the rage. That trend spilled over to fashion, whose designers soon turned to sturdy plastics like Lucite to create fashion-forward handbags and purses. Created in 1931 by the American chemical company DuPont, Lucite is a durable acrylic material made from polymethyl methacrylate, or PMMA. Lucite became a successful replacement for earlier plastics like Bakelite and Catalin because of its low density and high strength. Though used primarily in military applications during World War II, Lucite was adapted for use in jewelry, and fashion accessories during the late 1940s.
In the late 1940s, various New York handbag companies embraced plastics and released lines of Lucite purses. By 1950, Miami Beach was a happening spot for American vacationers, and many Florida-based manufacturers also joined the Lucite trend.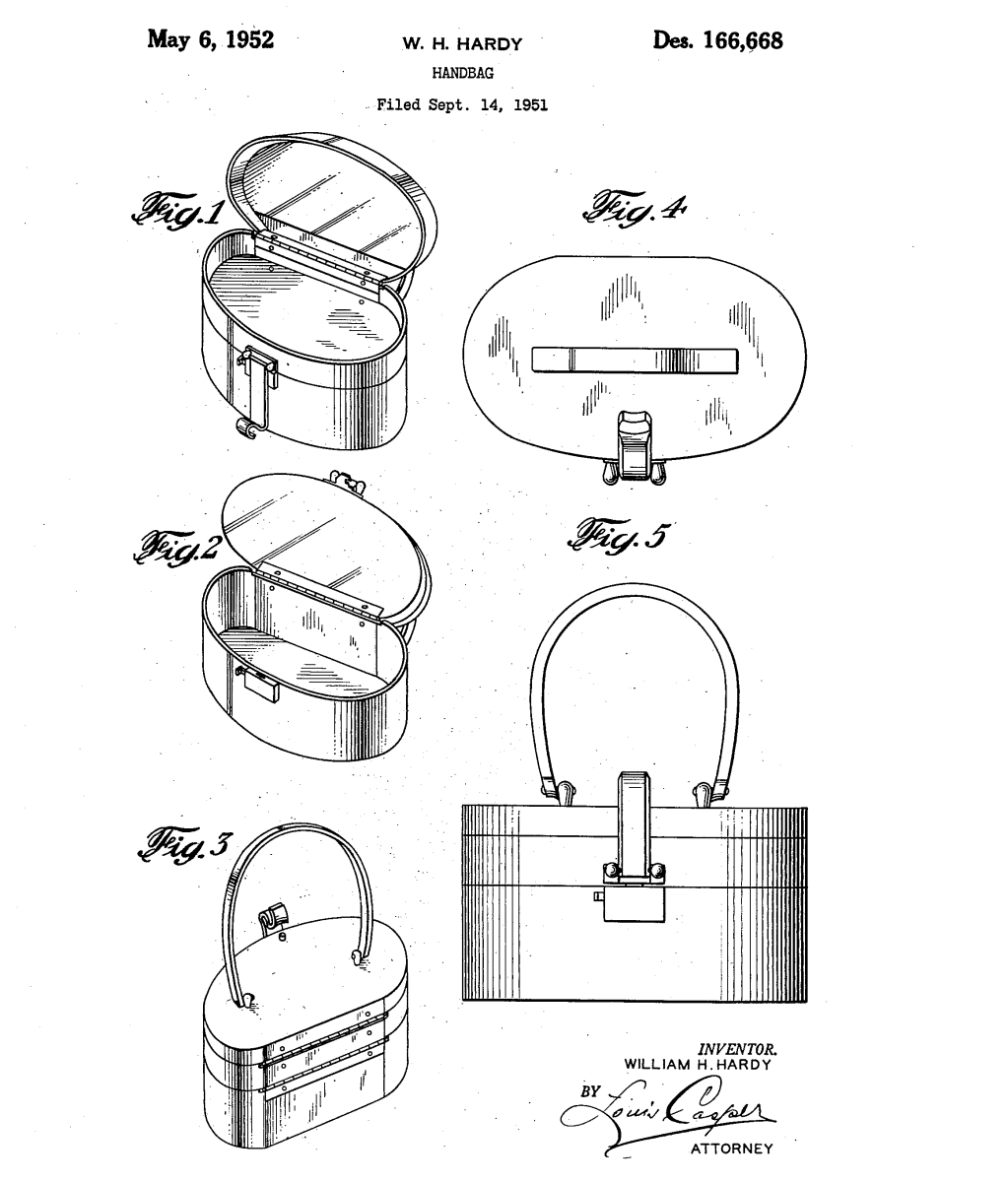 One of the well-known New York manufacturers was Wilardy. Wilardy Originals began in 1946 as a collaboration between Charles William Hardy and his son, William Hammond Hardy. Another quote from the Collector's Weekly article describes how the Hardys started to use Lucite:
Jewelry boxes were an inspiration to Wilardy's founder, Will Hardy, who had originally begun incorporating Lucite parts into handbag designs for his father's company to replace materials like leather and metals, which were restricted by the U.S. government during World War II. After he designed a Lucite jewelry box for buyers at Saks Fifth Avenue, they recommended adding a strap to turn the box into a handbag. This led to Hardy's entry into the world of plastic purses, and by 1951, the Wilardy business was producing 64 styles of Lucite bags in 14 different colors.
I counted 20 patents issued to William H. Hardy on Google Patents, including the one to the right.
The Wilardy website includes some interesting photos including the one below: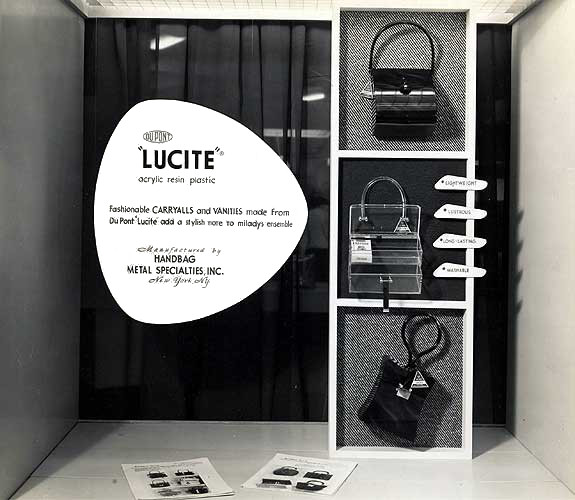 I can't say for certain whether my grandmother's handbag is a Wilardy creation, but it's definitely from the same era. By the mid-1960s, changing fashions rendered Lucite handbags passé and most companies stopped producing them entirely. Still, you can find a nice selection of these fun accessories on eBay and Etsy, or even check with your own grandmother!
Linda Gross is the Reference Librarian at Hagley Museum and Library.