Thursday, August 24, 2023
The collection of Penrose Robinson Hoopes (1892-1976) is now open to the public at Hagley Museum and Library. This collection consists of materials from Hoopes' career as an inventor and engineer in Philadelphia and includes blueprints, correspondence, mechanical drawings, and manuscript and bibliographic material. Hoopes specialized in the development of high-production automatic machinery, creating machines for businesses such as the Campbell Soup Company, the American Chicle Company, Johnson & Johnson, and the Ferracute Machine Company. He was also an avid horologist and authored Connecticut Clockmakers of the Eighteenth Century, as well as an extensive compilation catalog of materials on early American inventors and inventions.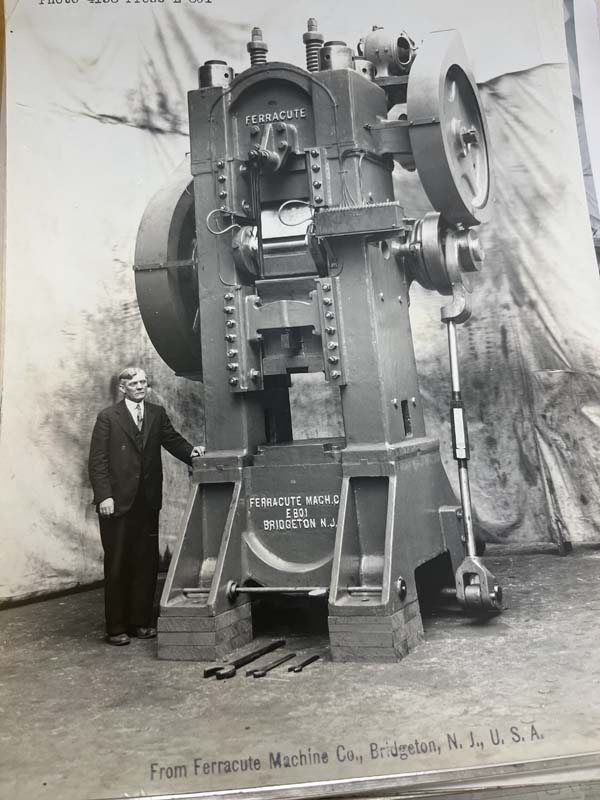 Hoopes' blueprint collection includes drawings of his machines for the Campbell Soup Company dating from the 1920s into the 1940s. Of note is the Diana Dicing Machine, which is the foundational machine for the Campbell chicken noodle soup that exists today. Also included are materials for the Ferracute Machine Company, who sold ballistics machines to the Soviet Union as a part of the Allied effort during World War II.
A particularly interesting part of the collection is the employee records and correspondence from World War II. Hoopes retained applications to the Selective Service Committee for his employees, and the documents track the changes in classification from deferment for necessary work to eventual drafting and active service. Hoopes maintained correspondence with several employees, and the letters offer personal insights into the lives of engineers engaged in the war.
Aside from materials related to his own work, Hoopes compiled extensive resources related to early American industry. The collection includes individual bibliographic entries for patents and works on inventors, as well as typed manuscript material for a volume Hoopes titled Technical Americana. This collection would serve any researcher interested as a resource for primary source material on twentieth century mechanical design and provides a reference point for eighteenth and nineteenth century engineering.
Begin your exploration of the Penrose R. Hoopes papers (Acc. 1344) at findingaids.hagley.org.
Paige Bartello is a Technical Services Intern at Hagley Museum and Library