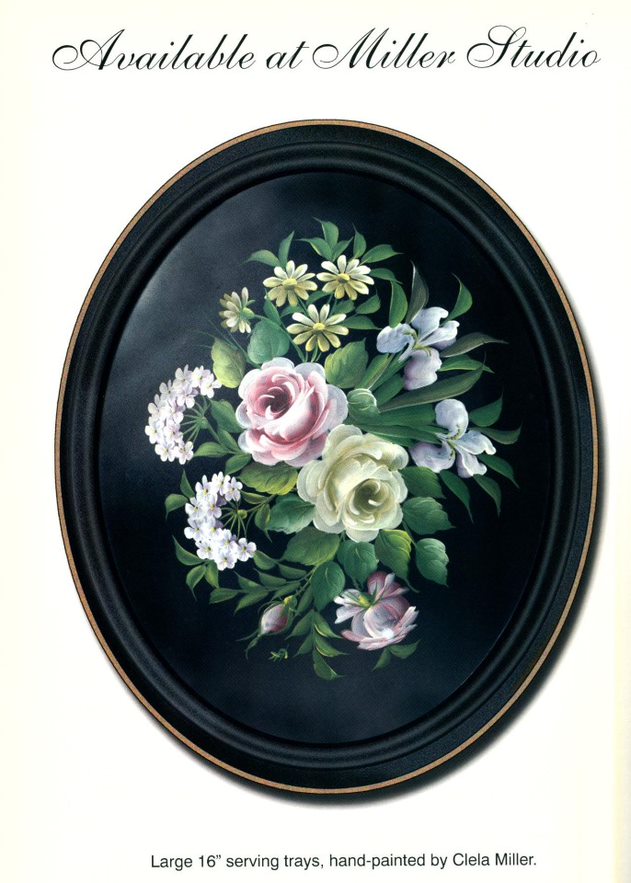 If you've ever wondered who put the "industry" in cottage industry, you'll find a compelling case in our recent acquisition, Straight From the Kitchen Table (2001). This biographical work offers 799 pages of fascinating, first-hand accounts of creative ways to troubleshoot production methods as a home-based business prospers. The author, Max T. Miller, credits the artistic talents and business sense of his mother, Clela Belle Miller, for starting their family business, Miller Studio, Inc.
In the early 1920s, Clela Belle Miller practiced and taught the art of decorative painting in the home while her husband Harry and his brother Ed operated the West End Garage in the town of New Philadelphia, Ohio. She finished ready-made chinaware and plaques at her kitchen table and sold them to customers from her dining table. Together, the Miller family set up a booth at the Tuscarawas County fair to promote the auto shop. Exclusive users of DuPont Duco paint, they gave away hundreds of metal trays adorned by Clela with Duco in 1928. The crowd went wild for her wares. I wonder if the 1927 Duco ad campaign, "Create Personal Gifts for Christmas With Duco," inspired the Millers?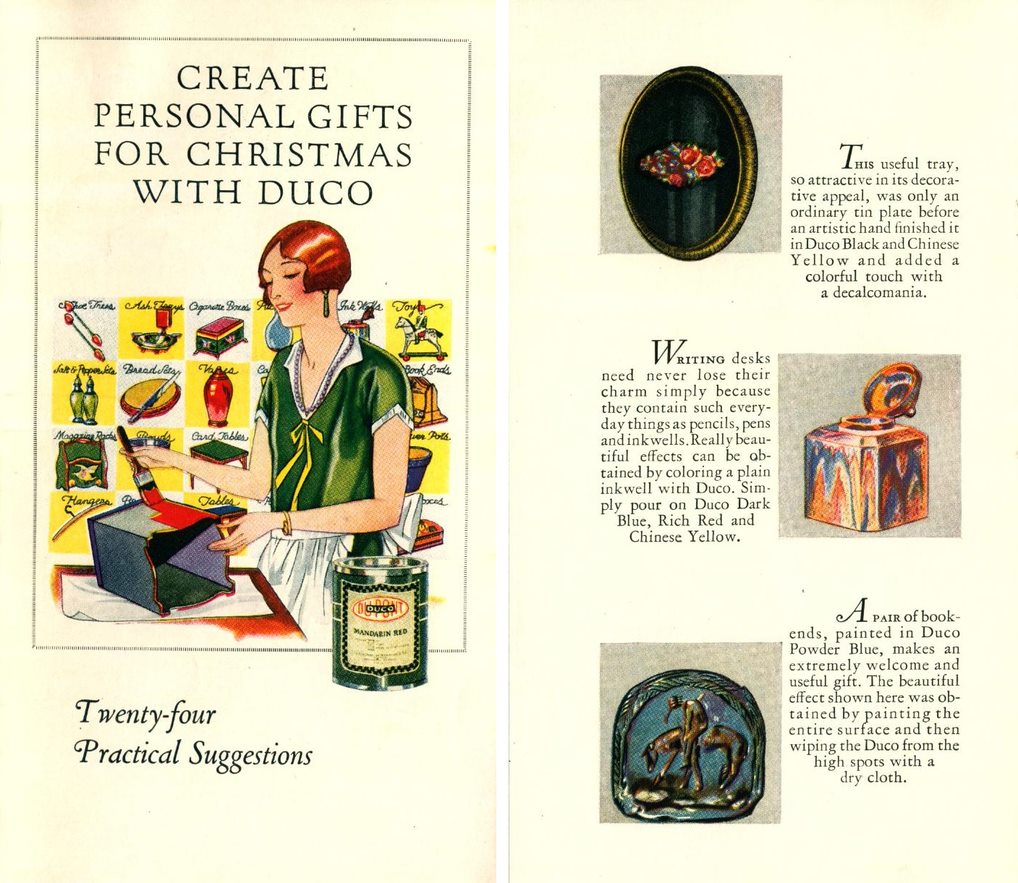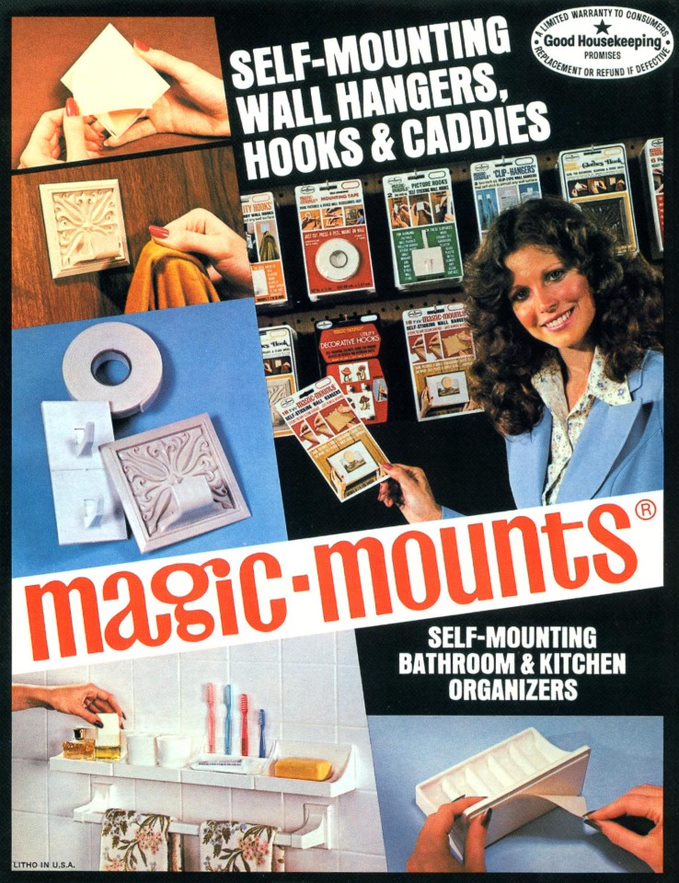 Whatever the case, Clela moved her successful enterprise into the building occupied by the West End Garage. By 1934 the family auto shop gave way to Miller Studio, "The Gift Store With a Personality." Harry experimented with methods to produce the plaques himself. He tried heavy lead molds and hot wax but preferred casting with liquid latex and plaster to create decorative chalkware. After service in World War II, he returned to focus on developing the plaque business with his brothers while Clela and Max continued to run the store. 
Miller Studio expanded their product line deeply into home furnishings including lawn ornaments, bird baths, bookends, figurines, clocks, glassware and holiday decor, but they also spread their wings to cross new business horizons. The Millers pioneered specialty packaging with cellophane windows as gift boxes, which stimulated impulse purchases by customers; they entered the industry of double-sided, foam-backed adhesives, establishing the Magic-Mounts brand for hanging their plaques and affording applications for automotive and mechanical engineering; and they also offered display systems to the national chains that distributed their merchandise.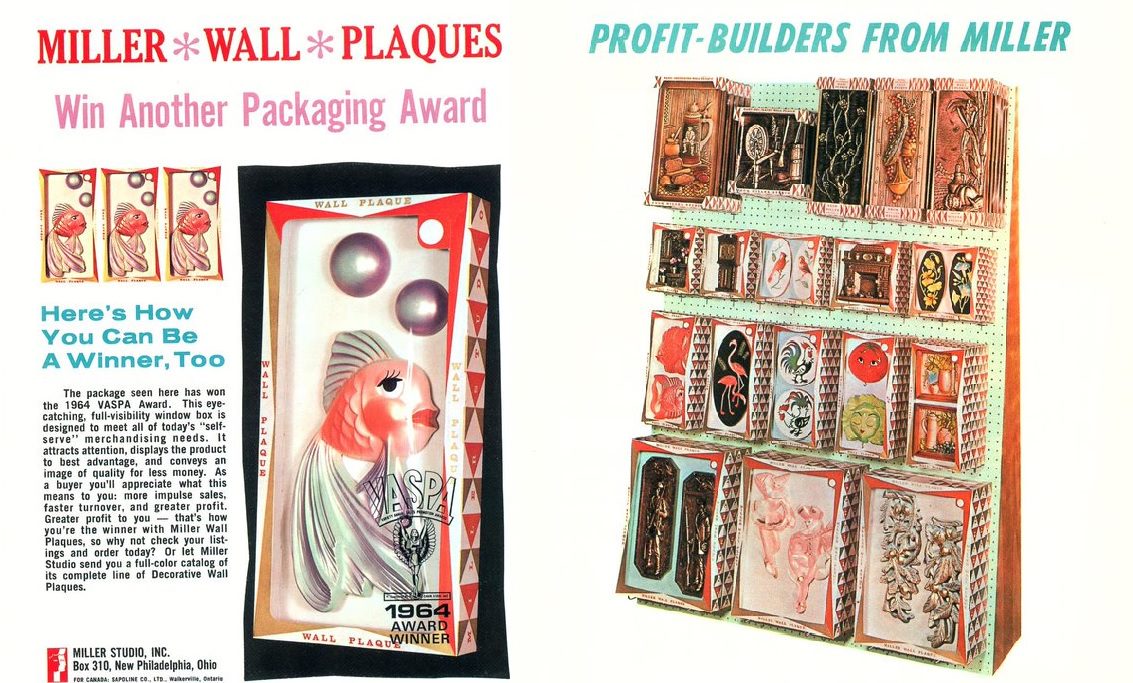 Straight From the Kitchen Table is generously illustrated with images of staff members, factory scenes, packaged goods, and numerous trade catalog covers. The Miller Studio narrative traces the giftware trade from its infancy in the 1920s through the postwar boom. We invite you to explore our collections for inspiring stories of innovative people like the founders of Miller Studio.
Alice Hanes is the Technical Services Librarian at Hagley Museum and Library.