Thursday, August 24, 2023

His name may escape you, but his iconic designs for films such as Blade Runner (1982) and Tron (1982) will strike a familiar chord. The industrial designer turned futurist Syd Mead (1933-2019) had a monograph of his work published in 1985 entitled Oblagon, and can be found in Hagley's published collections. It's a lavish book that immediately conveys an altogether thrilling imagination.
Mead started his career by designing cars for the Ford Motor Company Design Center, later beginning his own company with clients like Chrysler and Volvo. Of particular interest among his clients in the 1970s was Raymond Loewy Associates. Raymond Loewy (1893-1986) was a legendary designer who shared similarities with Mead. Both were futurists in their own right and shared a fondness for large areas of curving space, whether it be on cars, locomotives, or household objects like electric razors.
The above painting, done for Raymond Loewy Associates, bears Mead's recognizable style and characteristic background abstractions. Importantly, though some attempt was made to obscure it, the distinct shape of Mead's signature is visible upon enlargement.
Loewy's work is as emblematic of the Art Deco Streamline era as Syd Mead's glossy, panel-lined surfaces were instantly indicative of the 1970s and 80s. The way both designers tackled different challenges makes for an interesting comparison: Loewy's Soviet Kometa Hydrofoil Project versus Mead's plans for a client's private yacht. The latter has beautiful preliminary sketches, showing a marvelous interior with walls and corners scintillating with light.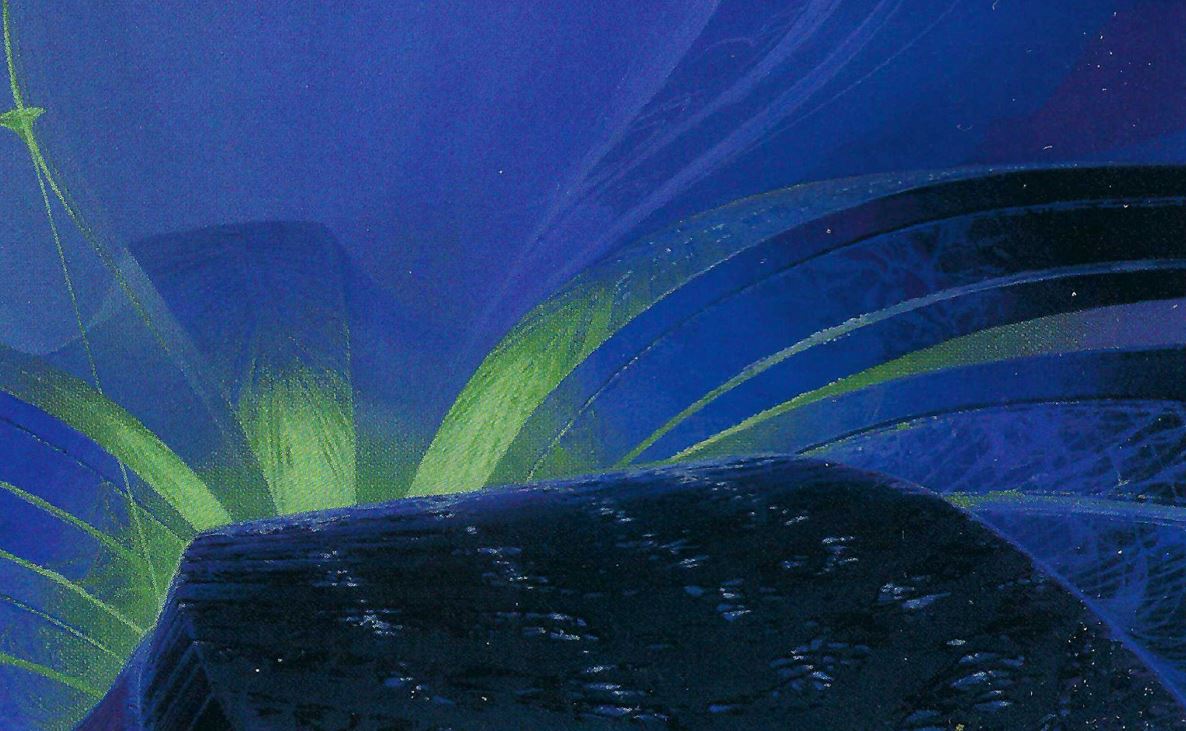 Mead's style is instantly recognizable for the smooth and expert combination of gouache and airbrush. Particularly skillful are the ways reflective surfaces are rendered. While the forms of many of these conceptual vehicles seem outlandish, they are based on familiar shapes or feel plausibly functional. Though often simple and modern, Mead will usually accentuate the plain surfaces with bands of decoration, achieving an elegant minimalism.
However, where his designs are not minimal, they bristle with stylish texture and detail. For Mead's first job designing a film, director Robert Wise asked him to imagine the massive spacecraft entity "V'Ger" for Star Trek: The Motion Picture (1979). The design brief from Robert Wise was simple: "Something no man has ever seen before." Mead delivered a craft that is part landscape and part organic structure, rendered in his concept paintings with fluorescent blues and acidic greens.
Also presented in Oblagon are many concepts for Blade Runner, the most seminal of 80s science fiction dystopias. Mead considered everything from cityscapes to hostile parking meters, mostly rendering them complete within their intended environment.
Of particular note are two pieces of artwork relating to an unmade live-action movie based on the Mobile Suit Gundam anime series, which was to have been a Japanese/American co-production. We're able to get a sense of the magnificent scope Mead was able to conjure for whatever project he worked on.
A similar book, The Movie Art of Syd Mead: Visual Futurist, was published a few years ago. However, its portrait orientation doesn't allow for the same generous close-ups of his artwork as Oblagon's landscape format.
Mead's utopian visions may seem impossibly naive, but that optimism is essential for conceiving possible future implementation of technology and design. This follows in the tradition of designers like Raymond Loewy, who projected society's hopes into a kinetic style. Much of the aforementioned artwork and more, are represented in this beautiful blue volume. As with the best futurists, any amount of time perusing Mead's work is a refreshing escape for both the imagination and the eyes.
Additional Source: Porter, Glenn. Raymond Loewy: Designs For A Consumer Culture. Wilmington, DE: Hagley Museum and Library, 2002.
Alex Lattanzi is the Collections Assistant at Hagley Museum and Library