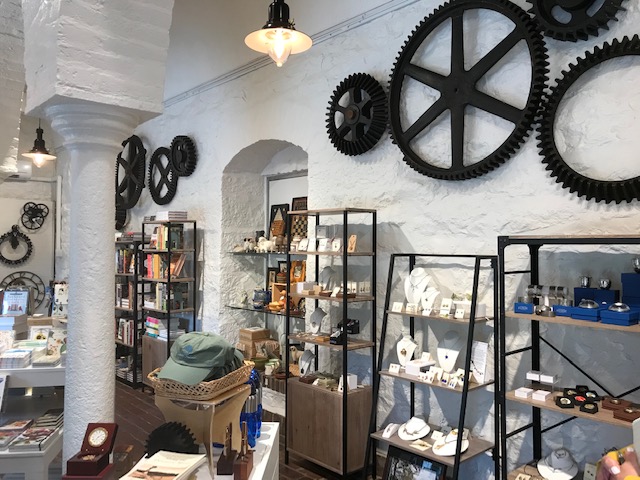 The Hagley Store has re-opened with a new look and shopping experience for visitors.
The beautiful stone building that houses the Hagley Store has an interesting past as part of the textile tradition of mills along the Brandywine. It was built in 1822-1823 for the cleaning and picking of raw cotton that supported the cotton spinning mill next door, now the Hagley Visitor Center. Baled cotton had to be unpacked and the fibers loosened, fluffed, and picked clean of seeds. This step in the textile operation was hazardous and likely to cause a fire. Therefore, the building was designed to be fireproof and built entirely of stone, brick, and iron.
When the DuPont Company took over the building in the 1880s, it was used to store paints, as a carpenter's shop, and for making metal caps for powder kegs.     
The building has once again been transformed, with a new look for the Hagley Store. While the brick arches still extend down the center aisle lending a fine architectural detail to the interior, new display fixtures, merchandise, and lighting welcome shoppers. With an eye toward the industrial heritage of the region, the store now features gifts and decorative items with a Brandywine flair. Limited edition gifts and custom orders will soon be available.
Kate Blumen started in late February as the new Hagley Store manager. Before joining Hagley, she served as business development officer for Manx National Heritage on the Isle of Man, where she was responsible for merchandise at all heritage sites. While at the Frick Art & Historical Center in Pittsburgh, she oversaw a rebranding of its store, the creation of custom merchandise, and all store operations.
The store is open at 10 a.m. daily. Please stop in and meet Kate!