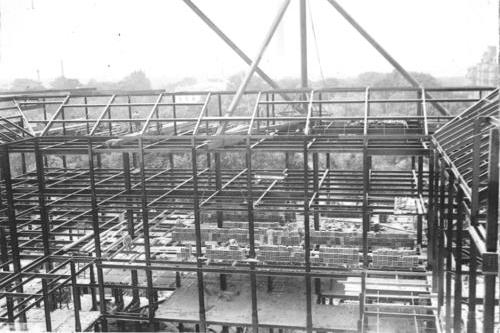 Introduction of the Rolled I-Beam in the U.S.A. in the 1850s, Revisited
History Hangout: Conversation with Sara Wermiel
Gregory Hargreaves interviews Sara Wermiel about her research project "Introduction of the Rolled I-Beam in the U.S.A. in the 1850s, Revisited." In support of her research, Wermiel, an independent scholar & historic preservation consultant, received a Henry Belin du Pont research grant from the Hagley Center for the History of Business, Technology, & Society. 
In "Introduction of the Rolled I-Beam," Wermiel explores the development and adoption of the building section known as the "rolled I-beam," a structural beam that in cross-section appears like a capital letter 'I,' and which is manufactured by a rolling process. Embraced as a replacement for wooden beams, iron (and later steel) I-beams played a central role in the advent of "fireproof" building construction, favored by institutional buildings such as banks and government offices. The focus of Dr. Wermiel's project is the competition between early rolled I-beam makers, the Trenton & Phoenix iron firms, for market position and technical superiority.    
Dr. Wermiel used Hagley's collections on the Phoenix Steel Corporation for a paper on the history of the I-beam presented at the Construction History Society of the U.K.'s meeting in April 2020. The paper is available, digitally and in print.  
The audio only version of this program is available on our podcast.