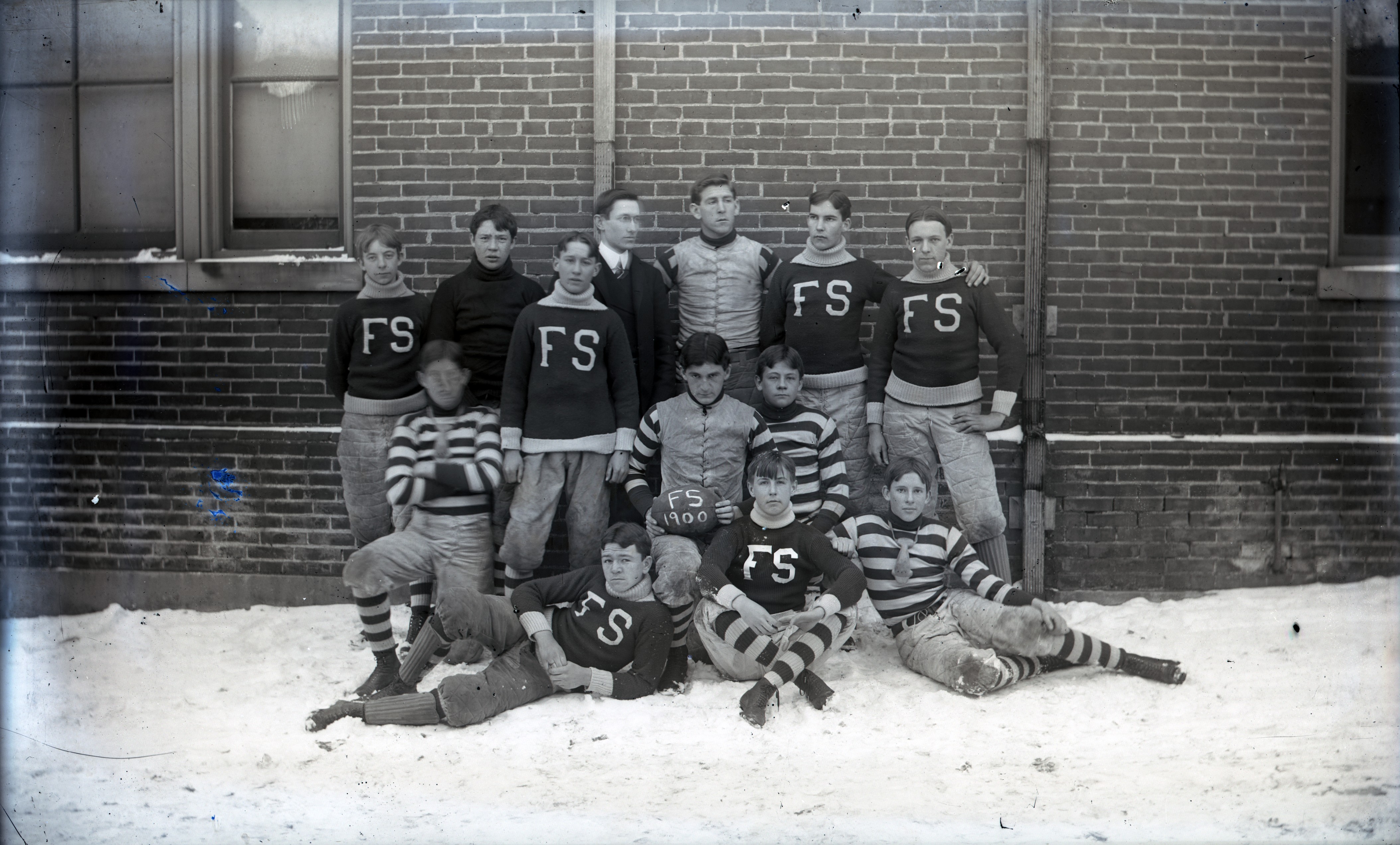 This 1900 glass negative from Hagley Library's collection of Thomas C. Marshall photographs (Acc. 1990.270) shows the Wilmington Friends School's football team in uniform.
The Marshall family's patriarch, Israel W. Marshall (1850-1911), founded the Marshall Brothers Paper Mill in Yorklyn in 1890. The wealth generated by this family business allowed his son, Thomas Clarence Marshall (1885-1969), to become a man of many hobbies, including photography.
Israel W. Marshall and his wife, Elizabeth C. Mitchell, were both members of the Quaker Hockessin Meeting, with roots in the meetinghouse dating back to mid- and late 18th century. Their children, Warren, Anna, and Clarence were also active members of the Meeting throughout their lifetimes. All three children, along with their cousins Albert and Henry Marshall and Henry and Ellen Mitchell, attended the Wilmington Friends School around the time this photograph was taken, taking a train from Yorklyn to the school's location at Fourth and West Streets in Wilmington, Delaware.
The School, which was open to all denominations, also served (along with the nearby Wilmington Meeting House) as the last major stop on the East Coast overland route of the Underground Railroad. The buildings operated as such under the direction of abolitionist and activist Thomas Garrett (1789-1871), known by many as the "Stationmaster of the Underground Railroad".
In addition to other subjects, the Hagley's collection of his photographs contains images documenting the Marshall family and their friends. Other subjects include more photographs of Auburn Heights, the Marshall Brothers Paper Mill, Marshall's collection of Stanley Steamer automobiles, and various locations and events in and around Delaware and Chester County, Pennsylvania.
To view a large selection of images from this collection online now, visit its page in our Digital Archive by clicking here.