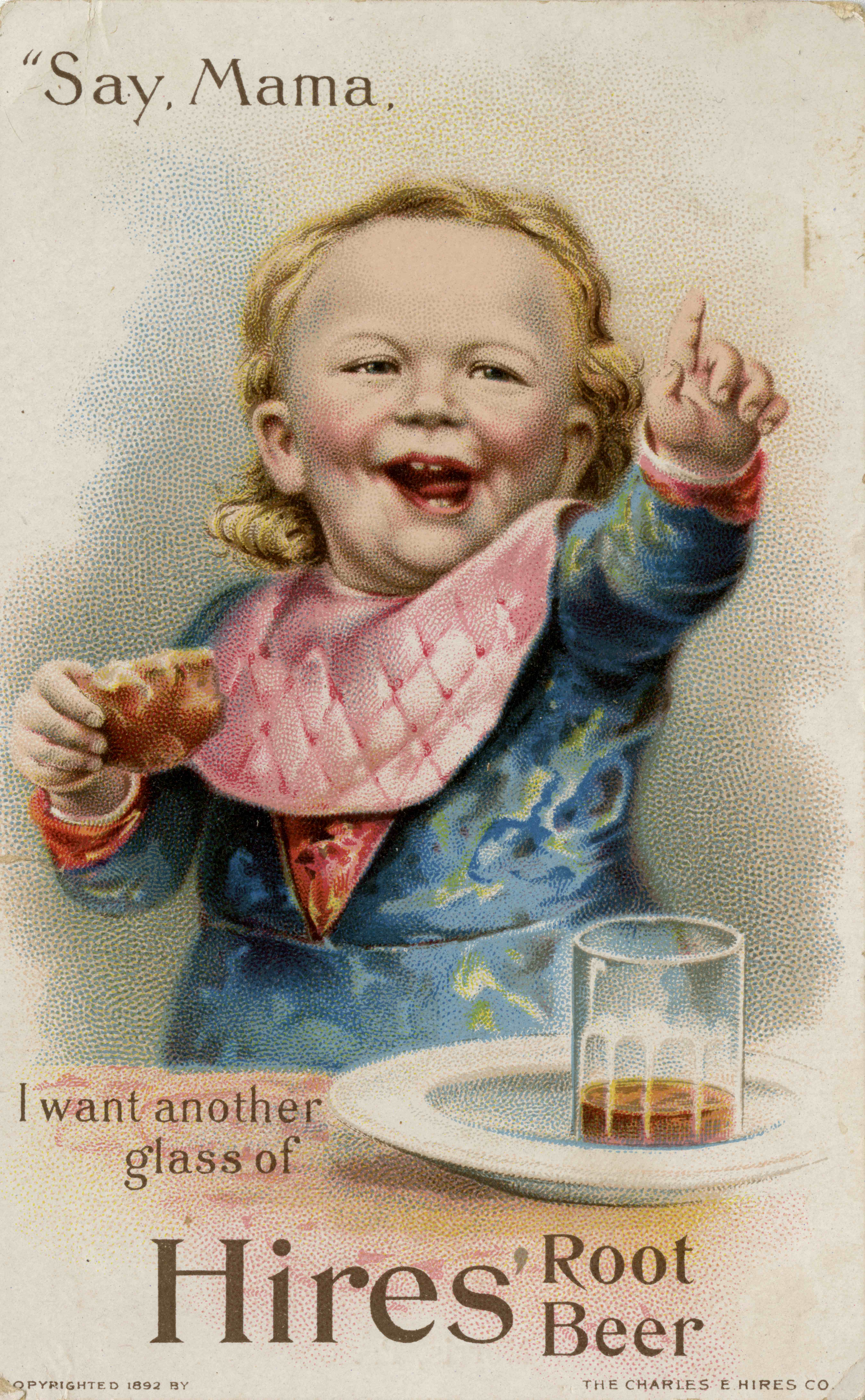 This ca. 1892 advertisement for Hires root beer was produced by the Charles E. Hires Company of Philadelphia, Pennsylvania. The company was founded by the pharmacist Charles Elmer Hires (1851-1937), who debuted his formula at the city's 1876 Centennial Exposition, making Hires Root Beer one of the oldest continuously produced soft drinks in the United States.
In its original formation, Hires Root Beer was sold as a powder, manufactured out of Hires's factory at 117-119 Arch Street. The product wasn't commercially available as a syrup until 1904, when the growing popularity of soda fountains made a syrup product more commercially viable.
Hires was an aggressive marketer of his product, which he claimed to be "the Greatest Health-Giving Beverage in the World" and promoted as "The Temperance Drink" (Hires was also an active member of the Temperance Movement). The child seen in this advertisement was popularly featured in a number of promotional products and advertisements for Hires Root Beer, which began appearing in publications nationwide beginning in the 1880s.
Hires found great success in his lifetime, but by the 1950s, other competitors had entered the market. In 1960, the Hires family sold its majority share in the company Consolidated Foods Corp., a Chicago-based food and consumer products conglomerate corporation who continued to operate the company out of its offices and bottling plant at 206 S. 24th Street  and 326 S. 25th Street, as well as other satellite locations nation and worldwide until 1962, when a sale to Crush International Ltd. moved its headquarters to Illinois. Additional mergers and sales would follow; the brand is currently owned by the Dr Pepper Snapple Group.
This item is part of Hagley Library's Advertising cards and calendar collection (Accession 1992.229). This collection, which is open and still growing at over 1,900 advertising cards and calendars, advertises a variety of products and services. These include agricultural machinery and implements, arms and armament, ammunition and explosives, artists' materials, beverages, building construction, cosmetics and soaps, clothing and dress, coal and other fuels, dry goods, department and general stores, drilling and boring machinery, dyes, exhibitions, fertilizers and manure, foodstuffs, furniture and floor coverings, governors (machinery), hardware, heating and ventilation, hotels and restaurants, insurance, jewelry, kitchen and cooking utensils, laundry and starch, lawn mowers, lighting, machinery, medicines, musical instruments, office and office equipment, paints and varnishes, photographic equipment, plumbers and plumbing equipment, printing and stationery, sewing machines, shoes, thread, tobacco, toys and games, and transportation.