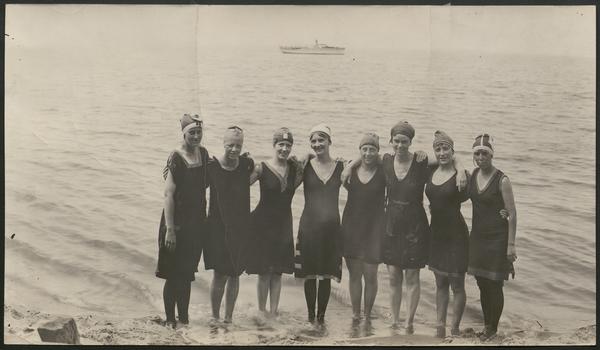 Pack in those summer weekends while you still can. Today, we're taking inspiration from these 1916 bathing beauties, whose girls' getaway to Carney Point's DuPont Village community bathing beach is documented in Hagley Library's collection of E.I. du Pont de Nemours & Company, Inc., Carney's Point Works and workers housing panoramic photographs (Accession 1969.138). 
The DuPont Company purchased the land at Carney's Point, New Jersey in 1890 for the purposes building a smokeless powder plant. In 1892, it began producing guncotton and the first smokeless powder. The plant grew in response to demand from the Spanish-American War, but really boomed during World War I.
The thousands of workers employed there at the time were provided with company housing in a workers' village. The plant continued production into the early 1970s, when it was abandoned and dismantled.
John A. Dick (1879-1972), the first full-time photographer hired by the DuPont Company, documented the growth of the plant during WWI in these photographs. The twenty images that make up this collection include documentation of the workers' village, the 'girls dormitory', supervisors' housing, sections of the plant, and photographs of workers and village residents. To view this collection online now in our Digital Archive, click here.