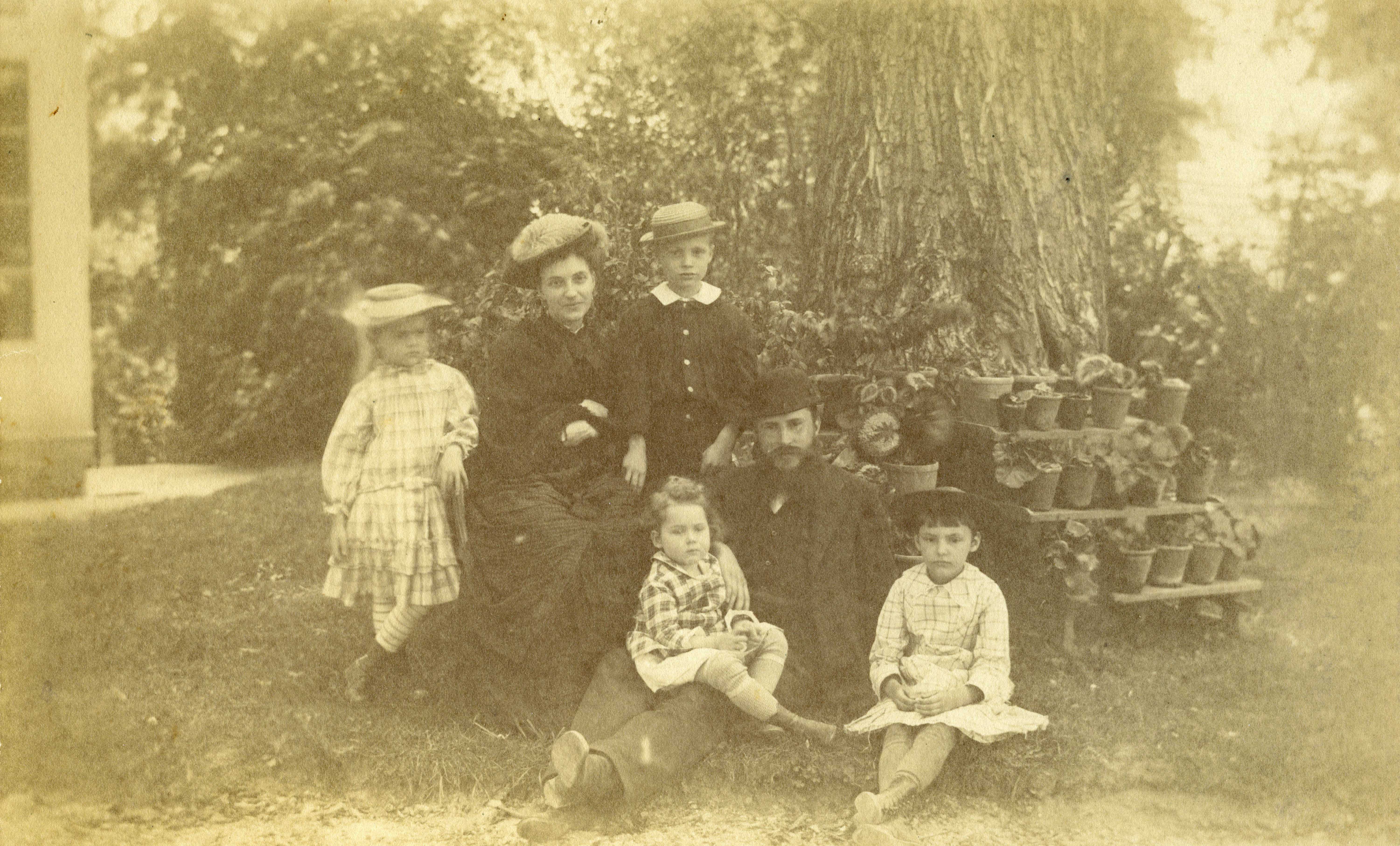 From Pierre S. and Alice Belin du Pont's famed gardens at Longwood, to Henry Francis and Ruth Wales du Pont's gardens at Winterthur, to Alfred I.E. and wife, Mary Heyward Bradford du Pont's gardens at Nemours, to Louise du Pont Crowninshield and Francis Boardman Crowninshield's Crowninshield Garden here at Hagley, and others, the du Pont family has played host to a number of celebrated gardeners.
Today's guest at the Hagley Vault is a bit more modest in his horticultural ambitions, however. This ca. 1881 photograph shows Francis Gurney du Pont (1850-1904) and Eliza Wigfa Simons du Pont (1849-1919) with four (of what would later become ten!) of their children and their charming little container garden.
Francis Gurney du Pont was the son of Alexis Irénée du Pont (1816-1857) and Joanna Maria Smith du Pont (1815-1876). In 1871, he began his career with the DuPont Company as an operator of graining mills. In 1874, he became a junior partner of the firm and later served in the highly important capacity of general manager, and as vice president, until his retirement in 1902. 
This photograph is part of the E. Paul du Pont collection of Hagley Yard and du Pont family photographs (Accession 1975.250). E. Paul du Pont (1887-1950) was the second to youngest of Francis and Eliza's children. While he also worked for the DuPont Company during his lifetime, he is best known for his leadership of Du Pont Motors, Inc., a manufacturing company of luxury automobiles, which he founded in 1919 in Wilmington, Delaware.