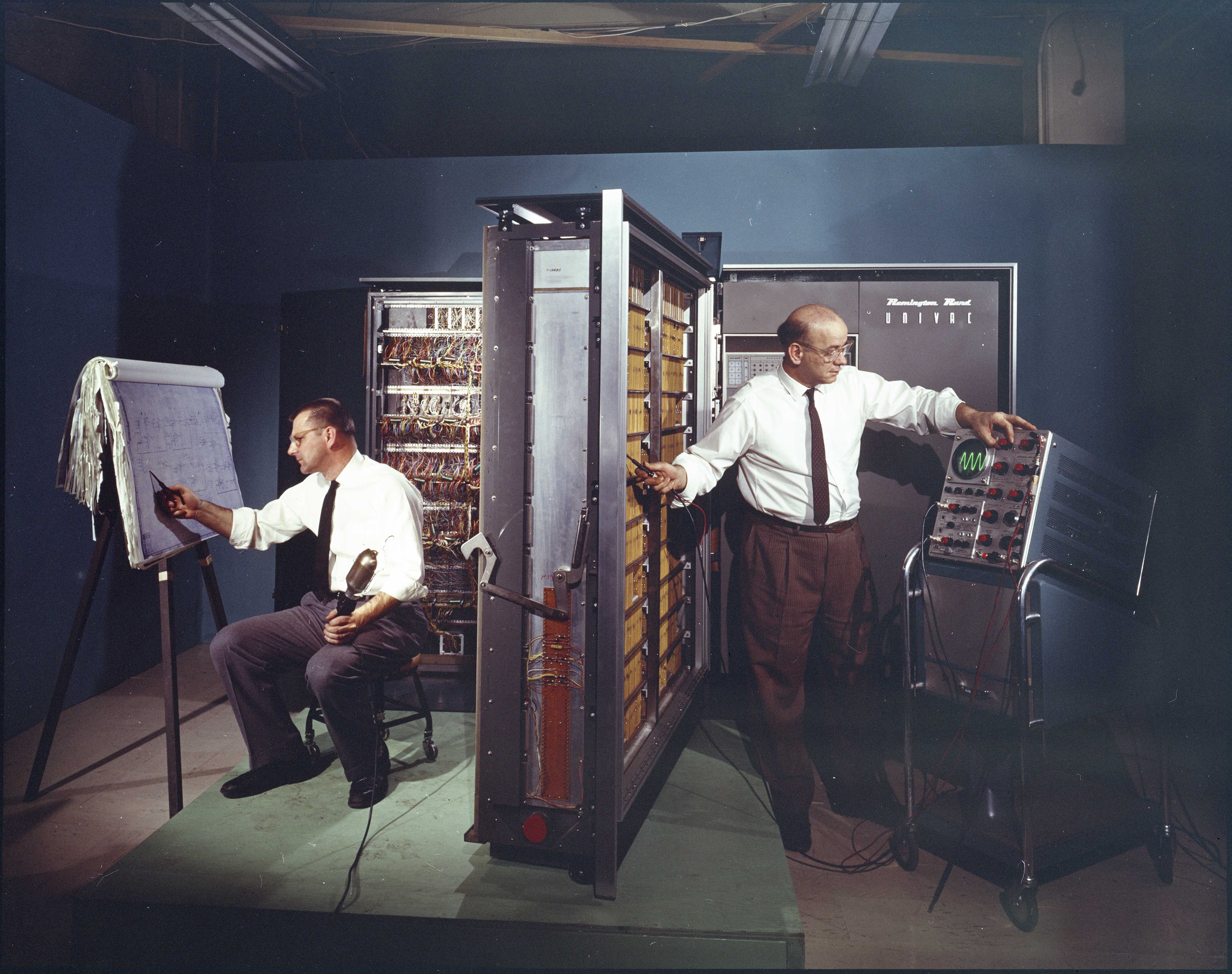 Today's #TechTuesday find shows employees of the Sperry UNIVAC division installing a UNIVAC Solid State Computer at the Ilion Computer School around the year 1959.
The Sperry Corporation was an electronics company that manufactured the first commercial digital computer. Its UNIVAC division has its origins in the Eckert-Mauchly Computer Corporation (EMCC), founded in 1946 by J. Presper Eckert (1919-1995) and John W. Mauchly (1907-1980).
in 1945, Eckert and Mauchley, working under contract with the U.S. Army's Ordnance Department, completed work on the Electronic Numerical Integrator And Computer (ENIAC), the first electronic digital computer. Shortly after the construction of ENIAC, the Eckert-Mauchly Computer Corporation was founded, and began improving on the ENIAC design, which led to the creation of the Binary Automatic Computer (BINAC), and then the Universal Automatic Computer (UNIVAC), the first commercial digital computer.
The Philadelphia operations of Sperry UNIVAC began as UNIVAC system development and production by the Eckert-Mauchly Computer Corporation. The Philadelphia plant produced the UNIVAC I and II systems, as well as the Livermore Advanced Research Computer (LARC). Operations were eventually moved to nearby Blue Bell, Pennsylvania, which became the home of the Sperry UNIVAC World Headquarters.
In 1950, Eckert and Mauchly sold their firm to Remington Rand, Inc, a major manufacturer of business machines, who continued development of the UNIVAC system. The Univac Engineering Center in Whitpain Township produced many Sperry UNIVAC commercial/business computer systems, including the Univac Solid State Computer (USSC) in 1959, the UNIVAC III in 1962, the 9000 series between 1965 and 1973, the System 90 family between 1973 and 1975, and the System 80 family around 1980.
This image is part of Hagley Library's collection of Sperry Corporation, UNIVAC Division photographs and audiovisual materials (Accession 1985.261). The collection documents predecessor organizations to the Sperry Corporation, including the Remington Typewriter Company, the Rand Kardex Company, and the Sperry Gyroscope Company; the formation of the Eckert-Mauchly Computer Corporation; the development of the UNIVAC brand under Remington Rand, Inc.; Philadelphia and St. Paul branches of the UNIVAC division; the UNIVAC manufacturing plant in Bristol, Tennessee; and Sperry divisions outside of UNIVAC, including Sperry Gyroscope Flight and Defense Systems, and Remington Rand office equipment.
To view more material from this collection online now, click here to view its page in our Digital Archive.