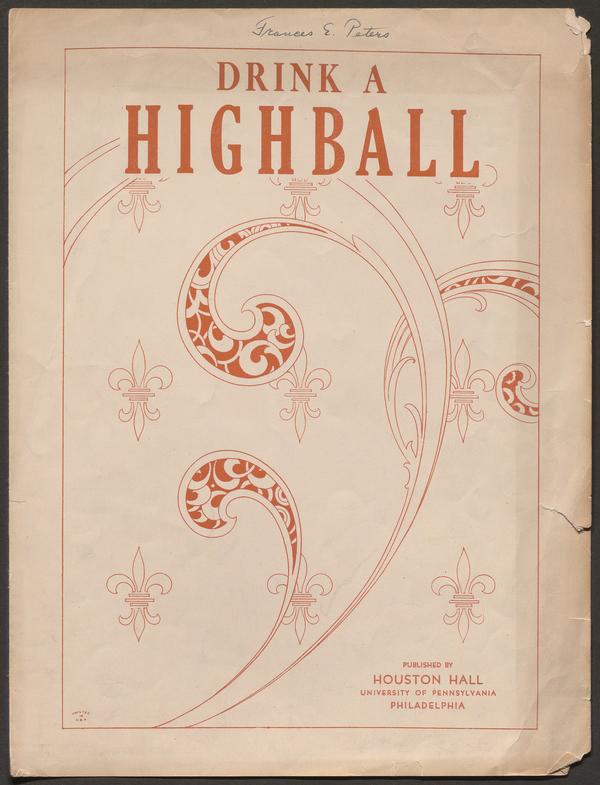 Today's #ThirstyThursday entertainment is being provided courtesy of the University of Pennsylvania's Houston Hall. This 1901 sheet music folio documented the music and lyrics to "Drink a Highball", a tribute to the Pennsylvanian, the school's unofficial cocktail.
The tune was created by Chicago resident Gustavas Brewster Brigham (1863-1925) who, two years later, also penned "The Glorious Highball" and was also popular on other campuses, including the Catholic University of America.
Other hits by Brigham included "It's Over in the Hock Shop Now" and "From the World's Fair to the Grave", a song about Carter H. Harrison (1825-1893), a Chicago mayor assassinated in his home during the city's 1893 World's Columbian Exposition. 
When not composing, Brigham was a sales agent, and later a manager, for the Baldwin Piano Company and the Strohler Piano Company. Brigham was also part of Chicago's Hess Opera Co., where he served as the leading baritone, and was the creator several comic operas for both the company and the city's Carleton Club.
In 1888, he married Emma Beatrice Devereaux (1866-1934), a concert soprano from Buffalo, New York. The marriage did not last. By 1894, Brigham was remarried to Cornelia K. Holton (1864-c.1918). Deveraux also remarried; Chicago's The Inter Ocean newspaper recorded her visit in November 1900 to the city to see family and friends with her new husband "Arthur J. Clark of Denver, Colo." before leaving for "their winter home in Southern California". 
This item is part of Hagley Library's collection of Miscellaneous Sheet Music (Acc. 1977.486), a small collection of various folios of sheet music and song books. Selections from this collection and sheet music from other collections at Hagley that have been digitized can be found in a digital collection of sheet music in our Digital Archive. Click here to view it online now.