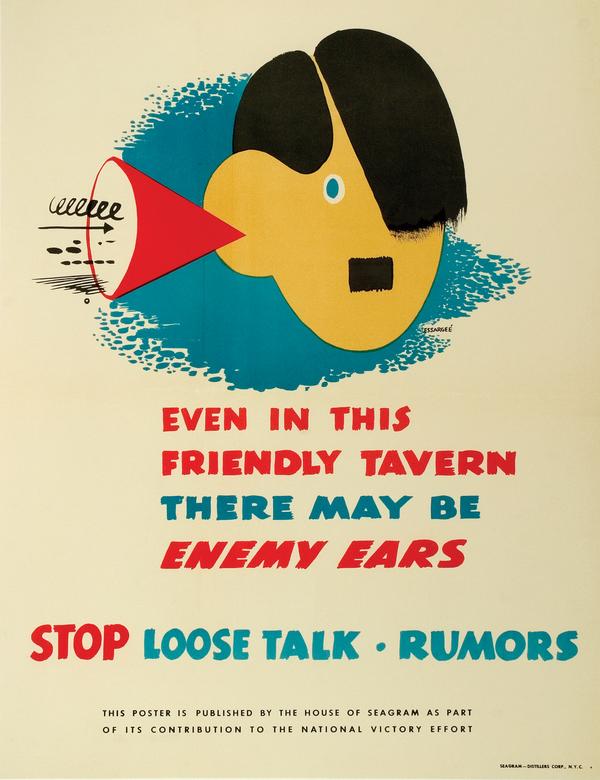 This #WWIIWednesday, we're sharing a poster from the Seagram Company. This ca. 1942 poster was published by the Distillers Corporation-Seagrams Ltd. as part of its contribution to the National Victory Effort. 
The poster is generally attributed to Seymour Rinaldo Goff (1904-1992), Seagrams' art director, working under the artistic pseudonym Ess Ar Gee (also sometimes depicted as Ess-Ar-Gee, Essargee, Essargeé, and similar variations). It is also sometimes attributed to Henry Sharp Goff, Jr. (1905-1993), who appears to have shared the pseudonym.
This was one of at a series of anti-espionage posters (also available as postcards) created by the company at this time, which included a popular poster that first made use of the phrase "Loose Lips Might Sink Ships". The posters and postcards were distributed to bars along coastal cities and towns to discourage patrons from discussing the movement or schedules of ships and other wartime liabilities during World War II. 
This poster is part of Hagley Library's collection of Seagram Company World War II posters (Accession 2004.248.2). You can view more posters from this series by Essargee and the Distillers Corporation-Seagrams Ltd. in a digital collection of workplace posters in the United States on our Digital Archive by clicking here.