Perhaps some of you made a resolution to give up alcohol for "Dry January." Flavored seltzers and sodas might fill in for that beer or wine—for one month, at least. A patent model in Hagley's collection sheds some interesting light on the development of the American carbonated beverage industry.
During colonial times, Americans traveled to natural mineral and hot springs to drink or bathe in the waters. They believed that they offered health benefits and relieved symptoms of illnesses. French immigrant Eugene Roussel (1810-1878) started importing and selling these waters from his perfumery shop in Philadelphia in 1839. The trouble was, they often gave off a sulfurous smell and tasted awful. Medicine won't work unless it tastes bad, right? Roussel disagreed. He started adding flavored, sweetened syrups and is credited with starting the flavored carbonated beverage industry here in America.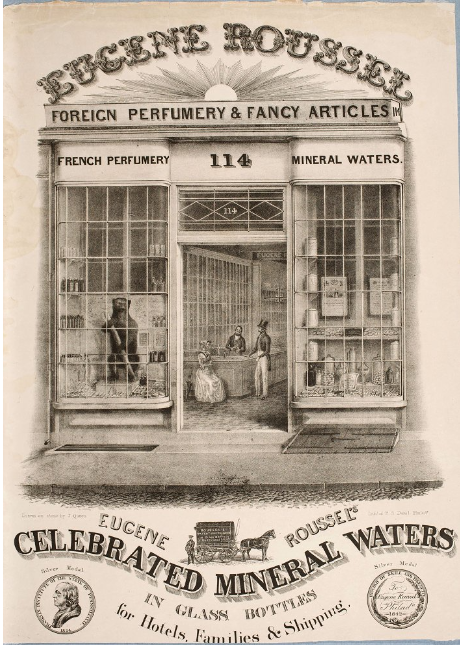 Roussel sold his business in 1867. Several firms operated it until William John Cunningham purchased it in 1884. Named Cunningham & Company, later Cunningham Supply, they manufactured alcoholic and non-alcoholic beverages for nearly thirty years. His factory at 518-520 Locust Street also manufactured bottles for other companies, including the Bergner & Engle brewery. Examples of Cunningham's bottles and their porcelain seals sporting the trademarked logo of his company can still be found by collectors today. One of these seals, from a circa 1900 Cunningham Supply Company porcelain beer bottle stopper, can be seen on the right.
A model in Hagley's collection suggests that Cunningham got an earlier start in the beverage business. In 1878, several years before Cunningham founded his company, he purchased half of the rights from Philadelphia inventor Albert H. Peterson for a water filtering apparatus. The patent model is pictured below.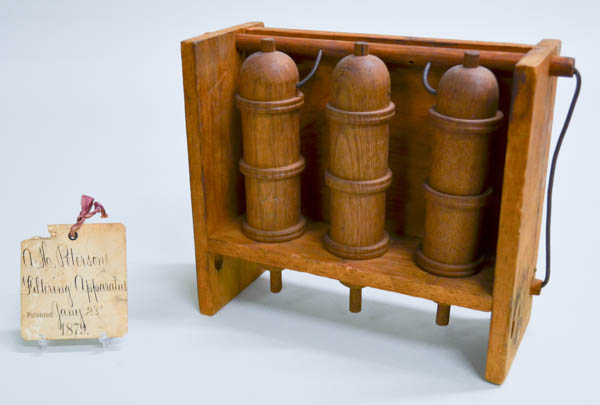 Peterson's machine could reverse the water flow through the filtering media, flushing any accumulated sediment or impurities without disassembly. Perhaps he and Cunningham worked for Roussel or any of the short-lived firms that immediately followed Roussel's ownership. Cunningham earned at least seventeen patents for bottling machines and components in the United States, Canada, and England.
So when you crack open that bottle of flavored seltzer or pop the tab on a can of soda (or "pop" if you're from the other side of the Keystone State) take a moment to think of the inventors who helped make this fizzy, thirst-quenching treat possible. At least, until the first of February!
Chris Cascio is the Alan W. Rothschild Assistant Curator, Patent Models at Hagley Museum and Library