"There would be no American nation without foreign trade" declares the opening line in the just-published 50,000 word history of the National Foreign Trade Council, The NFTC Story, 1914-2014. It was published in conjunction with the organization's 100th anniversary and is based on the extensive NFTC records in Hagley's manuscripts and archives department. The book can be ordered in paper, hardcover, and kindle editors from Amazon. The finding aid to the NFTC collections is available at http://findingaids.hagley.org/xtf/view?docId=ead/2345.xml.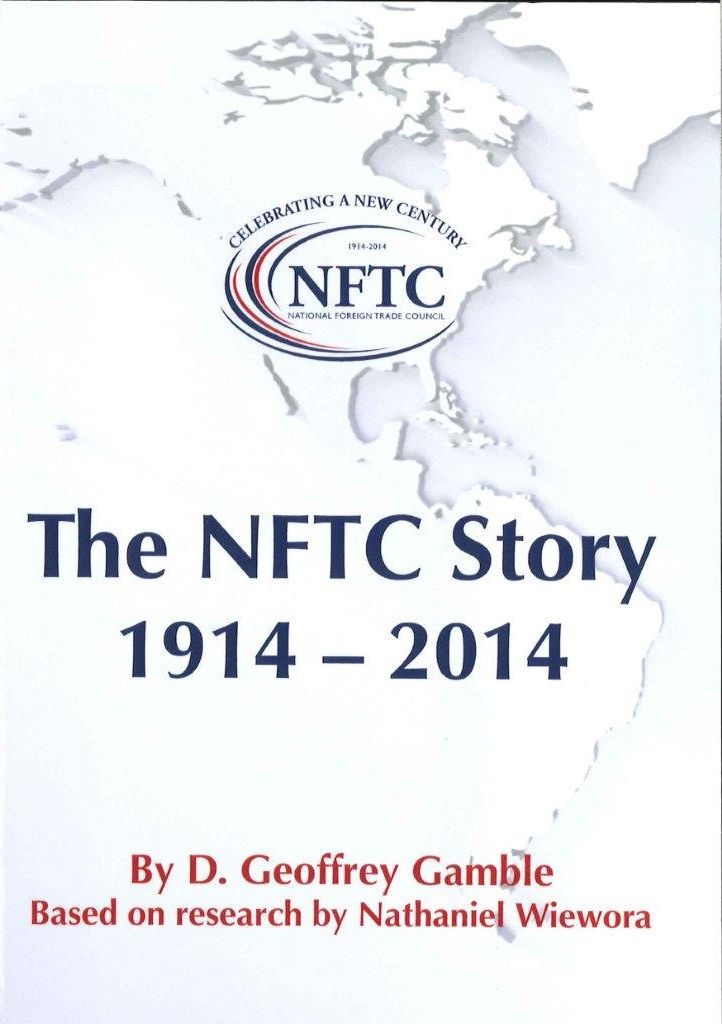 Founded in the spring of 1914, just before the start of World War I, the NFTC quickly became the leading business trade association advocating for the expansion of foreign trade. The book's six chapters rely heavily on the NFTC's extensive board of director's records to chart its growth, changes in orientation, and shifts in membership composition. For much of its first thirty years the NFTC was a pre-eminent network for businessmen seeking to advance their ability to increase exports, facilitating contacts with government officials and experienced international traders and advocating for enabling federal legislation and policies. Following World War II the organization greatly expanded its membership and activities to encourage American firms to take advantage of business opportunities throughout the world. In so doing, the NFTC added a firm advocacy of unimpeded international trade to its earlier emphasis on expanding exports by American companies.
The changing position of American firms in the world economy in the 1970s created a series of challenges for the NFTC, which The NFTC Story, is careful to chart. At some cost, the organization remained firmly against protectionism and opposed efforts by firms experiencing import competition to create trade barriers. It also favored free trade negotiations, such as reductions in tariffs and any other obstacles to the free movement of goods internationally, and vigorously opposed trade sanctions against countries, whatever the rationale. Reflecting its increased advocacy role, in 1988 the NFTC moved its main office from New York City to Washington, D.C., so it could most closely influence legislators in the nation's capital.
Author D. Geoffrey Gamble drew on his extensive background as DuPont's Chief International Counsel and Director of International Government Affairs to refine a manuscript prepared by Nathaniel Wiewora, at the time a University of Delaware graduate student and now assistant professor of history at Harding University. Wiewora's work was supervised and closely edited by Dr. Roger Horowitz, Director of Hagley's Center for the History of Business, Technology, and Society. An extensive index, prepared by editor James Wilkinson, offers ready access to the issues addressed by the NFTC during its history.
Roger Horowitz is the Director of Hagley's Center for the History of Business, Technology, and Society.