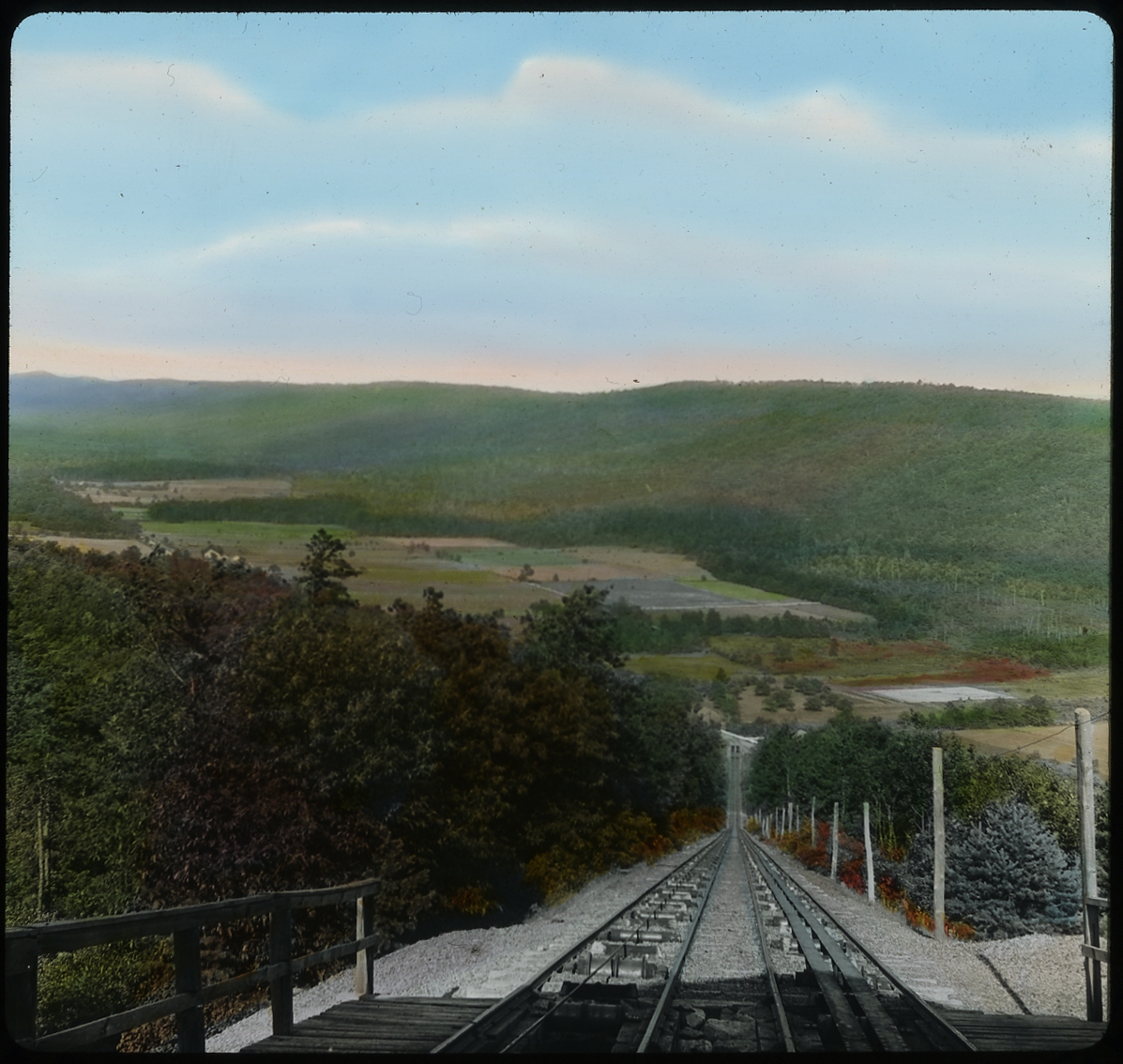 America's first intentionally constructed roller coaster opened on June 16, 1884 at Coney Island in Brooklyn, New York. But Americans looking for thrills prior to that date had two options; travel overseas to the Promenades Aériennes (or, "the Aerial Walk), which became the world's first roller coaster when it opened in Parc Beaujon in Paris on July 8, 1817, or head to the Mauch Chunk Switchback Railway in Pennsylvania.
It was no coincidence that the attraction in Coney Island was also called Switchback Railway; its designer, LaMarcus Adna Thompson (1848-1919), based his design at least in part on the popular railway ride in Pennsylvania. But the Mauch Chunk Switchback Railway was never intended to become a tourist attraction. It was built by the Lehigh Coal & Navigation Company to transport coal between the company's mines in Summit Hill and their transport center in Mauch Chunk (now Jim Thorpe), Pennsylvania.
But when the railway first began operating on May 5th, 1827, it became America's second permanent operational commercial railroad line and the first that ran for over five miles. This attracted considerable attention; by the end of the year, the rail line had also begun to carry paying passengers that were not looking for transportation, but excitement. This also made the Mauch Chunk Switchback Railway the first operational U.S. railway to carry paying passengers over a distance of more than five miles.
This railway operated between two mountain summits, Mount Pisgah and Mount Jefferson, and relied on a combination of animal power and gravity to transport cars and freight between these two terminals to propel the rail cars, which descended 936 feet over the course of the nine-mile trip. In 1846, animal power was replaced by two two steam-powered funicular systems to haul the cars uphill, but travel downhill continued to rely on the power of gravity.
In 1872, the Lehigh Coal & Navigation Company completed a tunnel that allowed for a faster, more efficient line of railway travel, making the railway obsolete for the purposes of transporting coal. But the Mauch Chunk Switchback Railway continued to operate for thrill-seeking human cargo.
Passengers boarded at a station in Mauch Chunk before ascending 664 feet to the top of the Mount Pisgah incline, and then pass an engine house at the top of the incline before traveling down by gravity along five miles to the foot of the Mount Jefferson incline, where they would travel back upwards before plummeting once again. On long stretches of straight track, the cars were reported to reach speeds exceeding fifty miles per hour. 
By 1874, the railway was being operated by the Central Railroad of New Jersey as a tourist attraction, selling 80-minute, 18-mile rides to approximately 35,000 tourists each year for the cost of $1. The thrill ride was sold to the newly formed Mauch Chunk Switchback Railway Company in 1929, who operated it until 1932, when it was closed due to financial strain caused by the Great Depression.
This lantern slide image by photographer William H. Rau (1855-1920) shows the view from the top of the railway at Mount Jefferson, looking down at the town of Mauch Chunk.
This image is part of the Hagley Library's collection of William H. Rau lantern slides (Accession 1971.360), but the railway also appears in our collection of James Zellner glass plate negatives (Accession 1974.278), Railroad postcards collection (Accession 1995.229), Locomotives and views of Mauch Chunk contact photographs and negatives (Accession 1969.092), and in some of our collections of published material. To view digitized images of the Mauch Chunk Switchback Railway from our collections, click here to see them in our Digital Archive.