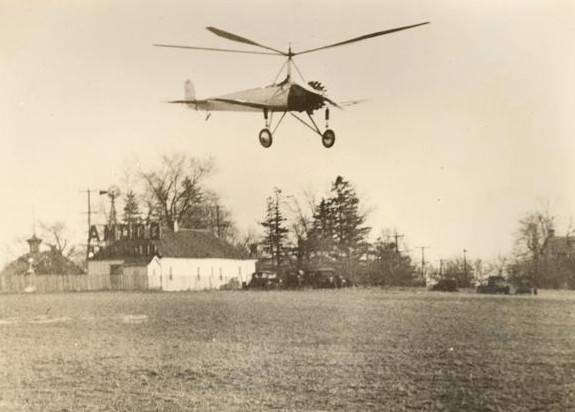 Lots of things can be U.F.O.s if you're just not that curious about aircraft. Not this autogiro, though! Text associated with this photograph, taken on January 4, 1925, offers an explanation, stating that:
"Photo shows a new helicopter invented by the Spanish engineer Don Juan Dela Cierva and called the autogiro, while it was being tried out recently at the Cuatro Vientos Airdrome in France when it made the record breaking flight of eight minutes. The machine looks like an ordinary plane but has a huge four bladed propeller place horizontally above the body of the plane. This propeller is not connected to the motor but is worked by the action of the wind produced by the forward speed of the plane. Stability is assured by the fact that each blade can be warped independently and tests proved that the helicopter can travel at high speed or remain in the air almost stationary."
This item is part of Hagley Library's Lammot du Pont collection of aeronautical photographs (Accession 1975.360). Lammot du Pont, Jr. (1909-1964) assembled a large collection of books, manuscripts, prints, drawings and photographs relating to the history of aeronautics from the first balloon flights through the 1940s.
This collection has not been digitized in its entirety.The online collection primarily consists of photographs that depict subjects such as airplanes, balloons and dirigibles, seaplanes, male and female pilots, long-distance and round-the-world flights, airplane crashes, air races, flying instruction, and the Arctic schooner Effie M. Morrissey. Nearly all of the photographs are news service images, many accompanied by original caption information.
You can view more digitized material from this collection on its page in our Digital Archive.