In July, Hagley's email reference portal received a message from a potential donor in Virginia. Alice Purnell Cannon wrote to tell us that she had a booklet that she thought might be a good fit for our collections: "I have a booklet from circa 1898, 'Learn to Dance and You Will Become Graceful by Taking Lessons in Dancing from M.H. Cooney, Instructor of Fancy Dancing 33 E. 22nd St., Wilmington Delaware'. It is missing one of the covers but intact otherwise and contains many fascinating advertisements from local Wilmington businesses."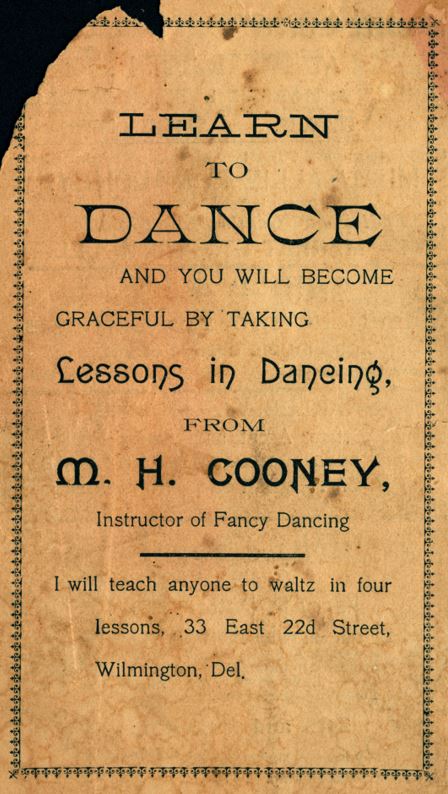 Ms. Cannon thought that the pamphlet might have come from one of her grandfathers, Harold W.T. Purnell, who had been a collector of all things involved in local history, or through William A. Horn, whose grandfather Ritchie was a musician who had played for dancing schools and dances, both in the Wilmington and Rehoboth areas. I was intrigued, and we gratefully accepted the donation.
When the pamphlet arrived, I passed it on to Alice Hanes, Hagley's intrepid cataloger, to add to the collection. I knew cataloging this item would be challenging since the cover with its identifying information was missing. 
Alice went above and beyond to create a thorough catalog record. Because of some biographical information Ms. Cannon had written on the back of the envelope she sent us, Alice found the obituary for Mr. Cooney in the Wilmington Morning News from December 11, 1935. She included the following information in the record.
"Martin H. Cooney (1861-1935), once a supervisor of the Street and Sewer Department of Wilmington, Delaware, became a teacher specialized in square dance and waltz and a leader of grand marches for organizations in this city."
I decided to employ our collection of Wilmington City directories to glean more information about Martin Cooney and the place of dancing in Wilmington in the late 1800s.
The first year that Martin appears in the Wilmington City directories is 1881 when he would have been twenty years old. From 1881 to 1891, Martin's occupation was listed as "finisher" or "Morocco finisher," which refers to a process in the leather tanning industry.
We find in 1885 that his father must have passed away, and he and his mother Mary lived together. In 1891, Martin married Annie Traynor. In 1894, Martin Cooney's entry in the City Directory started listing him as a Dancing Teacher and, starting in 1896, a Dancing Master.
His competition was listed in the business section under "Teachers, Dancing."
      Cooney, M.H. 227 Jackson 
      Webster, Ayres J. 208 W. 10th
Starting in 1896, in the business section, I found the following:
     Webster, Ayres J. Eden Hall 
     Wilmington Dancing Academy 425 W. 2nd
Eden Hall was listed at either 206 or 208 W. 10th Street. The building is still there.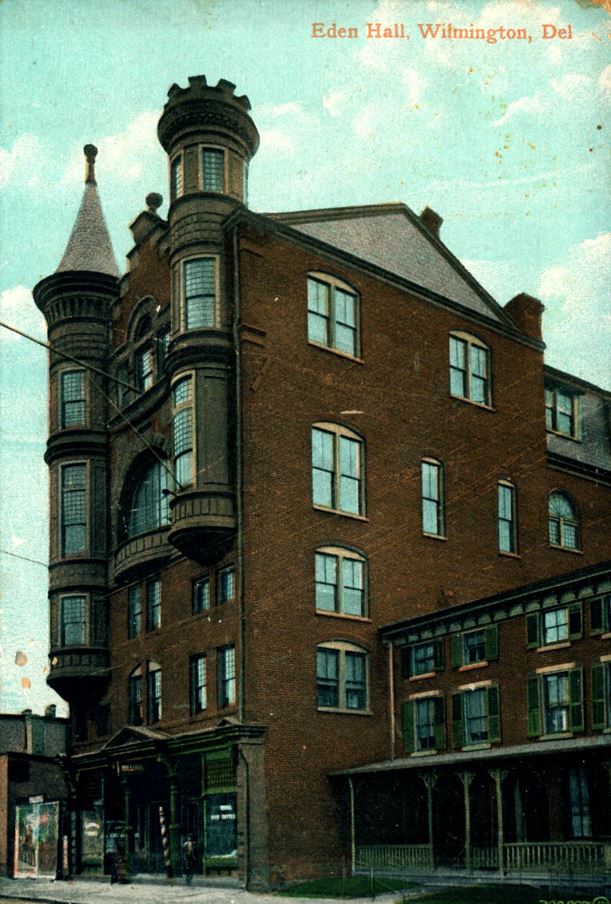 Ayres S. Webster and Martin Cooney must have known each other well. They were both dancing teachers, Mr. Webster was the president of the Street and Sewer Department of Wilmington, and Mr. Cooney's obituary said he was a supervisor. Even though his obituary said he worked at the Streets and Sewer department, Mr. Cooney continued to be listed as a dancing teacher in the City Directories until he died in 1935.
The other long-term dancing teacher first appeared in the City Directory in 1897, when Miss Kate McClafferty began to be listed.
Mr. Webster and Miss McClafferty continue to appear in the business index until 1901. In 1902, Mr. Ayres is no longer listed, and Miss McClafferty is now teaching at Eden Hall. Ferris Giles is also listed that year in the dancing schools listing, although his personal entry lists him as an undertaker!
Remarkably, according to her obituary, Miss McClafferty continued to teach dancing until her health declined the year before her death at 82 in 1944.  
Miss McClafferty's school curriculum is described in the advertisement above from a 1902 Wilmington City Directory. You can see that Grace and Deportment were part of the program.
The Library of Congress has an extensive collection of dance instruction manuals, including eleven from Philadelphia but no books from Delaware. (After searching other libraries in worldcat.org, I found that the University of Delaware owns another dancing manual from Martin Cooney, held in their Special Collections Department.)
In an informative article on nineteenth-century dance, the author describes the importance of proper etiquette, as well as the dance steps:
"By the 1830s, dance and etiquette manuals began to pay closer attention to the growing ceremonial details of the home and ballroom. Rules and rituals were encouraged for a range of activities, including the proper fork to use while eating, the correct mode of delivering calling cards and issuing party invitations, and the right way to give parties and balls. Also of importance was the etiquette of asking a partner to dance, appropriate conversation while dancing a quadrille, the way to learn the latest steps, and, of course, the importance of wearing the latest ballroom fashions.

In the United States, where society was beginning to grapple with the Industrial Revolution, the establishment of large urban areas, and an expanding and upwardly mobile class system, these manuals were considered to be 'self-helpers.' Manuals dictated categories of precise rules which, directed at the uninitiated, left nothing to chance. Diatribes on such themes as dirty linens and hands, spitting, and picking the nose were found in many mass-produced manuals, aimed at the growing middle class, who wished to better themselves and, of course, to learn the rules that would make them acceptable in 'good society.' Often, these manuals were paperbacks and were parts of self-help series, available for as little as ten cents..."
Indeed, our manual begins with two full pages of etiquette instruction in "Advice to Pupils and to Advanced Dancers."
What kind of dancing was done in Wilmington at the turn of the nineteenth century? The list of dances from our manual includes Quadrilles, Polkas, Schottisches, Lanciers, and Waltzes.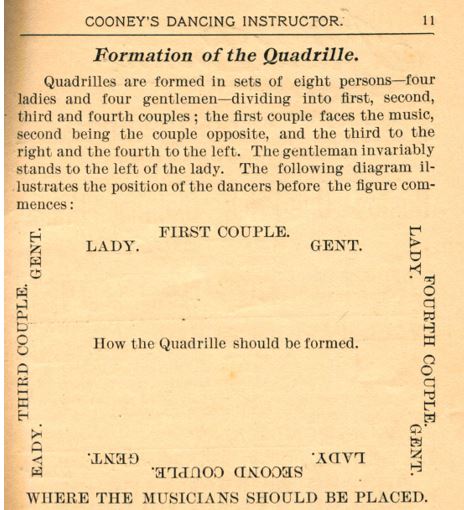 The formation of the quadrille takes four couples standing in a square, like a modern square dance.  
These dances were not unique. A dance master would take familiar figures and forms to create specific instructions given a particular name. The manual sometimes includes information about when the dance was first performed, such as a dance introduced at the 1896 reception of the Brownson Library Association (which the City Directory lists at 401 Jackson Street in Wilmington).   
Martin Cooney created a lasting legacy by recording these dances in his instruction manual. I wish I could have had Mr. Cooney as my instructor of fancy dancing and have been able to "join hands and skip to place" with my fellow dancers in Wilmington at the turn of the century.  
Linda Gross is Reference Librarian in the Published Collections Department at Hagley Museum and Library.