Hagley owns several collections of matchbook covers, some of which have been described in this newsletter previously. 
What just came to my attention, is the local connection to the origin of matches and matchbooks. The first friction matches were invented by John Walker, an English chemist and apothecary, but he never patented them. The story of modern match books has a history closer to home. Joshua Pusey, an inventor and attorney from Lima (Delaware County) Pennsylvania is credited with the first patent of matchbook covers in 1892.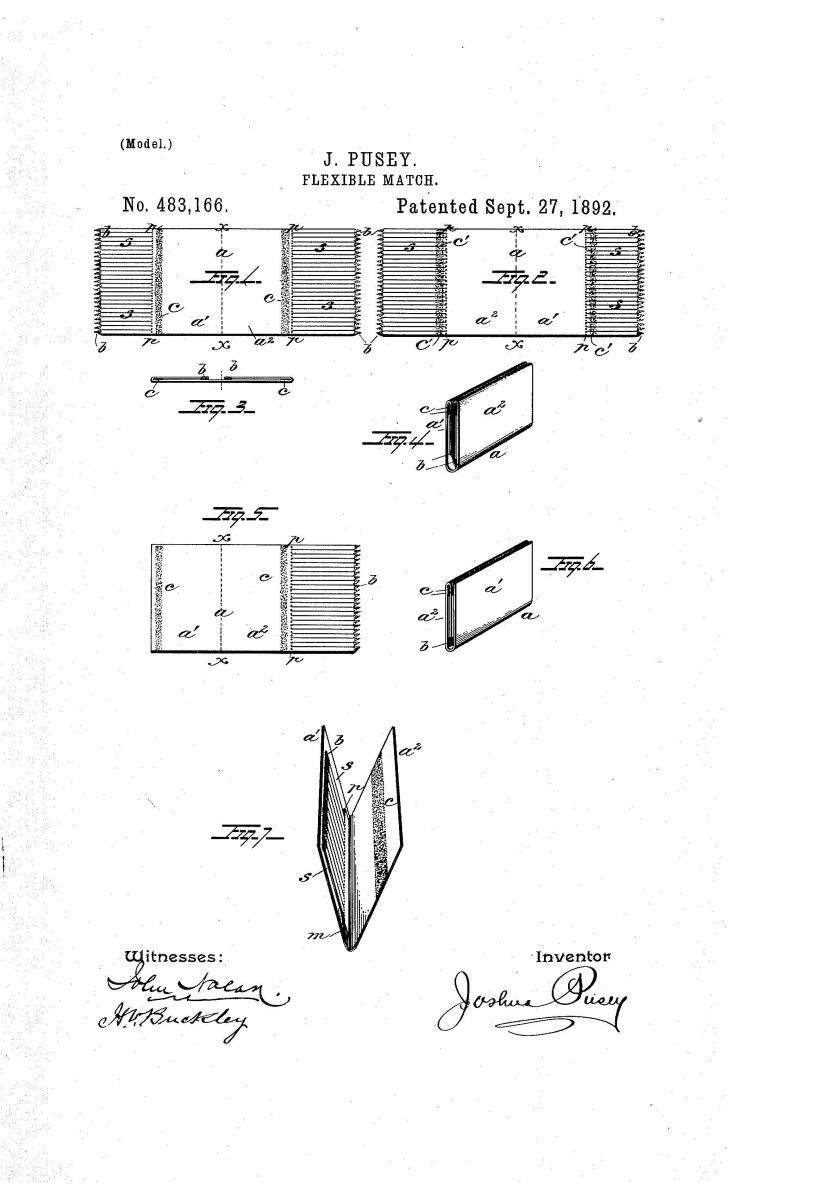 On September 27, 1892, Pusey received patent No. 483,166 for his improvements in friction-match cards. "The invention consists, first, in a friction match device consisting of a series of splints or strips of thick inflammable paper, wood, or like material tipped with an ignitible composition and attached to and inclosed by a suitable cover folded and adapted to be opened and closed as the covers of a book"
Today, Pusey is remembered for much more than just his creation of the matchbook. Over his lifetime, Pusey took out a total of thirty-six patents. Some of these included an artificial toboggan hill, a hydrogen lamp, and a self-opening gate for horse-drawn carriages. Pusey won a three-year legal battle to protect his patent, but eventually sold the rights in 1894 to the Diamond Match Company of Cloquet, MN for $4,000 and a position as a patent consultant.
The Diamond Match Company has its roots in several nineteenth century companies, including one here in Delaware.   
In the early 1850s, Edward Tatnall was given an English recipe for making matches by a business acquaintance, William R. Smith. Tatnall opened a business in Wilmington, Delaware on the northwest corner of 14th and Walnut Streets in 1854. H.B. Courtney, an experienced match-maker, served as foreman.  In July 1861, Tatnall sold the largely unsuccessful business to Courtney and a new business partner, William H. Swift. They called their new matches Diamond State Parlor Matches, using one of the popular nicknames for the state of Delaware.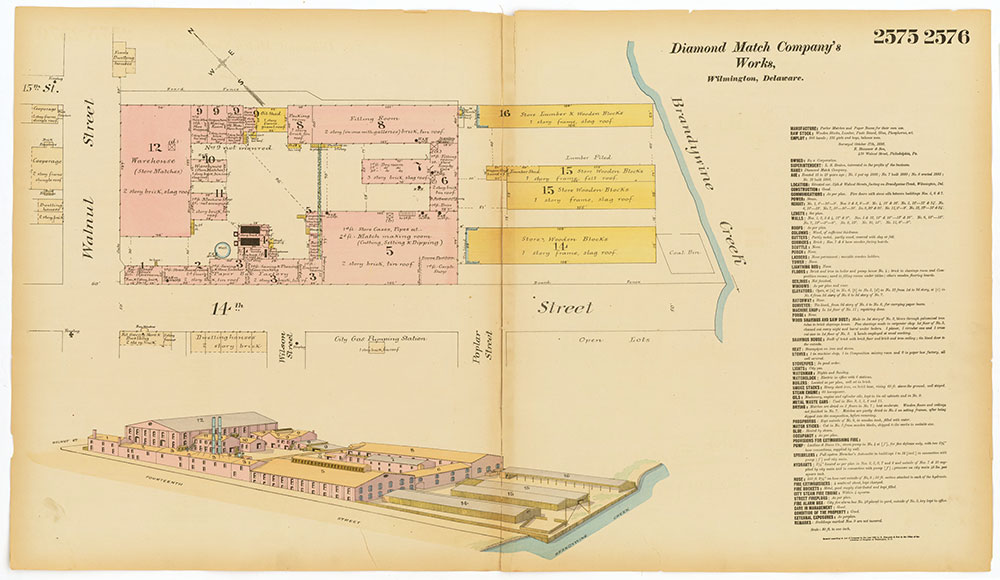 The Civil War created a growing demand for matches. After the Civil War, the company merged with Beecher & Sons of New Haven, Connecticut in 1870 to create the Swift & Courtney & Beecher Company. The company was incorporated in Connecticut, but manufacturing continued in Wilmington.
In the 1870s, the company purchased or contracted with other match businesses: Thomas Allen & Company of St. Louis, Missouri; McGiugan & Daily of Philadelphia; Joseph Loehy of New York City; and Charles Busch of Trenton, New Jersey.
In 1880, everything was sold to the Barber Match Company of Akron, Ohio.  Founder O. C. Barber re-named the company after the established trade name of its product, creating the Diamond Match Company.
The Diamond Match Company was the largest manufacturer of matches in the United States in the late nineteenth century, operating plants in Barberton, Ohio; Wilmington Delaware, Barber California and Cloquet, Minnesota.
In the twenty-first century, Diamond remains America's leading producer of matches, producing some twelve billion a year.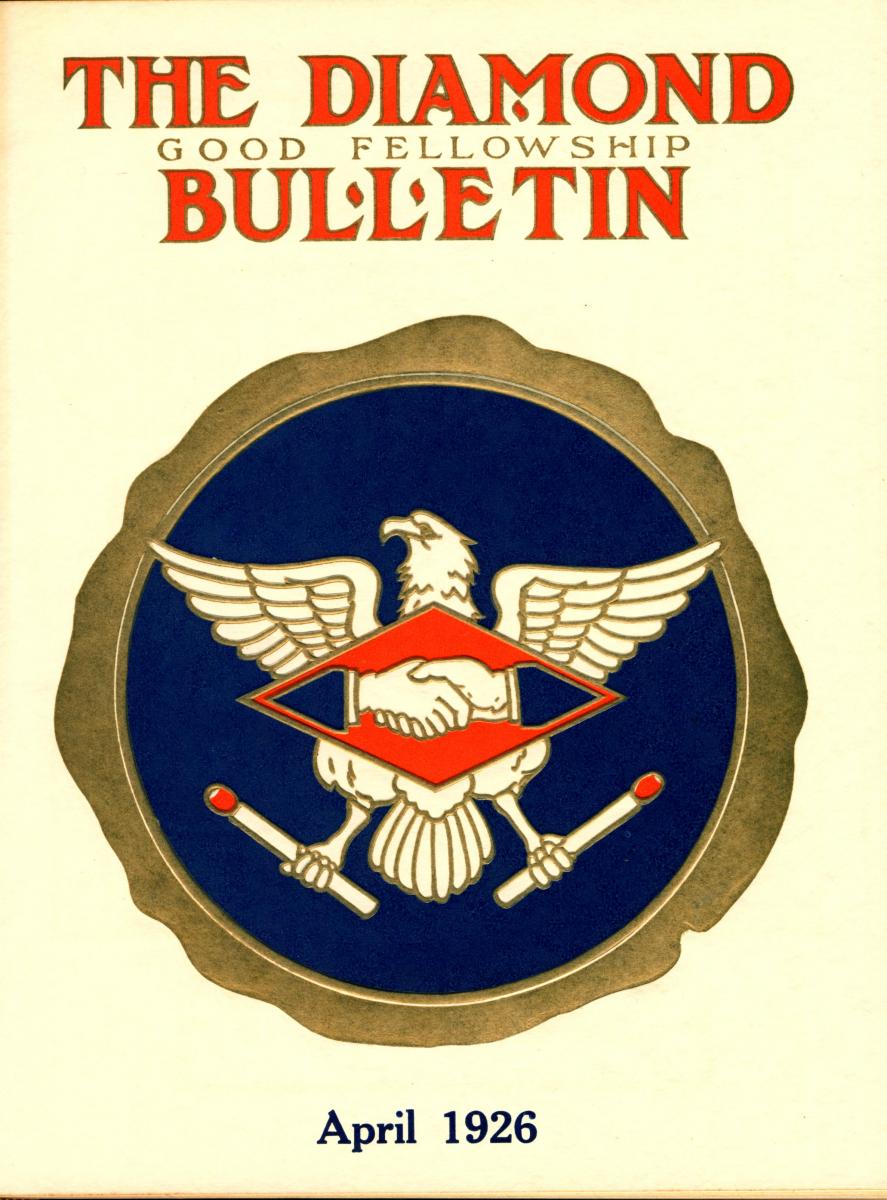 Hagley holds a wide variety of material related to the Diamond Match Co, including annual reports, employee newsletters, and product information. Come visit our library, or search our online catalog if this topic has inflamed your interest or sparked your curiosity!
---
Linda Gross is the Reference Librarian at Hagley Museum and Library.