Monday, February 25, 2013
This year, the United States Golf Association will hold its annual U.S. Open on June 10th to the 16th at the Merion Golf Club in Ardmore, Pennsylvania.  The U.S. Open is one of the most prestigious golf tournaments in the world and one of three "majors" hosted by golf courses in this country. The Merion Golf Club is located about an hour from Hagley and we have in our collections an important piece of golf history related to the legendary Merion course.
In our Dallin Aerial Survey Company collection we have images of the Merion Golf Club (then known as the Merion Cricket Club) taken in the 1920s and 1930s. Among them are a series of nine images taken during the 1930 United States Amateur Championship. The 1930 U.S. Amateur holds an esteemed place in golf history. It was in 1930 that golf great Bobby Jones completed the first "grand slam" of golf, sweeping all four major championships in the same year. The "slam" was then comprised of the British Open, the British Amateur, the U.S. Open, and the U.S. Amateur. Approximately 18,000 fans (at the time, the largest crowd to attend a golf event in the U.S.) paid one dollar for admission to watch Bobby Jones make history at Merion.
Below are two of the images taken by the Dallin Company of the big event at Merion in 1930. They were taken during the qualifying round on September 23 and the finals on September 27, 1930. In addition to images of Merion during the U.S. Amateur, Dallin also captured aerial photographs of the course in 1925 and 1939.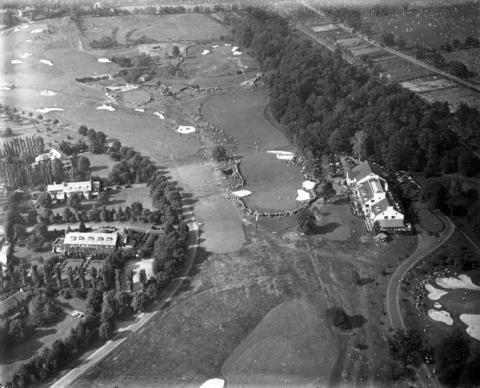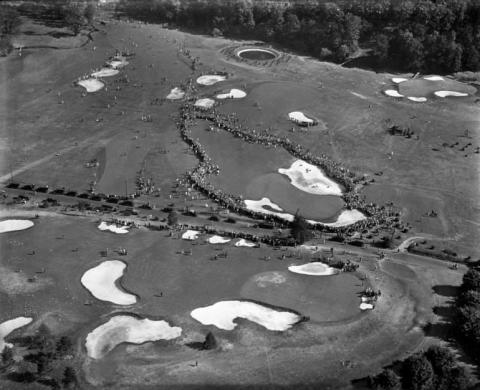 View more images of the 1930 U.S. Amateur in the Hagley Digital Archives.
View all images of Merion in the Hagley Digital Archives.
Read more about Bobby Jones and his historic year: 1930 U.S. Amateur: The day of reckoning for Bobby Jones Setting a new standard: Bobby Jones wins the Grand Slam in 1930.
CORRECTION: An earlier version of this article incorrectly identified the Professional Golf Association as the organization behind the U.S. Open.
---
Kevin Martin is the Curator of Digital Collections at the Hagley Museum and Library