In 2022, Hagley Library acquired 60 photographs depicting Pennsylvania Railroad industrial hubs from the 1890s. Such sites relied upon the rail to transport in raw materials and disperse products. The photographs do not have a photographer's signature or a studio imprint, but they have adhered titles and other evidentiary markings. These titles match those listed in a published catalog of the Pennsylvania Railroad's exhibit building at the World's Columbian Exposition in Chicago. This supports the claim that the photos were taken for the exhibit. The contracted photographer for this work was William H. Rau of Philadelphia, well known for his turn-of-the-century railway photography. Examination and conservation treatment of these images is in progress, with interesting insights coming almost daily.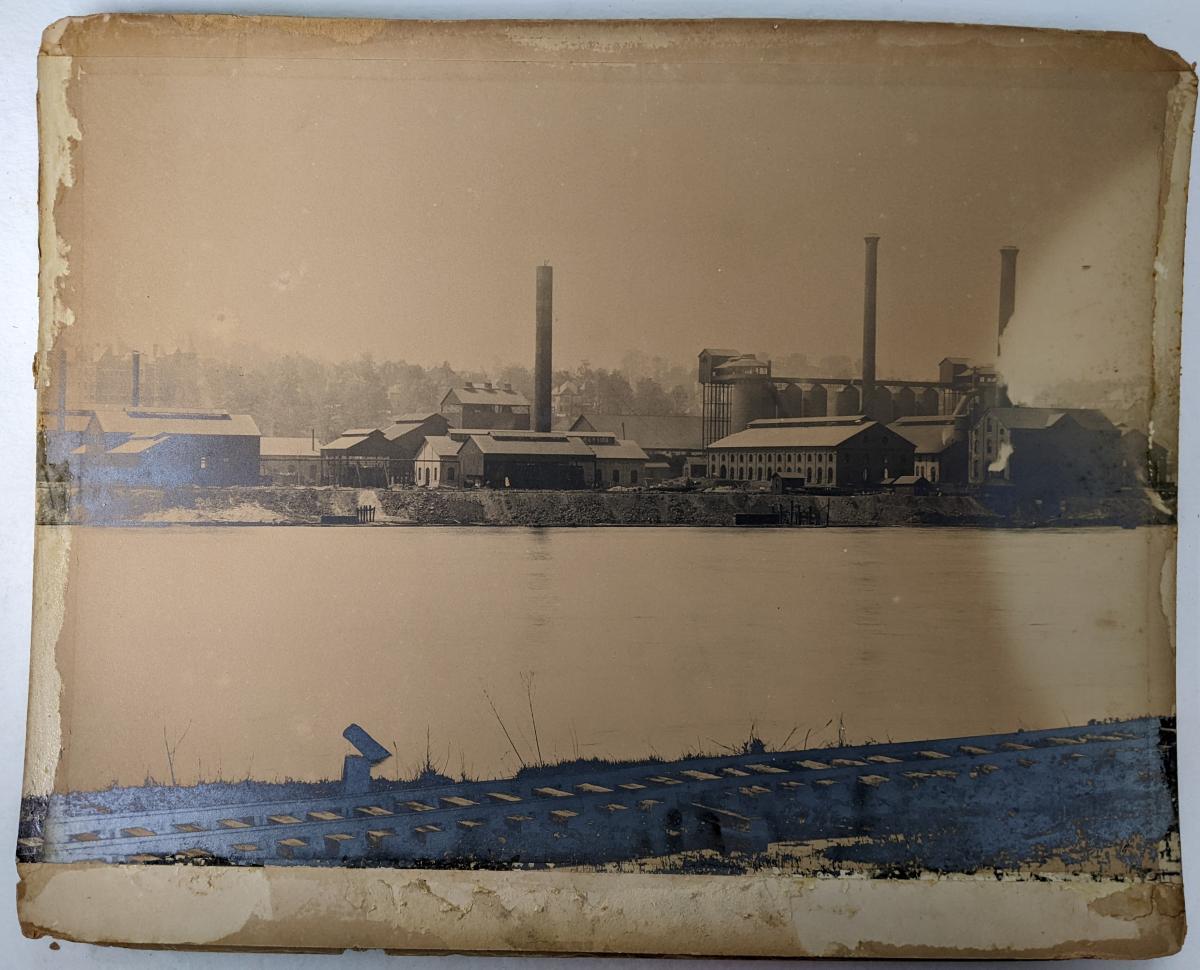 We received the photographs in poor condition, with staining, deteriorating silver image material, and brittle mount boards. Above is one example of a photograph with uneven browning of the highlight areas and reflective silver migration in the shadows, both common deterioration found with gelatin photographic prints. It is impossible to prove the causes of the damage definitively, but it is plausible that the photographs were exposed to both high heat and pollutants which begs the question, could they have been damaged during a fire? Perhaps even a fire that occurred at Broad Street station 100 years ago?
On the night of June 10-11, 1923, an intense fire destroyed much of Philadelphia's Broad Street Station. Also known as "the shed," the station was a massive arched structure of iron, wood and glass covering sixteen train tracks. Those tracks, supported by wooden beams, collapsed as the fire consumed the timber elements. Iron engines and steel passenger cars were seemingly unscathed on the exterior, aside from needing replacement glass, cloth, and interior fittings. At least one train fell when the supporting tracks buckled, twisted, and sank. Amazingly, the clean-up started before all of the burning embers were suppressed, and all tracks and platforms were reconstructed and returned to service in just about a week!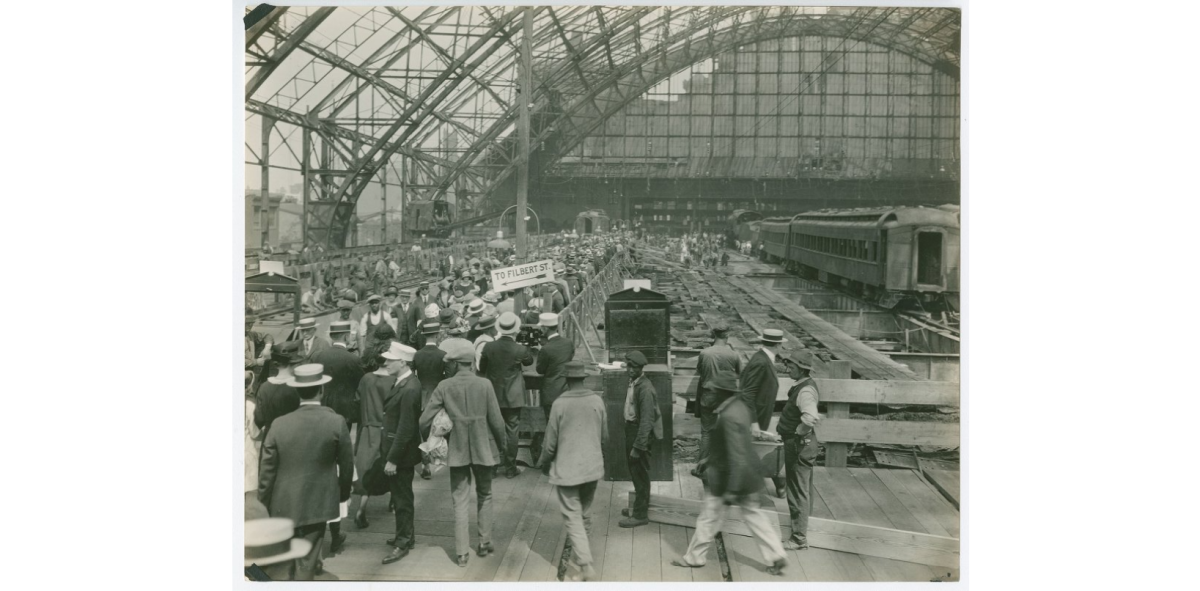 Below the tracks are storerooms, including a mailroom. These spaces were casually used to store some of the early historical documents (pre-1910) of the P.R.R. This was not an organized archive by any means, and even by the time of the consolidated Penn Central Transportation Co. bankruptcy in the 1970s, the records had still not been professionally arranged or controlled. Hagley archivists assessed and salvaged many surviving records thanks to a grant-funded project, partnering with regional institutions. After 2 ½ years of work, a significant trove of P.R.R. history was brought to Hagley for researchers to access. Retired Hagley archivist, Chris Baer, recounted his experience with the railroad records project and described his dismay at the discovery that many early records had already been intentionally destroyed by the P.R.R. and successor railroad companies over the years. Overall, this project saw nearly 400,000 cubic feet of records sorted and distributed between eight institutions dedicated to historic preservation, including Hagley.
We have continued to acquire railroad-focused materials, including photograph albums purchased at auction sometime in the late twentieth century. Just as Hagley staff retrieved the Broad Street archive, the damaged Rau photographs now being conserved prove that there are still remnants of P.R.R. history waiting to be unearthed.
Laura Wahl is the Library Conservator at Hagley Museum and Library.