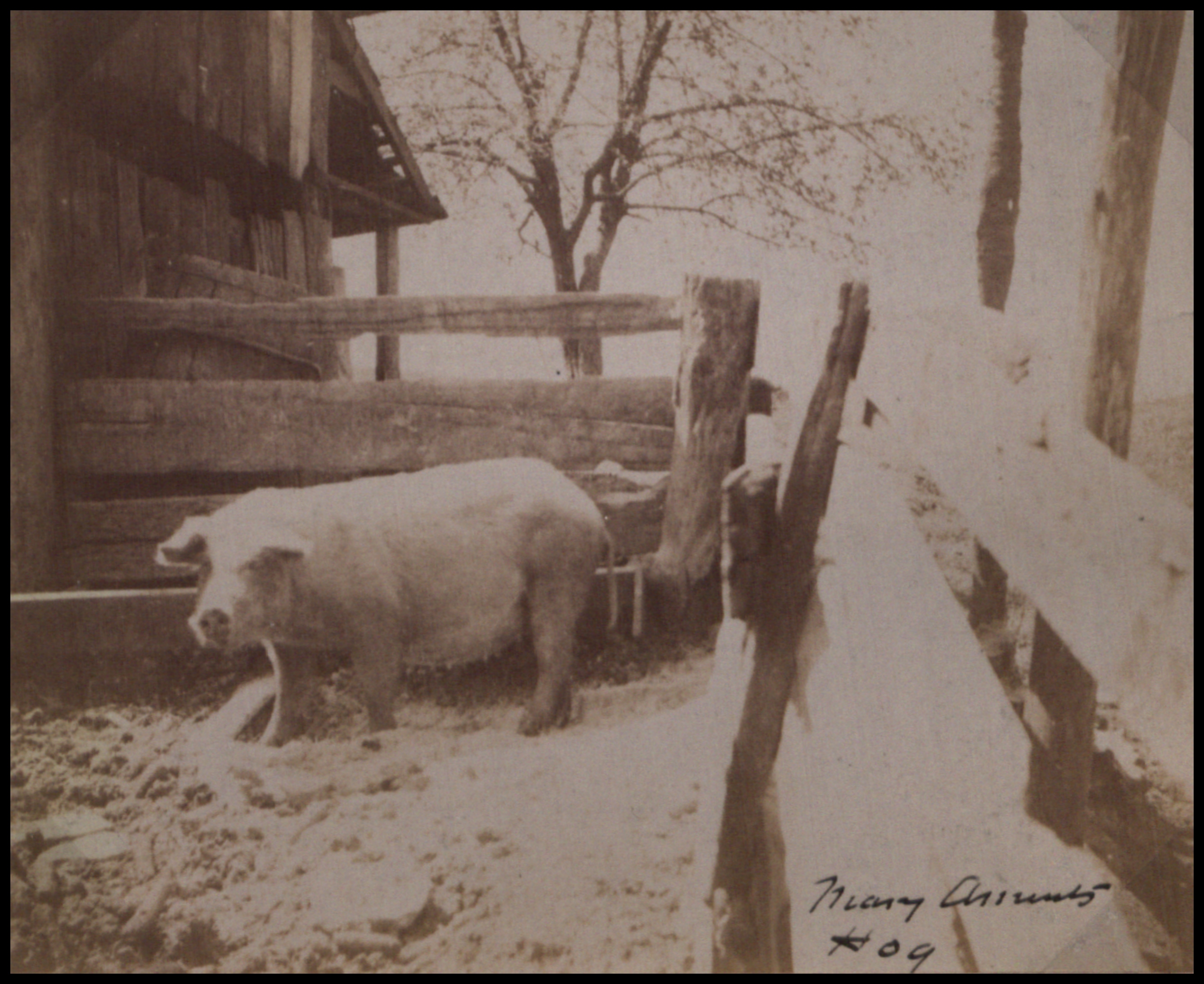 In 1972, sisters Ellen Stanley and Mary Lynne Rave registered March 1st as "Pig Day" in Chase's Calendar of Annual Events as a special, designated day to "accord the pig its rightful, though generally unrecognized, place" in American life, and Stanley, a schoolteacher, began incorporating the new holiday into her classroom in Lubbock, Texas.
The new holiday proved to be moderately popular in the American Midwest, and today, it's popular in Delaware for giving us a reason to share this undated (ca. 1900?) photograph from an album in Hagley Library's Westmoreland Coal Company photograph and video collection (Accession 1993.233).
The Westmoreland Coal Company is the oldest independent bituminous coal producer in America. The present Westmoreland Coal Co. is an amalgamation of several previous firms, which have at one time or another operated bituminous coal mines in Pennsylvania, Virginia, West Virginia, Kentucky, Montana and Colorado. The oldest of these firms, the Westmoreland Coal Company of Pennsylvania, was incorporated in 1854. Its initial land holdings were in the Irwin gas coal basin in Westmoreland County. In
1916 and 1917, Dr. John S. Wentz purchased a large block of Westmoreland shares.Dr. Wentz was a prominent anthracite and bituminous coal operator whose major bituminous coal property was the Stonega Coke & Coal Co. in southwestern Virginia. Stonega was incorporated on April 19, 1902, for the purpose of acquiring an operating lease and colliery plant from the Virginia Coal & Iron Co., a land company partly owned and managed by Dr. Wentz.  
Following the collapse of the entire soft coal industry in the late 1920s, Stonega took over the management of the Westmoreland Coal Co. The two firms continued to grow by merger and consolidation, but retained their separate identities, despite being managed by common officers headed by Edward B. Leisenring, a nephew of Dr. Wentz. In 1961, Edward B. Leisenring was seceded by his son, Ted Leisenring, Jr., who later merged the two companies on April 30, 1964.
This collection has been partially digitized. Our Digital Archive offers a selection of images from this resource primarily focusing on photographs of the Stonega Coke and Coal Company mine and hospital at Stonega, Virginia as well as images related to the Chesapeake and Ohio Railway Company . The online images cover a period from 1915 to 1960. To view this digital collection online now, just click here.