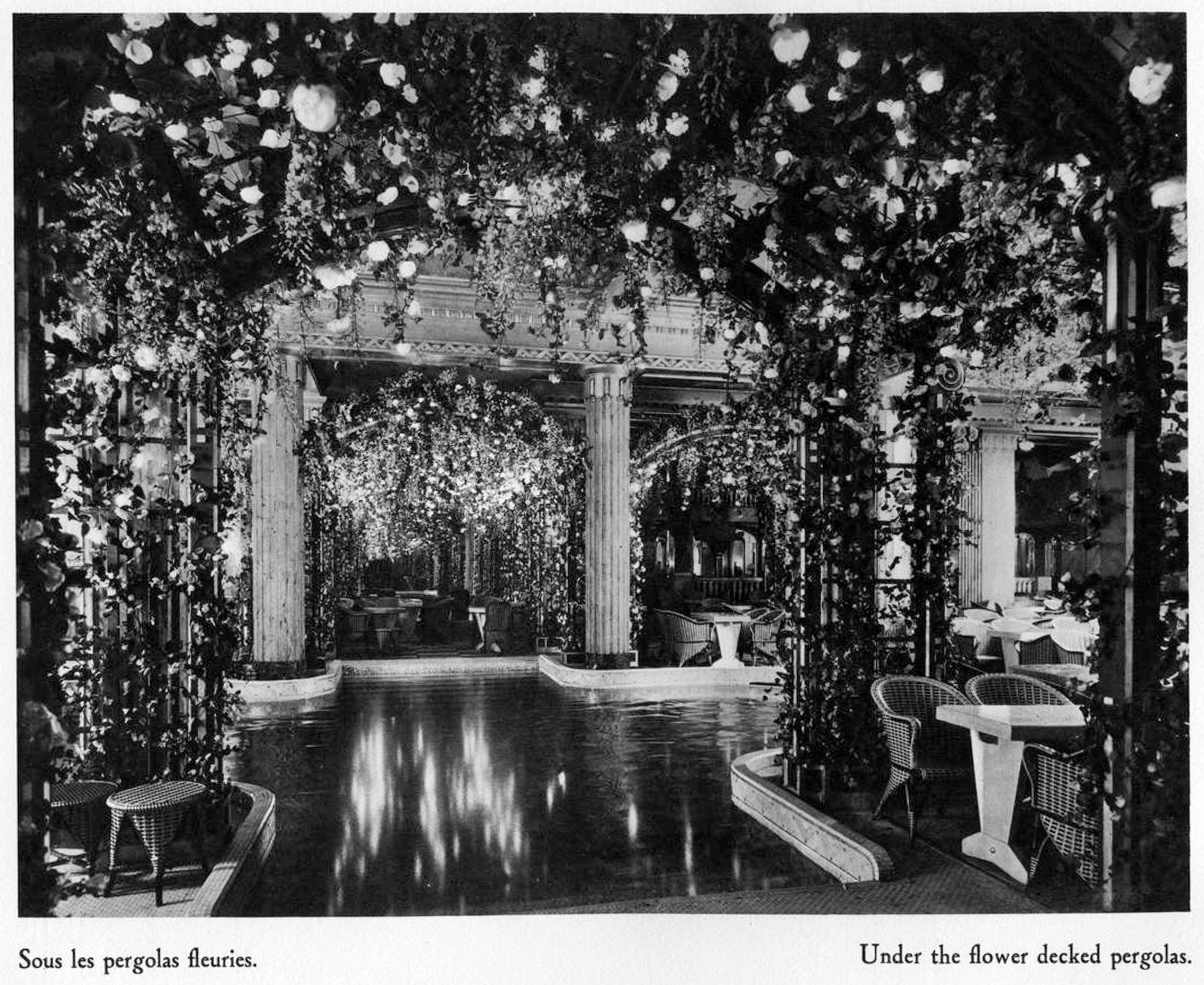 Bonjour! Welcome to our #TravelTuesday excursion to Le Lido des Champs Elysees, a hydrotherapeutic nightclub and casino once located at 78 Avenue des Champs-Élysées in Paris.
Le Lido was inspired by the Lido of Venice, and was designed by the French architect and designer René-Félix Berger (1878–1954) to provide Parisians with the experience of that famed Italian beach resort. Its amenities included a purple and gold dancing-hall, a marble bar, a gold and silver mosaic Turkish Bath, boudoir cabins, a private club, a beauty parlor and hair dressing salon, a cabaret, a restaurant, and gaming rooms.
It also featured this pool surrounded by floral pergolas. The pool provided a setting for various entertainments, including gondola parades and diving demonstrations, as seen in Jean Godard's 1931 film For an Evening.
Le Lido opened February 18, 1928 and this image was published in a pamphlet that was issued that same year. The venue, promoted by its management as a "somptuous fairyland [sic]", went into decline during the occupation of France by the Nazis during World War II.
In 1946, following the liberation of France, the space was taken over by new proprietors who kept the name, but refurbished and reconceptualized the space as a restaurant and cabaret. The new venue operated at the location until 1977, when it was relocated to a new location. The location that was once Le Lido currently houses Les Arcades des Champs Elysees, a shopping center.
This pamphlet is part of Hagley Library's DuPont Company Museum collection (Accession 1968.001). The materials in this collection were originally compiled by the DuPont Company Museum, transferred to the Hagley Museum in 1954 and subsequently to the Hagley Library in 1968. The collection has not been digitized in its entirety, and the online collection is a curated selection of items.
Among other subjects, the image depict the 1901 Pan-American Exposition in Buffalo, New York; the construction of Coleman du Pont Road; production of Phenolin; game birds advertising series; Haskwell Works explosion aftermath, cartoons of employees; a female employee baseball league; and company plants at Old Hickory, Tennessee and Farmingdale, New Jersey. To view this collection online now in our Digital Archive, click here.