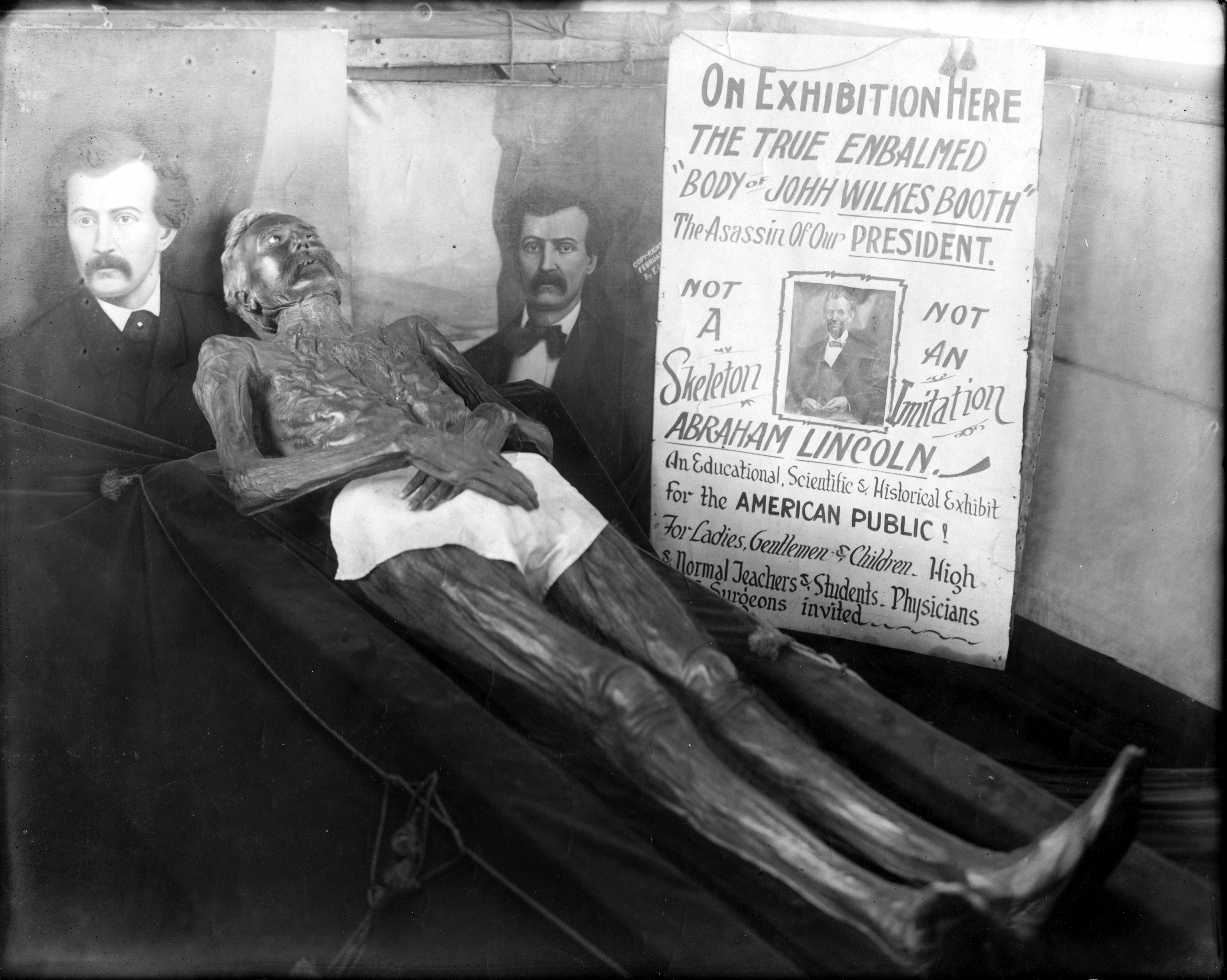 Here's a creepy half-truth for Halloween . . . this is not the preserved corpse of John Wilkes Booth. But it is a real mummified body!
The body seen in this exhibition belonged to a man that went by various names. He first came to public attention in Granbury, Texas in 1877 as John St. Helen when, on what he thought was his deathbed, he "confessed" to a local lawyer named Finis L. Bates that he was really John Wilkes Booth.
According to St. Helen, the assassination of Abraham Lincoln was a plot masterminded by Vice President Andrew Johnson, who also arranged for his escape and the framing and murder of an innocent man in his place, allowing him to roam the American West under various aliases ever since Lincoln's assassination.
Unexpectedly, St. Helen recovered after making this deathbed confession. Not so unexpectedly, he left town soon after. In 1903, however, Finis L. Bates recognized a familiar face in a Memphis newspaper. A man that he believed to be John St. Helen, by then operating under the name of David E. George, had again made a similar deathbed confession, followed by a recovery, in Enid, Oklahoma.
He would not be leaving town anytime soon, however. Nine months after his second recovery, David E. George was found dead in his hotel room after ingesting a lethal dose of arsenic. Upon reading the story, Finis L. Bates traveled to Enid, Oklahoma to claim the body, but he was too late. It was already on exhibit as a local tourist attraction at W.B. Penniman's mortuary and furniture store.
Bates continued to try to take possession of the mummy; in 1907 he published The Escape and Suicide of John Wilkes Booth: Written for the Correction of History" and, that same year, he finally was able to obtain the corpse from W.B. Penniman's.
Bates tried to capitalize on his new prize by renting the body out for exhibit to circuses, traveling carnivals, midway attractions, and other such events. While it attracted some attention (it was once kidnapped and held for ransom, and once "survived" an attempted attack by Union veterans), it failed to be the path to fame and fortune that Bates had hoped. To this day, Bates is best known not for his moneymaking mummy, but as the grandfather of actress Kathy Bates.
When Bates died in 1923, the mummy was sold to William Evans, the "Carnival King of the Southwest". Evans kept the mummy after his retirement, exhibiting it at his potato farm in Idaho before sending it on a tour of America. The tour was a disappointment for Evans. The mummy exhibit was ordered out of Salt Lake City for "teaching false history" and was hit with legal fees in Texas for the transportation of a corpse without a license, but received little attention otherwise.
So Evans sold the body. The new exhibitor was John Harkin, also a carnival insider. Harkin bought the body in 1930 and resumed the corpse's tour across the nation until he too, decided to sell the grisly exhibit in 1937 to Jay Gould's Million Dollar Circus, which continued to display it into the 1950s.
The present location of the body of the man who wasn't John Wilkes Booth is unknown; it was last seen in the 1970s and is suspected to be in the hands of a private collector. But I can tell you the location of this photograph. This item is part of Hagley Library's  P.S. du Pont photographs (Longwood) collection (Accession 1969.002). 
This collection of over 64,00 photographs includes images collected by Pierre S. du Pont during his life. Over 1,000 images from the collection show the development of Longwood Gardens. Also included are photographs of the du Pont family, travel images, and a variety of other photos documenting the interests and activities of P.S. du Pont.
To view this item and others from this collection in our Digital Archive, click here.