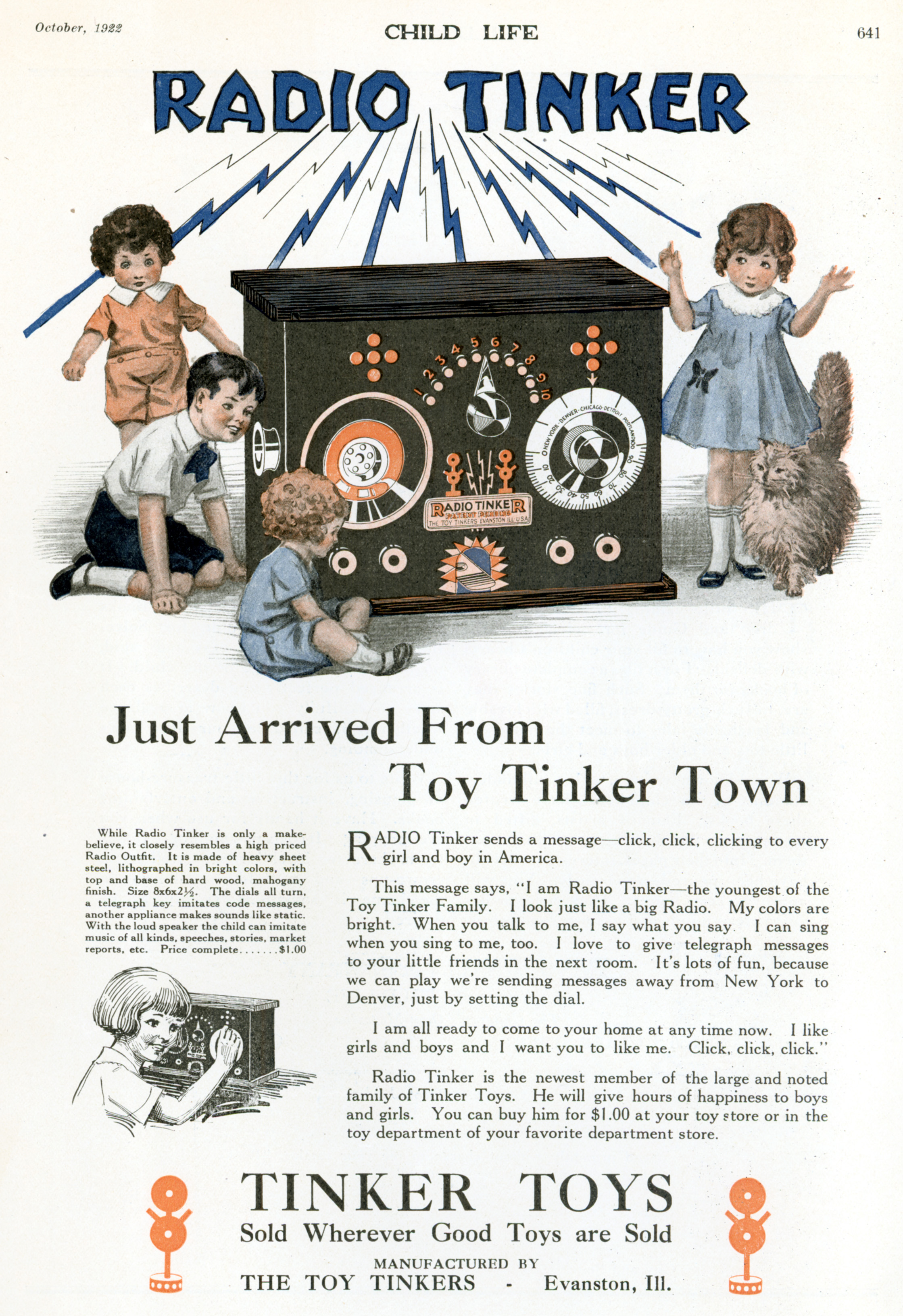 Here's a #TechTuesday for the tots.
This October 1922 advertisement in Child Life magazine promoted Toy Tinkers' "Radio Tinker" make-believe radio. They toy allowed tiny techie girls and boys to pretend to send telegraph signals, tune in to radio stations nationwide (all playing static sounds), and hear their voices reproduced in genuine, tinny, olde-time radio sound.
The toymaker, founded in Evanston, Illinois is better known today under the Tinkertoy brand. It originated with Charles H. Pajeau, a stonemason who wanted to offer children his "Thousand Wonder Toy", consisting of simple toy components, originally based around sticks and spools of thread, which they could use to create and build their own toy constructions. The toys were also similar in concept to Meccano sets, first manufactured by English inventor Frank Hornby in 1898.
To accomplish this goal, Pajeau partnered with Robert Pettit and Gordon Tinker, whose name came to grace the Toy Tinkers of Evanston, Ill corporate name in 1914. In 1924 it was reorganized as Toy Tinkers, Inc., which was then later renamed Tinkertoy, Inc.; after several ownerships and reorganizations the company became part of Hasbro, Inc., in 1986.
This advertisement is part of Hagley Library's John Okolowicz collection of publications and advertising on radio and consumer electronics (Accession 2014.277). Advertising, both print and radio, developed as a prominent industry in the early decades of the twentieth century as popular magazine circulation exploded and the radio became ubiquitous in American households. This collection consists of digital access copies of publications and magazine advertisements for radios and other related household electronics dating from 1912 to 1980. Click here to view it online now.