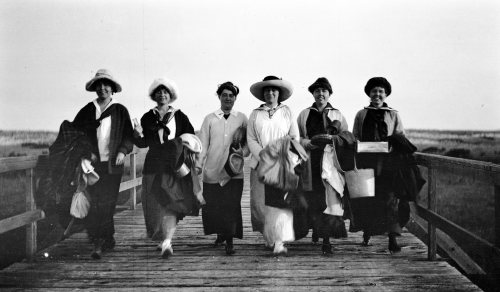 International Women's Day is being observed around the world today. The tradition dates back to February 28, 1909, when the Socialist Party of America, acting on the suggestion of party member Theresa Malkiel, held a "National Woman's Day" in New York City.
The following year, the observance was adopted by the International Socialist Women's Conference. In the ensuing years, activists for women's suffrage and other equal rights adopted the date in nations such as Australia, Denmark, Switzerland, and Germany, though the date varied from nation to nation and was sometimes celebrated as the Women's International Day of Struggle or by other names. However, the observance became most strongly associated with communist nations and the international communist movement; it was officially adopted by the Soviet Union in 1917 and the People's Republic of China in 1949.
This remained the case until the mid-1960s, when the second-wave feminist movement embraced the day, still operating under various names and dates, as a means of calling further attention to their calls for equal pay, equal economic opportunity, equal legal rights, reproductive rights, subsidized child care, and the prevention of violence against women.
The name and date of International Women's Day was finally formalized in 1977. The United Nations began observing the day in 1975, as part of its declaration that 1975 would be its International Women's Year. Two years later, the United Nation's General Assembly invited its member states to observe the date on March 8.
As a small online observance of the day, we're posting this photograph of a small group of women strolling on a beachside boardwalk, taken by photographer and illustrator Frank E. Schoonover (1877-1972). The photograph is undated, but was likely taken in the 1910s or 1920s, around the same time that International Women's Day was first being established worldwide. The photograph is from Hagley Library's collection of Frank E. Schoonover negatives (Accession 2017.239). This collection has not been digitized in its entirety, but you can view a curated selection of materials online now in our Digital Archive. Just click here!