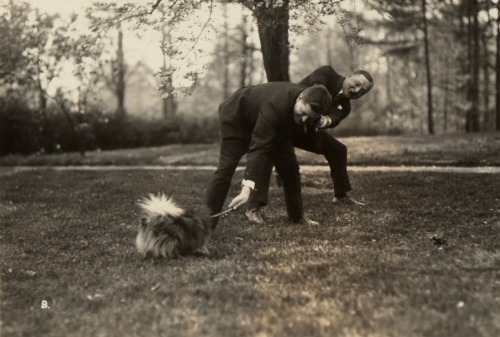 It's not the size of the dog in the fight, it's the size of the fight in the dog on this #WetNoseWednesday.
This 1922 photograph was taken at the Cleveland, Ohio home of Fisher Body Corporationexecutive Frederick J. Fisher (1878u20131941), during an event associated with in association with the company's 1919 integration into the General Motors Company, which formed General Motors' Fisher Body Division.
The two-legged end of this game of tug or war is William A. Fisher (1886u20131969), brother to Frederick and also an executive with the Fisher Body Corporation (both William and Frederick, as well as brothers Charles, Lawrence, Edward, Alfred, and Howard would continue to be associated with the Fisher brand through General Motors until August of 1944).
The photograph was taken by Cleveland Press photographer Louis Van Oeyen (1865-1946). Van Oeyen became Cleveland's first staff news photographer in 1901 after selling his photographs of the assassination of President William McKinley to the Press. Over the course of his career, Van Oeyen also worked as the official photographer for the American League and the World Series, tested new photographic equipment for General Electric and other major corporations, and provided mentorship to emerging photographers, including Margaret Bourke-White (1904-1971) and Herman Seid (1908-1980).
This image is part of Hagley Library's collection of P.S. du Pont photographs (Accession 1969.002).This collection photographs includes images collected by Pierre S. du Pont (1870-1954) during his life. You can view a selection of nearly 7,000 images from this collection online now by visiting its page in our Digital Archive. Just click here!
And don't forget! Beginning Monday, April 12, we will be discontinuing this Tumblr blog. But we won't be going far. We'll be continuing to post regular content at our new home at https://www.hagley.org/research/news/hagley-vault. You'll also continue to be able to find images and links to new posts, as well as additional bonus content, on our Twitter feed, @Hagley_Library.