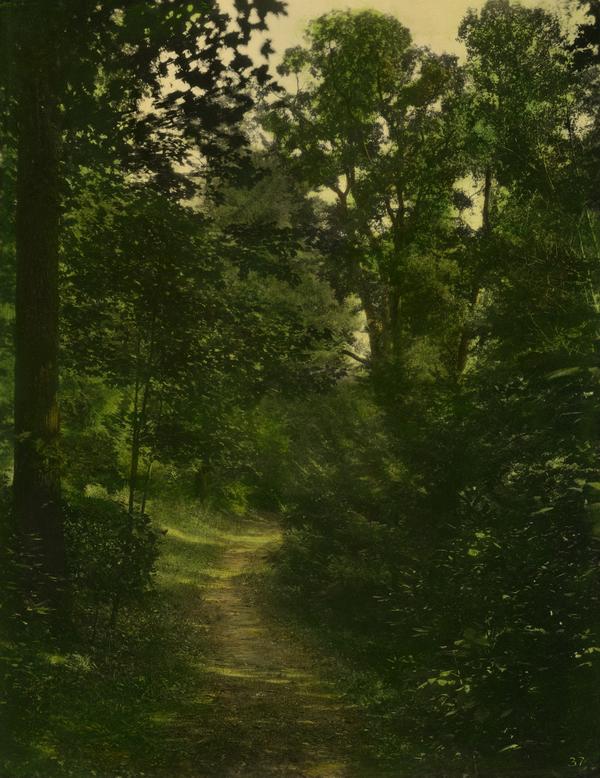 It's a perfect day for a walk here at Hagley. But we're on the clock today, so here's a digital stroll through the woods instead.
This 1922 photograph shows Peirce's Park Path at Longwood Gardens. Peirce's Park was created by Joshua (1766-1851) and Samuel Peirce (1766-1838), who planted their collections of native and exotic trees on the land near their family's farmhouse in Kennett Square, Pennsylvania. After the brothers' death, the land remained in the family, but their arboretum deteriorated over the decades, as ensuing generations lost interest in the property.
In 1906, a lumber mill operator was contracted to remove the trees. But the Park wound up being rescued by Pierre S. du Pont, (1870-1954) who purchased the property in July 1906 with the goal of protecting the collection.
Pierre and his wife Alice Belin du Pont made their home in the the Peirce-du Pont house, also known as Longwood Mansion and, over time, they grew the site to include gardens, greenhouses, fountains, a ballroom, music room, an organ, and a theater. Prior to P.S. du Pont's death in 1954, he established a foundation to maintain the site as a public arboretum and botanical gardens, Longwood Gardens, which now attracts over 1 million visitors per year.
This image is from Hagley Library's https://findingaids.hagley.org/xtf/view?docId=ead/1969_002.xml. The collection's page in our Digital Archive features nearly 7,000 images of items collected by Pierre S. du Pont during his life. These materials document the development of Longwood Gardens, the du Pont family, travel images, and a variety of other photos documenting the interests and activities of P.S. and Alice Belin du Pont. Click here to visit it online now.