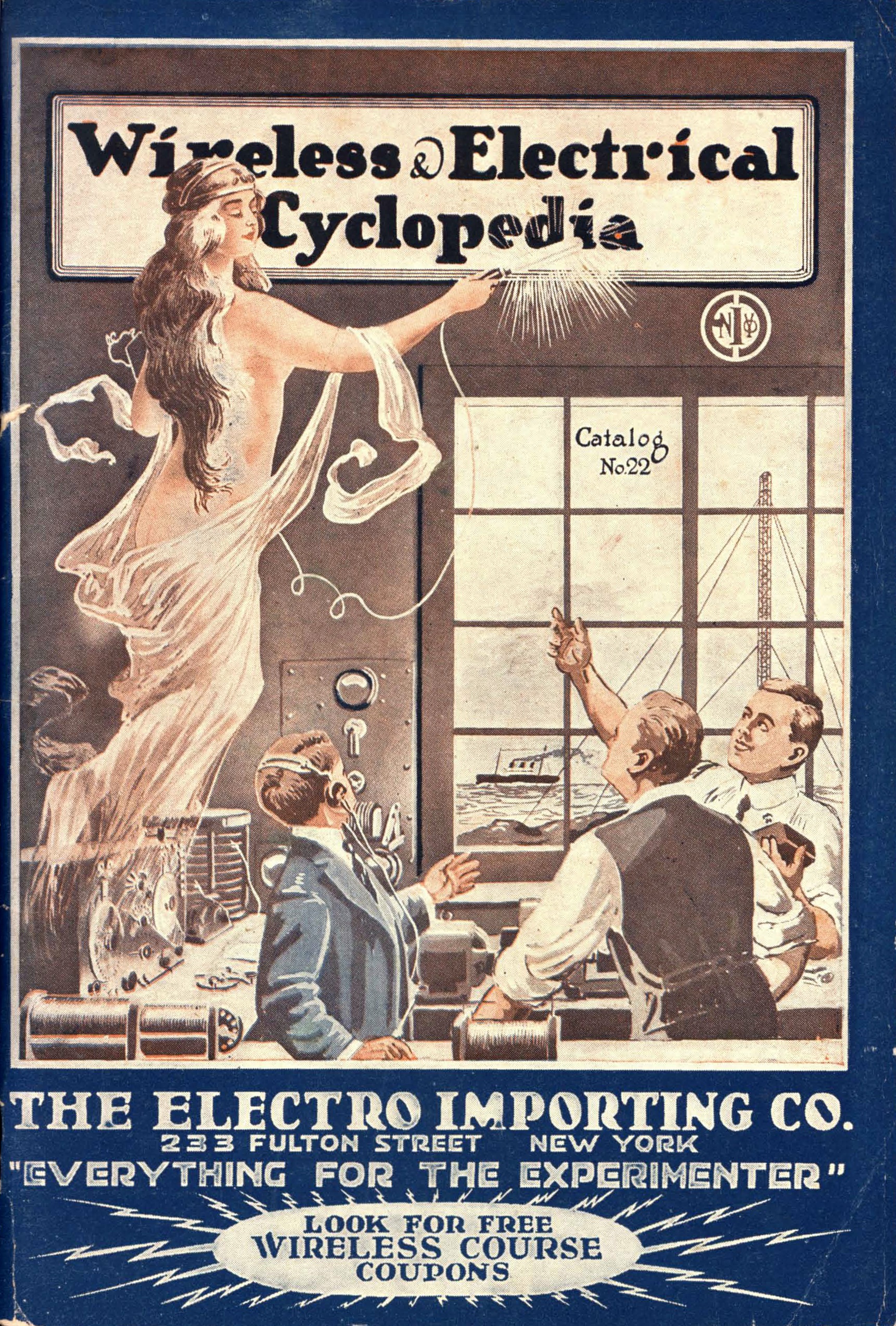 Let's go shopping this #TechTuesday. This 1922 cover is from the Wireless & Electrical Cyclopedia, a publication of the Electro Importing Company. 
The Electro Importing Company was founded in 1905 by Lewis Coggeshall, a railroad telegraph operator, and Hugo Gernsback, an electrical engineer. The two men met while living in a New York City boarding house, and commiserated together over their shared difficulty in sourcing radio components. The company imported radio and electrical components from Europe for resale by mail-order through their catalog, as well as a device of Gernsback's own design, the Telimco Wireless Telegraph. The enterprise soon grew to include a brick and mortar retail establishment on Fulton Street. Gernsback bought Coggeshall's share of the company in 1907 and, one year later, in 1908, Gernsback  began publishing a second periodical, Modern Electrics, which, after a series of sales and mergers, became Popular Science Monthly, still in publication today. 
Gernsback proved to have a passion for editing, writing, and publishing; Wireless & Electrical Cyclopedia and Modern Electrics were but a few of the periodicals he helmed. The initial sale of Modern Electrics had been to enable the launch of his third publication, Electrical Experimenter, a magazine dedicated to articles on general science, chemistry, and mechanics, as well as short science fiction stories. By the time this issue of the Wireless & Electrical Cyclopedia was released, the Electro Importing Company and related enterprises managed by Gernsback were better known for its publishing operations than as an importer of electrical components.
By 1928, Gernsback's transition to a publisher, rather than an electronics resaler and engineer, was largely complete, with his best known periodical being Amazing Stories, a science fiction magazine he launched in April 1926. The first magazine solely devoted to science fiction publishing, the long-running publication is often credited with helping to launch and define a new genre of pulp fiction and providing an early springboard for a number of notable science fiction authors, including Isaac Asimov and Ursula K. Le Guin, who first found publication within its pages.
This catalog is part of Hagley Library's John Okolowicz collection of publications and advertising on radio and consumer electronics (Accession 2014.277). To view it online, alongside other material from this collection, click here to visit its page in our Digital Archive.