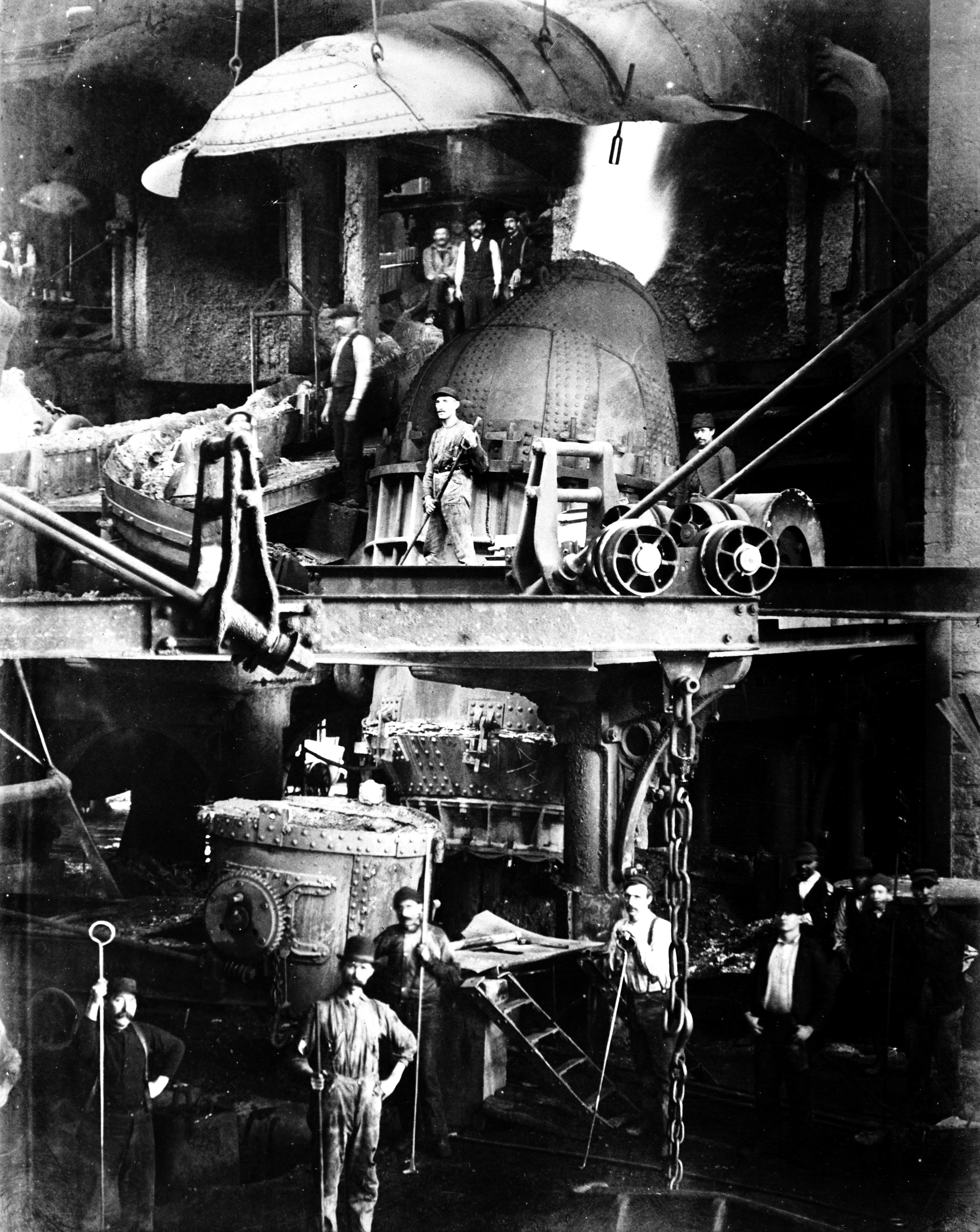 This undated (ca. 1895?) image shows workers and a Bessemer converter for making steel at the Pennsylvania Steel Company's plant in Steelton, Pennsylvania, where the frog and switch division and a rail mill plant were located.
This item is part of Hagley Library's collection of Bethlehem Steel Corporation and Bethlehem Ship Corporation photographs (Accession 1980.300). Bethlehem Steel Corporation, in its earliest manifestation, dates from 1861 when it was initially conceived as the Bethlehem Iron Company, a railroad rail producing business located in the Lehigh Valley of Pennsylvania.
This name was changed to Bethlehem Steel Corporation at the turn of the century when the company under the direction of Charles M. Schwab (1862-1939) and Eugene Grace (1876-1960). During this time, the company became the second largest American steel company. Combined with its other venture, Bethlehem Shipbuilding Corporation, it became one of the largest corporations in America.
In addition to steel ships, Bethlehem was a major producer of armor plate and ordnance and soon ranked on a par with Krupp, Armstrong's and the other big European munitions makers. It also pioneered in structural steel, manufacturing the rolled wide-flange columns and beams invented by Henry Grey (1849-1913).
Bethlehem Steel grew rapidly by absorbing competitors. Its principal acquisitions were the Fore River Shipbuilding Company (1913), the Pennsylvania and Maryland Steel Companies (1916), the Lackawanna Steel Company (1922), and the Midvale Steel & Ordnance Company (1923). A second round of acquisitions, including the Pacific Coast Steel Company (1930), the McClintic-​Marshall Corporation (1931) and the Kalman Steel Company (1931), expanded Bethlehem's reach into other areas of the country and strengthened its position in structural steel fabrication and as a supplier to the new manufacturers of consumer goods.
Like all domestic steel makers, Bethlehem was increasingly vulnerable to competition from non-union minimills and foreign producers, particularly after 1973. A drastic downsizing program between 1977 and 1990 temporarily eliminated massive annual losses. In the process, the company lost its number-two ranking, its fabrication and special product divisions, and its self-​sufficiency in raw materials.
Iron and steel production at the original Bethlehem site ceased in 1995, followed by the rolling mill in 1997 and the coke works in 1998. Bethlehem acquired the properties of Lukens Inc., a specialty plate manufacturer on May 29, 1998. With the end of the boom of the 1990s, Bethlehem filed for bankruptcy on October 15, 2002. The company's remaining assets were sold to International Steel Group Inc. on May 7, 2003.
This collection includes a wide range of photography which documents the company's long history and the breadth of its enterprises from east to west coasts and overseas. It contains eighteenth, nineteenth, and twentieth century industrial and non-industrial images and of management and workers. To view a selection of digitized material from this collection, as well as other collections at Hagley related to the Bethlehem Steel Company, click here.