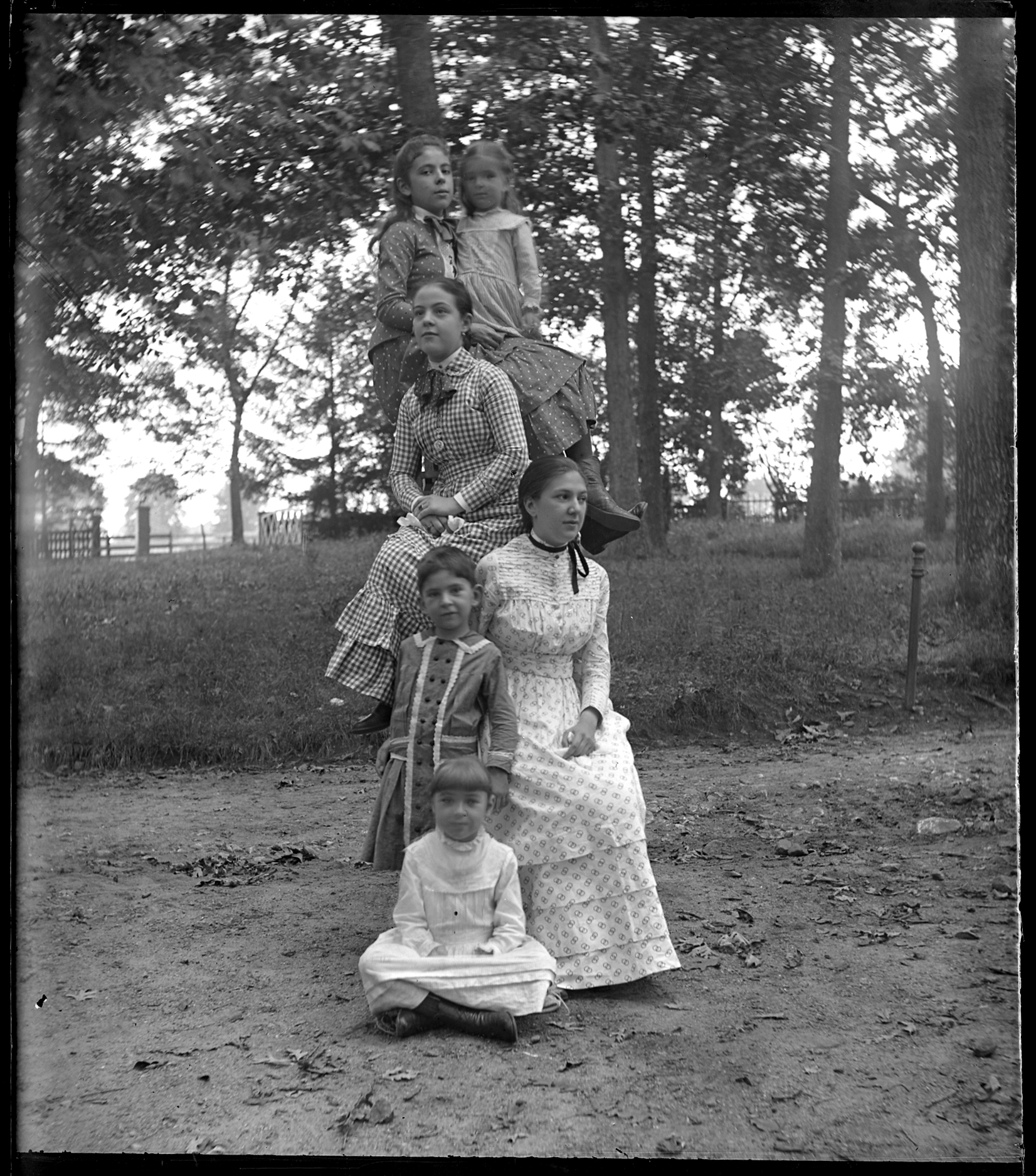 We present to you today, a tower of du Pont children. This glass plate negative shows a young Lammot du Pont II (1880-1952) with his sisters Sophie Madeleine (1871-1894), Isabella Mathieu (1882-1946), and Mary Alletta Belin (1878-1938), and with his cousins Alice Belin (1872-1944) and Mary Lammot (1869-1949).
This image was created around 1884 on the Eleutherian Mills estate where Hagley Museum and Library now stands. It is part of a series of images documenting Lammot du Pont's (1831-1884) family group on the Hagley grounds, taken ca. 1880s-1890s.
This item is part of Hagley Library's collection of P.S. du Pont photographs (Longwood) (Acc. 1969.002), which includes nearly 70 photographs and other materials from the du Pont family and friends' summers in Cape May, as well as over 1,000 images documenting the development and growth of Pierre S. du Pont's Longwood Gardens estate and botanical garden.
Pierre Samuel "P.S." du Pont (1870-1954) was an industrialist, entrepreneur, and philanthropist. He was president of E.I. du Pont de Nemours & Co. from 1915 to 1919 and chairman of the board from 1919 to 1940. P.S. du Pont was the great grandson of Eleuthere Irenee du Pont (1771-1834), founder of E.I. du Pont de Nemours & Company, and the great-great-grandson and namesake of the French economist, Pierre Samuel du Pont de Nemours (1739-1817).
Pierre and his wife Alice Belin du Pont made their home in the the Peirce-du Pont house, also known as Longwood Mansion and, over time, they grew the site to include gardens, greenhouses, fountains, a ballroom, music room, an organ, and a theater. Prior to P.S. du Pont's death in 1954, he established a foundation to maintain the site as a public arboretum and botanical gardens, Longwood Gardens, which now attracts over 1 million visitors per year.
P.S. du Pont's personal life is well documented by the photographic collection he left, and it followed certain themes.The collection's page in our Digital Archive features nearly 7,000 images of items collected by Pierre S. du Pont during his life. These materials document the development of Longwood Gardens, the du Pont family, travel images, and a variety of other photos documenting the interests and activities of P.S. du Pont and his extended family. Click here to visit it online now.