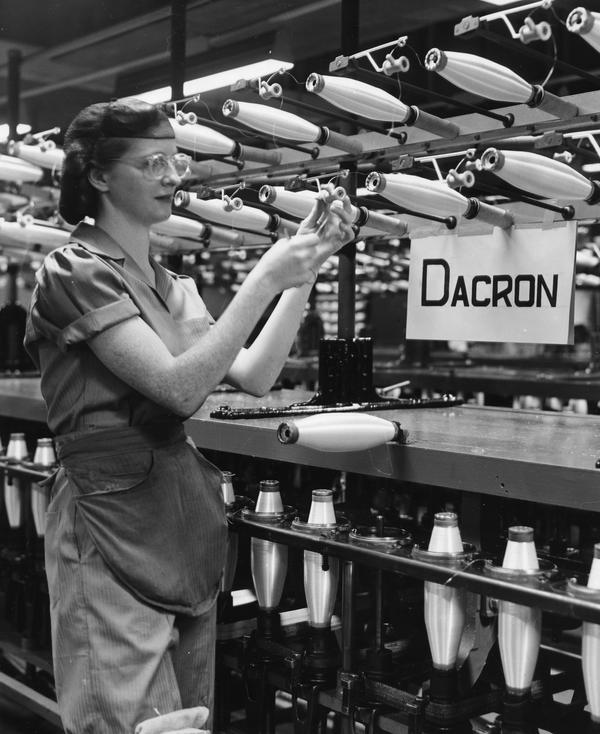 This week marks a milestone in the history of textiles. On May 8, in 1951, the first world's first commercially marketed polyester fiber was introduced to consumers in the form of men's suits. The suits, which were sold by New York City's Hart, Schaffner & Marx Co., featured a fabric blend made by Deering, Milliken & Co. that was 45% worsted wool and 55% synthetic fiber developed by the DuPont company.
The synthetic fiber was polyethylene terephthalate, a compound registered and trademarked as Dacron in the United States (in England, the product was marketed under the Terylene brand). The material was available to manufacturers in the textile industries as a yarn, staple, or fiberfill, and was popular with clothing manufacturers who marketed it for its resistance to creasing, chafing, and ease of cleaning.
This ca. 1955 photograph takes us inside the E.I. du Pont de Nemours & Company's recently constructed Dacron plant in Kinston, North Carolina. While the textile fiber was originally developed in a pilot plant in Seaford, Delaware, the success of the product necessitated the construction of the Kinston plant in 1953.
This image was part of a series of images generated by DuPont's Product Information section, a division of the company's Public Relations Department organized in 1952.  Its main purpose was to create news releases accompanied by photographs that would be run editorially by trade journals and newspapers to create inexpensive publicity and indirect advertising. To be used, the news releases had to include interesting information about a DuPont product, its development, manufacture, or applications. They could not be direct commercial promotions of a product itself as that would be the work of the Advertising Department. Product Information photographs and their news releases told the reader what DuPont did, why it was important, and sometimes, how it was done.
In the case of this photograph, the Product Information section created a series of images that documented the manufacturing process of Dacron, from the generation of the compound to the shipping to manufacturers. In this case, a worker is shown assisting in the production of spools of Dacron yarn.
Hagley Library's DuPont Company Product Information Collection (Accession 1972.371) collection has not been digitized in its entirety, but a selection of materials from it, mostly photographs taken from the 1930s through the 1950s, are available to view in our Digital Archive. Click here to take a look!