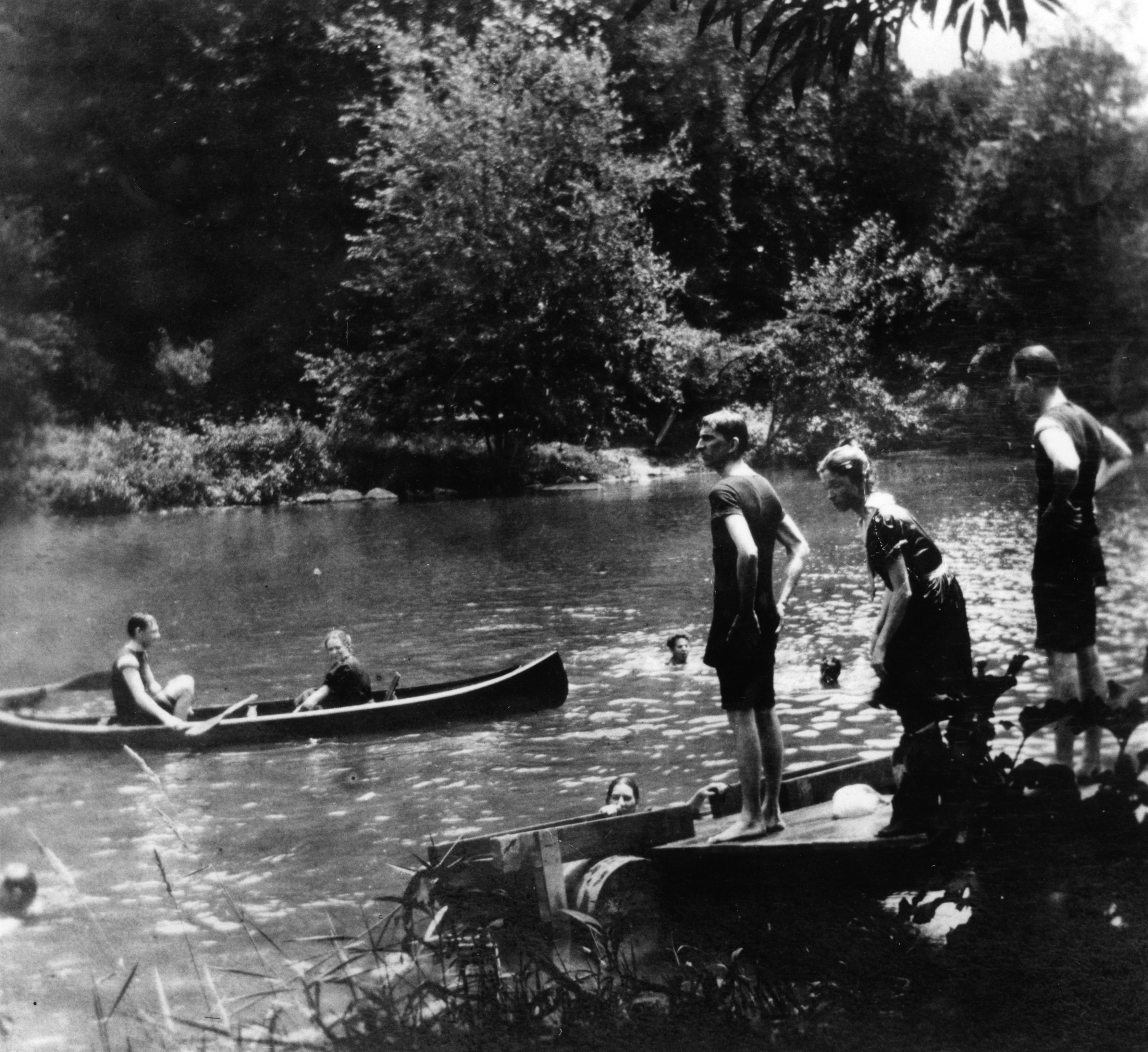 We're expecting beautiful weather here at Hagley today, and we're celebrating today's warmth and the sunny days ahead with this undated photograph of swimmers in the Brandywine Creek, probably captured between 1890 and 1920.
This image is part of Hagley Library's collection of DuPont Company Brandywine powder yards and neighboring worker communities' photographs (Accession 2017.226). This collection of more than 1,250 discrete photographs depicts the landscape and buildings at or near the company's explosives manufacturing plants along Brandywine Creek near Wilmington, Delaware between 1820 and 1970.
Approximately 900 images depict powder yard sites, including the DuPont Experimental Station, either during the mills' final decades of operation or prior to, during, and after excavation and restoration work on the site in the 1950s and 1960s. Most of the remaining images depict the worker communities which surrounded the powder yards.
The industrial villages along Brandywine Creek grew up in tandem with the powder mills and other nearby mills, and they were populated largely by Irish, French, and Italian immigrants and their descendants. By the 1890s, several distinguishable neighborhoods existed near the powder yards. On the west bank of Brandywine Creek, these included Wagoner's Row, the Upper Banks, Free Park, Squirrel Run, and Henry Clay (which encompassed Breck's Lane, Creek Road or Main Street, and Rising Sun Lane). On the east bank, there was Chicken Alley, Duck Street, Charles's Banks, and Walker's Banks.
The community supported several stores, saloons, and churches. Churches included Christ Church Christiana Hundred, St. Joseph's-on-the Brandywine Roman Catholic Church, Green Hill Presbyterian Church, and Mount Salem Methodist Church. Local schools included the Brandywine Manufacturers' Sunday School, which began in 1817 and operated as a nonsectarian school for the community until 1856, when it became an Episcopal church school serving nearby Christ Church. Other schools included the "Yellow Schoolhouse" on Barley Mill Road, a small school on Rising Sun Lane, and, beginning in 1893, the Alexis I. du Pont School.
The community was served by the Wilmington and Northern Railroad and, beginning in 1907, trolley service in Henry Clay was provided by the Peoples Railway. In the 1890s, the Breck's Mill building in Henry Clay became known as the Hagley Community House and was a community focal point, serving as a recreation center and social hall. The Eleutherian Mills residence on company property likewise served for a time as a DuPont Co. employees' clubhouse and was converted into military barracks during the First World War. The villages largely diminished with the closing of the powder yards.
To view images of this collection online now, click here to visit its page in our Digital Archive.