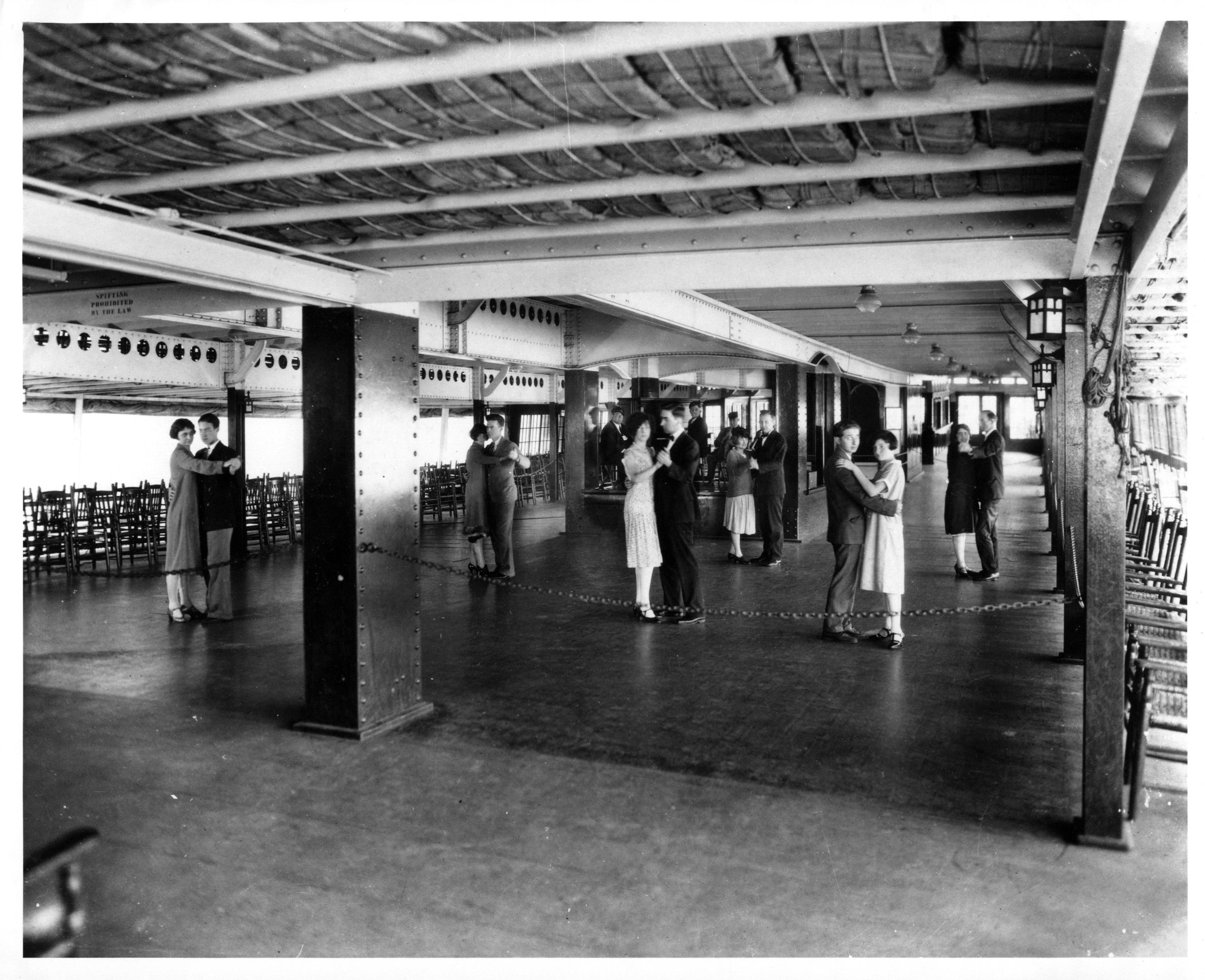 We're having a ball today with the Wilson Line, a steamboat company that was once popular for traveling between Philadelphia, Pennsylvania, Wilmington, Delaware and Riverview Beach, New Jersey. This undated photograph (ca. 1925?) shows travelers in a Wilson Lines ballroom on the ship the 'State of Delaware'.
The Wilson Line was founded in 1882 as the Wilmington Steamboat Company by J. Shields Wilson (1834-1903?). The earliest ships were the 'Wilmington' (also known as "Little Wilmington") and the 'Brandywine', the 'City of Chester' and the 'City of Trenton'. Throughout the years the number of ships increased; most notably in 1923 when two identical ships the 'State of Delaware' and the 'State of Pennsylvania' were added.
The Wilson family sold the company in 1929 to a syndicate of Wilmington & Philadelphia interests headed by George B. Junkin, who renamed the services the Wilson Line. In 1955, Wilson Lines Inc., both the fleet and wharves became a subsidiary of City Investing Company of New York and was renamed the Wilson Excursion Lines. By 1970, however most of the steamboats had been sold; hydrofoil boats began to take over and the time of Wilson Lines steamboats ended.
This photograph is part of Hagley Library's collection of Wilson Lines ships photographic reproductions (Accession 1991.228), a small collection of copy photographs contains mostly exterior views of several Wilson Lines steamboats between 1890 and 1955. There are a few interior views, like this one, as well as a portrait of a man identified as Chief Parson and views of a hot dog machine from off one of the Wilson riverboats.