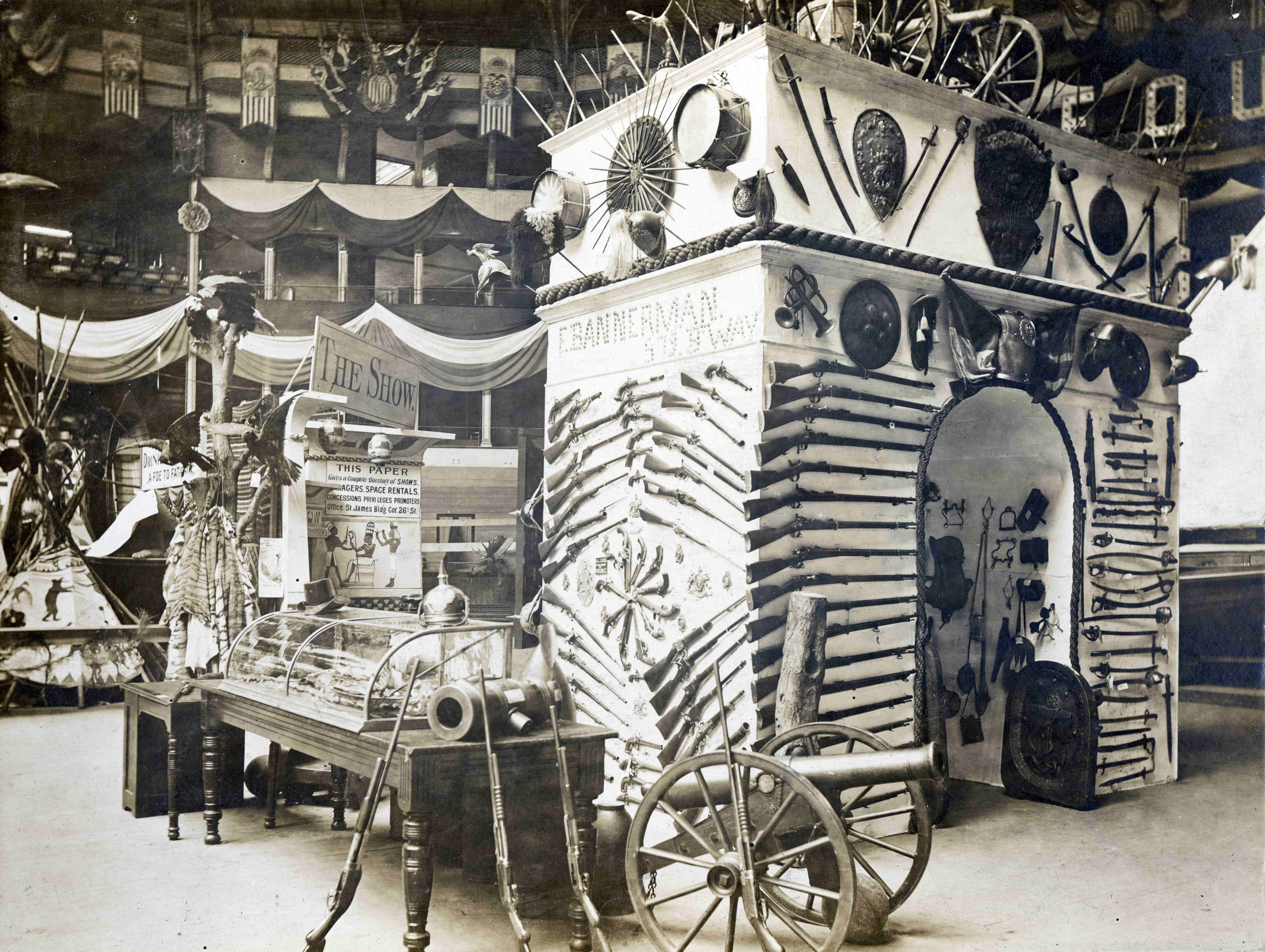 We're making a visit today to this display booth by Francis Bannerman Sons, Inc. at a ca. 1910 exhibition at Madison Square Garden. For three generations of Bannermans, the company was a major purveyor of military goods to sportsmen and collectors in New York City.
The firm was founded in October 1872 by Francis Bannerman (1851-1918) and his wife Nellie Boyce Bannerman as an offshoot of his family's ship chandlery and military salvage business located near the Brooklyn Navy Yard. By 1880, Francis was selling mostly government surplus arms and military supplies. Around 1890, he acquired the Spencer Arms Company, manufacturers of a repeating shotgun.
Bannerman moved his store to Manhattan in 1897, where it soon became noteworthy as a museum of modern and antique weaponry and military memorabilia. To store his vast quantities of arms and ammunition, Bannerman bought Pollepel Island in the Hudson River Highlands in 1900 and erected a summer residence and Bannerman's Island Arsenal, patterned after the castles of the family's native Scotland.
On January 1, 1917, Bannerman turned the business over to his sons Francis (1873-1945) and David (1875-1957) as the partnership of Francis Bannerman Sons. The business was downsized and moved to Long Island in 1959. Pollepel Island was sold to the state in 1967, but the buildings were gutted by fire in 1969.
Hagley Library's Francis Bannerman Son photographs (Accession 1998.284) collection contains photographs, negatives, postcards and ephemera pertaining to the weapons and military memorabilia business run by Francis Bannerman and to Bannerman's philanthropic and leisure activities. Nearly half of these photographs feature children at Bannerman's Goodwill Camp, a summer camp for poor children at Lake Stahahe, New York.
Over sixty postcards and photographs from Francis Bannerman's 1904 collecting trip to Japan and China make up the second major portion of the collection. Images pertaining more directly to the Bannerman business feature the company's Brooklyn and Manhattan stores, along with exhibitions of the military supplies and memorabilia in which Francis Bannerman dealt. Several images of Bannerman Castle and Bannerman's Island Arsenal are also included. Other miscellaneous items in the collection include business and advertising cards from both suppliers and rival dealers in military goods, flags, and armor, leaflets from shipping and advertising firms and photographs of Spanish American War heros.
This photograph comes from a section of the collection documenting weapons from the Bannerman military museum housed in Bannerman's Manhattan store as well as images of from this exhibition.