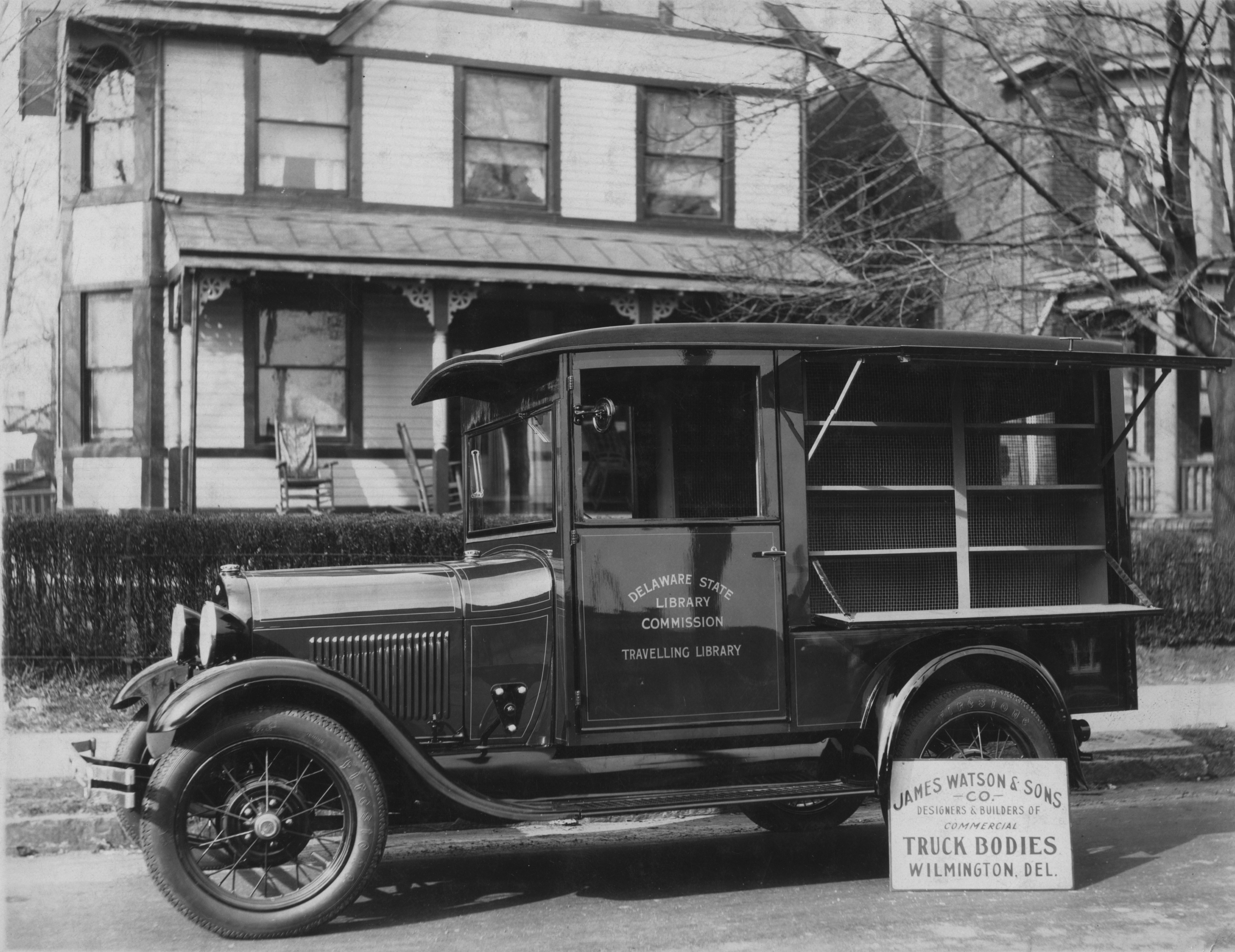 When you work in a library, choosing a single book for World Book Day can be like trying to choose a favorite child. So instead of showing you a favorite, we're turning up with a whole truckload of them.
This undated photograph shows the Delaware State Library Commission's Traveling Library bookmobile. The vehicle was designed and customized, possibly around 1925, by the Riverview Wagon Works. The company, also known as James Watson & Sons, was a Wilmington, Delaware business. As the name implied, the company was a family-run business. It was founded by James Watson, an immigrant from Scotland who first settled in Philadelphia before sending for his wife and six children.
Before establishing the Riverview Wagon Works, James Watson, a mechanic, worked in construction in Philadelphia, then at a grist and saw mill in Media, Pennsylvania, then with the Kennett Wagon Works in Kennett Square, Pennsylvania before arriving in Wilmington in the late 1880s as a pattern maker for the Harlan & Hollingsworth Company. In 1890, he established his own blacksmith's shop in Wilmington. In 1891, that shop became Riverview Wagon Works.
The Riverview Wagon Works was especially popular with local farmers in the Brandywine Valley, who bought his one-horse carts, sold at $65 each, in such large numbers that the shop began mass-producing them in advance of orders. After James Watson's death in 1927, the shop passed to his sons Andrew B. Watson and William M. Watson, who relocated the business to a garage at 3010 Market Street, where it would continue to operate until June 1, 1961.
Many of the hundreds of photographs and negatives in the Hagley Library's James Watson & Sons Co. photograph collection (Accession 1992.213) show samples of the company's work on wagons, including noteworthy examples of local Wilmington, Delaware dairy farm wagons and trucks. There are also pictures of delivery vehicles, buses and school buses, ambulances, police and rescue squads, Delaware bookmobiles, moving and hauling trucks, commercial trucks, horse trucks, trailers, and other kinds of vehicles. The collection also includes photographs of the company's workers and factory, as well as group photographs and family photographs.
To view more photographs from the James Watson & Sons Co. photograph collection collection, click here to visit its page in our Digital Archive.