Tuesday, February 18, 2020
Hagley staff has spent the early part of the year wrapping our heads around our recent Cinecraft Productions acquisition. So far, we have counted over 6,000 cans of film, 20 large boxes of paper archives, and 150 production scripts. Among the film collection, there are at least 500 wide distribution titles. (That is, films that were available through a film library or broadcast on television). In addition, the collection contains many Cinecraft produced television commercials, some from as early as 1949.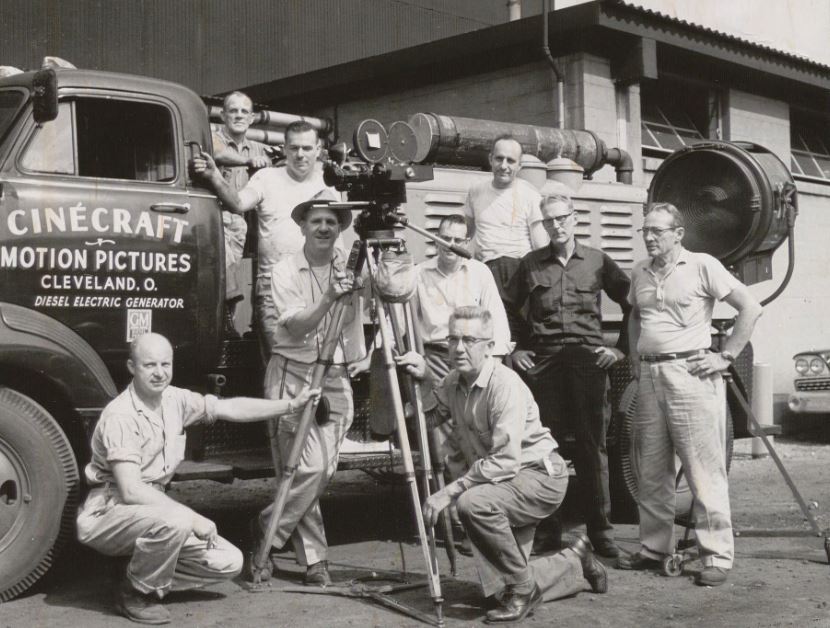 Founded in 1939, Cinecraft Productions is the country's longest-surviving commercial producer of industrial motion pictures, a sector that included thousands of related companies at its high point in the 1950s and 60s. The company is privately owned and has had only three owners in the 81 years since it was founded.
Picture: Cinecraft production crew, circa 1959. Link to image in the Digital Archives
The new collection from Cinecraft will tell a unique story about American business history. The collection represents a near-complete archive from a company that artfully used motion pictures to sell, promote, train, and persuade. Among the industry giants who worked with Cinecraft include Westinghouse, Goodyear, General Electric, Cleveland Electric Illuminating Co., Republic Steel, Ohio Bell Telephone, and Standard Oil. The collection covers critical business sectors during a significant rise and decline in American industrial capacity from the 1940s to the 1970s.
We already had a few Cinecraft films among our collection including films made for the National Association of Manufacturers, Chamber of Commerce of the United States, and the American Iron and Steel Institute. We also have collections donated by former employees of Cinecraft, such as our Culley family collection of Cinecraft Productions audiovisual materials and the Robert A. Schneider collection of Cinecraft Productions. A small collection from a long-time Cinecraft director is currently in the queue for processing.
Most Cinecraft productions are considered "lost." The Rick Prelinger collection at the Library of Congress is one of the largest collections of industrial films in the world and it contains just one Cinecraft film. If you search for copies of the 175 episodes of Ohio Story, a TV series produced by Cinecraft for Standard Oil in the 1950s, you'll find just a single low-quality episode on YouTube. According to Worldcat, libraries around the world have only cataloged sixty Cinecraft films. The majority of those are from the Ohio Story series.  A very small number of complete Cinecraft productions can be found online.  Most of the available titles online have been posted by current Cinecraft owner Neil McCormick who has an outstanding web series highlighting Cinecraft's history.
We are scheduled to launch the Cinecraft Productions digital collection this summer that will include the first batch of digitized films. Our long range goal is to digitize all complete films and TV commercials from the Cinecraft archive. In addition, we plan to have the paper collection processed with a finding aid online during the first half of the year. A preliminary inventory of the production scripts archive uncovered an impressive list of clients that can be seen here.
In the meantime, we encourage you to check out the following Cinecraft online resources to get a taste of what is to come:
Culley family collection of Cinecraft Productions  in the Hagley Digital Archives
Finding aid for the Robert A. Schneider collection of Cinecraft Production audiovisual materials
The Flashback Friday series produced by Cinecraft Productions
Two previous articles from the Collections & Research News: 
Cinecraft Film Archive Arrives at Hagley
Significant Industrial Film Archives Comes to Hagley
Cinecraft is still in business and specializes in eLearning and training & development projects for a national clientele and continues to develop various motion picture projects for business and non-profit clients. For more information, please visit www.cinecraft.com. ​
A huge thanks to Jim Culley for his assistance with this article.
Kevin J. Martin is the Andrew W. Mellon Curator of Audiovisual and Digital Collections at Hagley Museum and Library.