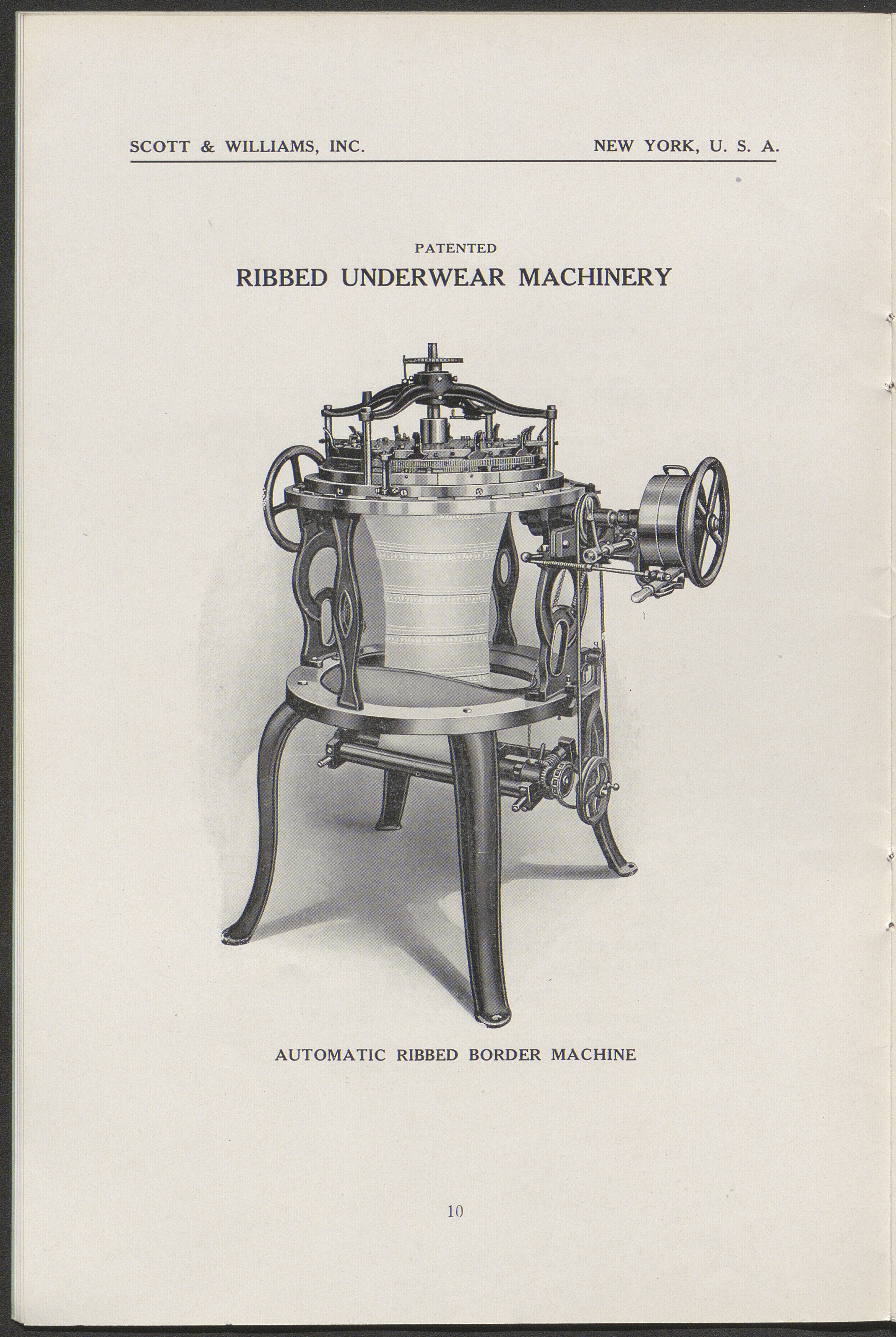 It's #TextileTuesday, bringing you the greatest and (not so) latest on the textile industry. So here's a patented ribbed underwear machine. This page is from Scott & Williams, Inc.'s 1928 "Underwear Knitting Machinery" catalog.
Scott & Williams, Inc. originated out the Fidelity Machine Works, a business founded in Philadelphia in 1865 by Joseph Heginbothom. The Fidelity Machine Works manufactured an array of products and general machinery parts, but which included steam hosiery presses, frames for making specialty fabrics, the nation's first commercially efficient circular knitting machine.
As the Fidelity Machine Works expanded, it grew to employ around 150 workers producing around 35 underwear machines every month. Two of those employees were Robert W. Scott and Louis N. D. Williams. When Heginbothom died in 1883, the two men took over management of the company and reincorporated as the Heginbothom Machine Company, with Joseph Heginbothom's son William as its president.
The new partnership did not last long. In 1888, Scott and Williams bought out the younger Heginbothom. Scott had turned out to be a prolific and ingenious inventor in the field of circular knit seamless hosiery. Over the course of his life, he would secure 232 U.S. patents in his name for processes and devices used by the industry. By 1910, Scott & Williams had outgrown their factory in Philadelphia and relocated to a new home, the former George D. Mayo Machine Company in Laconia, New Hampshire. The new site also had room to expand, and new buildings were added in 1916, 1919, 1930-31, and 1942.
As they expanded, Scott & Williams relocated their offices to New York City and purchased new factories in other locations, including the former Cole Manufacturing Company in Lakeport, New Hampshire; the Standard Trump Brothers Machine Company in Wilmington, Delaware; a foundry in West Concord, Massachusetts; and the Ordnance Gauge Company in Philadelphia, Pennsylvania.
During World War II, Scott & Williams survived an industry slowdown that closed many of their competitors by securing a contract to provide supplies for the Eclipse Pioneer Division of Bendix Aviation. They emerged from the WWII era with contracts with big names in the industry that included Hanes Hosiery, Burlington Mills, and Kaiser Roth. Their fortunes began to decline in the 1960s however, and the business was sold to White Consolidated in 1966 before being liquidated in 1981.
This catalog is part of Hagley Library's collection of trade catalogs and pamphlets. You can view it in full in our Digital Archive by clicking here.