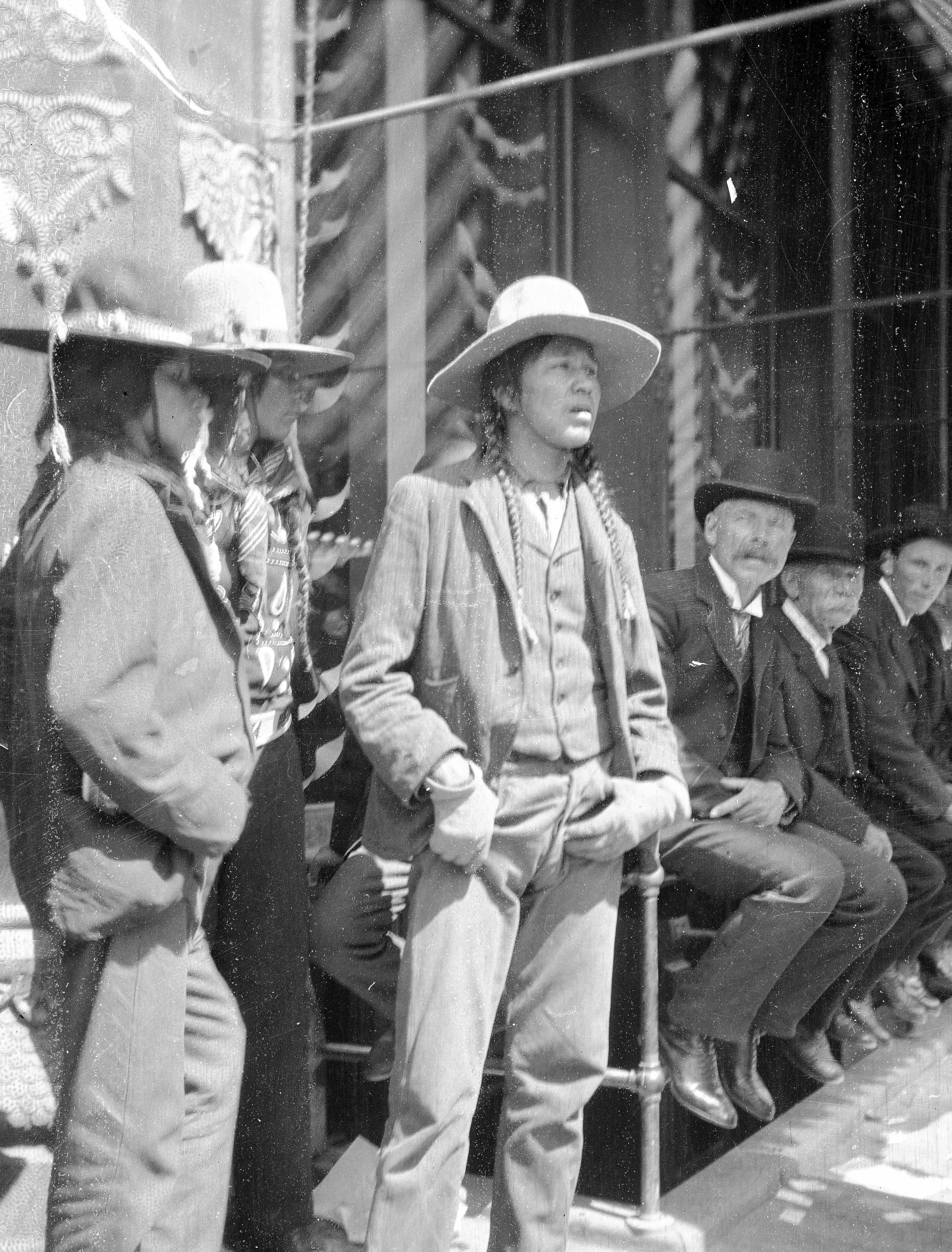 In recognition of this year's Indigenous Peoples' Day, we're sharing this photograph taken by illustrator and painter Frank E. Schoonover (1877-1972).
Schoonover was perhaps best known for his his illustrations of grand adventures and larger than life figures, and he maintained that artists' output should be informed by lived experience. As a result, his career was shaped around experiencing and making use of the landscapes and peoples depicted in his work. His expeditions included a 1905 visit to live within the boundaries of the Blackfoot Confederacy contained within Montana and Alberta, a 1911 journey to the Hudson Bay Company's outposts along the Great Lakes to observe Ojibwe people, dog-sledding and snowshoe trips through Alaska and Canada, as well as journeys to Cuba, Europe, and other locales that American readers found adventurous and exotic.
Schoonover was also an avid photographer. The many photographs he took during his exploratory adventures were often taken to be used at a later date as reference material for his commercial artwork.
This photograph, for example, was part of Schoonover's photofile, a collection of photographic images taken during his many research trips. The people whose images he captured in this negative are unidentified and the date and location of the image are unknown. It is likely from one of Schoonover's many trips to the western United States, possibly in 1905 or 1915.
For centuries after the arrival of European in the Americas, negotiations, conflicts, and wars between colonizing forces and indigenous people were an ongoing reality of life for many within the borders of what would become the United States. By the late 19th and early 20th century, however, campaigns to marginalize and assimilate these latter populations allowed many Americans to mentally consign indigenous people to a romanticized past that became increasingly defined by Western genre fiction. Western stories became popularized during this time period with novels like Owen Wister's The Virginian (1902), which used the "Old West" and the people that lived within it as a backdrop for adventure stories.
Schoonover was often commissioned to illustrate fiction in this genre and would have used reference images like this one to create images for works like Clarence E. Mulford's Bar-20 (1906), Randall Parrish's The Maid of the Forest (1913), James Willard Schultz's "Seizer of Eagles," serialized in 1921 in The American Boy magazine, as well as publications of his own, like "The Edge of the Wilderness," which appeared in an April 1905 issue of Scribner's Magazine.
This image is a part of Hagley Library's collection of Frank E. Schoonover negatives (Accession 2017.239). You can view more images from this collection by clicking here.