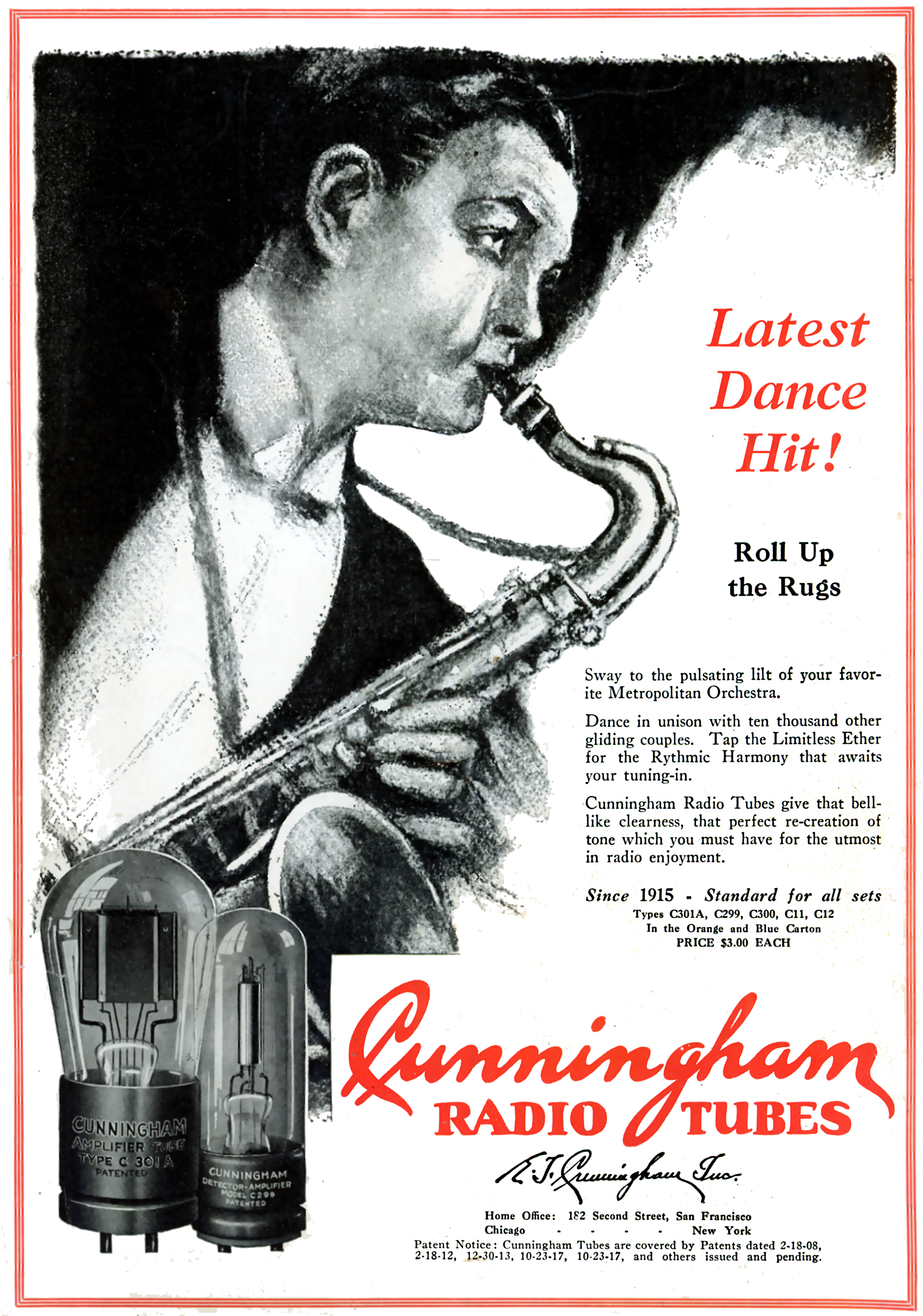 Roll up the rugs! Today, we're celebrating the invention of the saxophone, patented #OTD, June 28, in 1846 by the Belgian inventor and musician Antoine-Joseph "Adolphe" Sax (1814-1894), who also invented the less popular saxotromba, saxhorn and saxtuba.
This April 1925 advertisement for E.T. Cunningham Inc. radio tubes was one of six in a series that appeared in publications including Wireless Age, Radio, QST, and Popular Radio. The company, which specialized in manufacturing vacuum tubes and radio consoles, was founded by the entrepreneur Elmer Tiling Cunningham (1889-1965).
During his lifetime, Cunningham became famous for being the most successful of many manufacturers to run a business producing counterfeit and unlicensed vacuum tubes for radio enthusiasts; the tubes advertised here in this advertisement were quite possibly produced by violating patent rights awarded to inventors John Ambrose Fleming (1849-1945) and/or Lee de Forest (1873-1961).
This item is part of Hagley Library's John Okolowicz collection of publications and advertising on radio and consumer electronics (Accession 2014.277), a collection of digital access copies of materials related to radios and similar household electronics dating from 1912 to 1980.
The collection includes industrial magazines, annual reports, trade catalogs, pamphlets, and coloring books representing fifteen radio and consumer electronic manufacturing companies, as well as advertising tear sheets from 150 regional, national, and international publications representing over 300 corporate advertisers.
You can visit this digital collection now by clicking here to visit the collection's page in our Digital Archive.